Join us at our little country chateau, in the heart of wine country, where we will unlock the secrets of French pastry!
Guided by a French trained pastry chef, you will learn step by step how to make french favorites. Starting with learning about the importance of each ingredient, you will go through all the steps, from mixing high quality local ingredients to baking the finished products!
Finishing the class off with a tasting of our creations while enjoying refreshments, you will go home with the treats you made, as well as a recipe booklet and your notes from the class! This experience will allow you to learn how to make a traditional recipe that never goes out of fashion at home and share your French touch!
Other things to note
At the Domaine de la Briandière, situated in Arçay 86200, we will do our best to make sure you have a great time during your experience. To ensure this, we guarantee a maximum of 6 attendees per class; this means it may not be possible to come with an extra guest, or stay as an observer without having booked.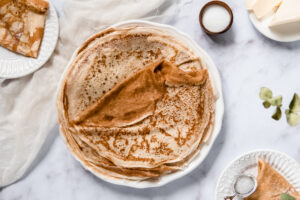 About the classes
Join us in our workshop to master french pastry! All classes are taught in English & French. I will guide you through each recipe, sharing tips and trade secrets that you can use again and again in the future.
Class times are listed in Paris local time.
For each class, you'll receive the recipes & a list of equipment recommendations shortly after booking.
Classes are held in person at our Workshop in Arçay, 86200, 30 minutes south of Chinon, or virtually.
Payment is made in euros.
If you have any questions, please contact us using the form below.