Growing up, doughnuts played a large part in my life. In Eastern Washington, there's a little mom & pop shop that has been open since the 50's. Anyone who lives in the Tri-Cites knows The Spudnut. When you first walk in, there's the open kitchen to your right. The rest of the shop has booth seating and it feels like you have walked into a time capsule. You sit down, order your doughnuts and they'll bring them right over.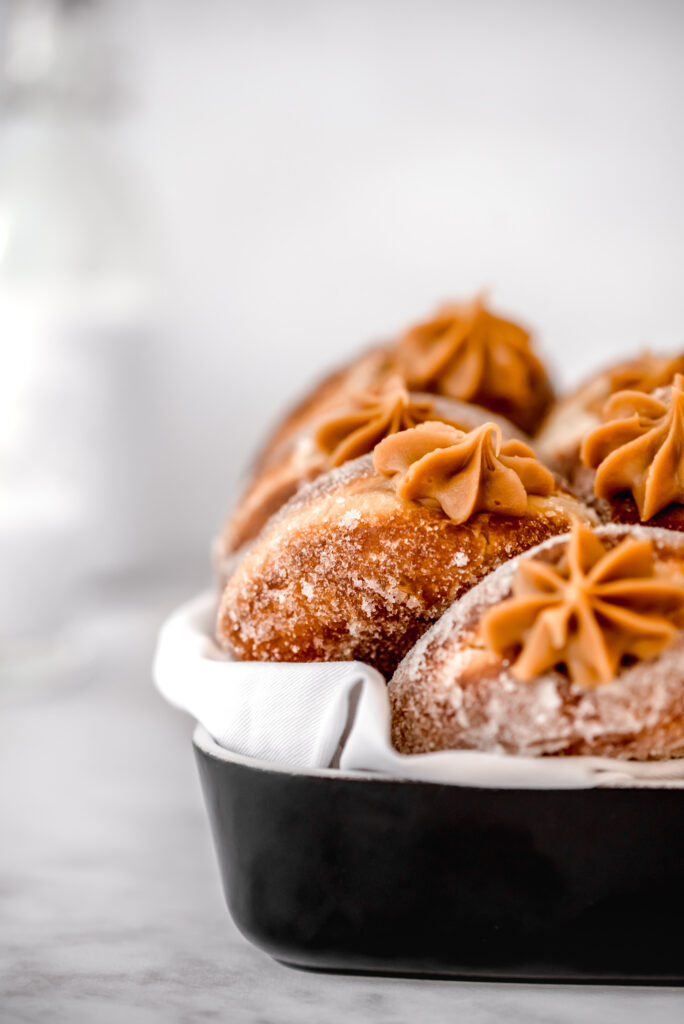 My favorite as a kid was a sprinkle covered doughnut because, well, what kid doesn't love sprinkles? As I grew up, I adventured out and their cinnamon rolls & maple bars soon became my favorites. The trick is to get there bright and early in the morning when the fresh doughnuts are just coming out of the fryers. Flash forward a couple years later, we moved across the state to the big ol' city, but we took every chance we had to visit family. In truth, our real reason for crossing the state was for Spudnuts, family was just a bonus 😉
As more of our family moved to the Western side of the state, our trips to The Spudnut dwindled. We soon found ourselves going to another little shop run by a guy from Vietnam named Henry. It was no Spudnut, but they were pretty damn good & it soon became our Sunday morning ritual to go to Henry's. My dad would have coffee, read the newspaper & mingle with the regulars. Us kids generally brought a book or attempted to be interesting in the conversations around us.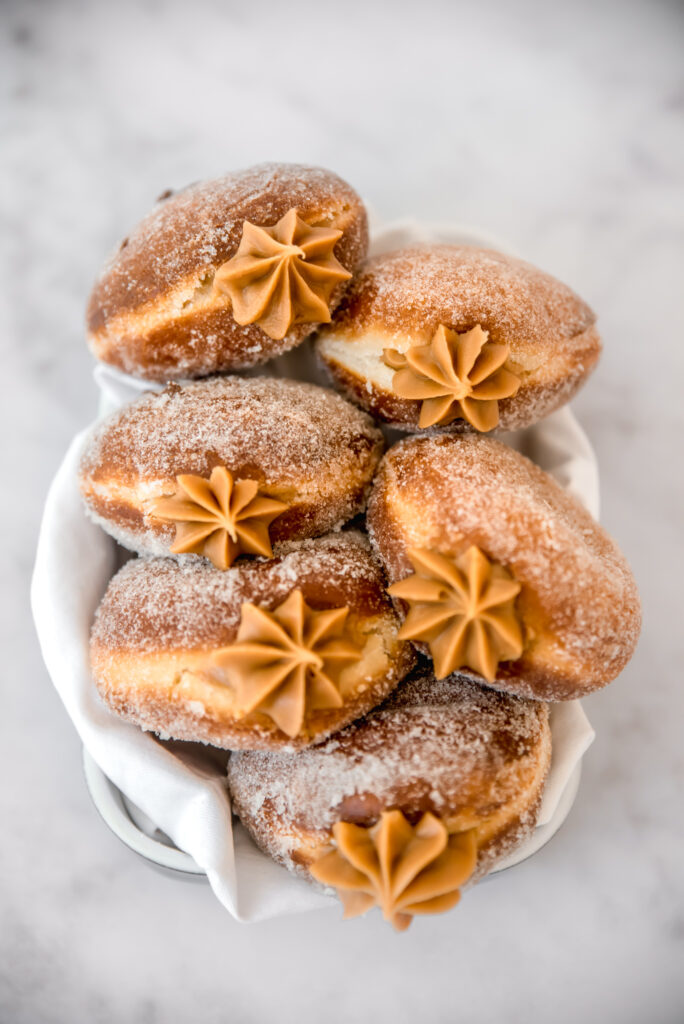 French Pastry VS American Doughnuts
When I moved to France, it was the first time I ever moved away from home. I soon became homesick, but not in the sense that you may think. Don't get me wrong, I was so happy and proud of myself for moving 8000km, away from home by myself. I found myself craving the little things, those rituals that I had gotten so used to growing up.
I scoured Paris, in search for the closest thing to an American doughnut as I could find. You may be thinking, why? You're surrounded by French pastry! Yes, I have croissants and mille-feuilles at the tip of my fingers, but I just wanted a little taste of home. In the end, I did manage to find a couple places that had pretty good doughnuts, but they easily put me back 5€. How how I missed being able to get a doughnut for 75¢.
Brioche-Base
The infamous spudnuts are made from potato flour, hence the name spudnut. I knew if I tried to recreate a spudnut that it would end in disappointment and I should go down a different path. Being in France, a lot of the recipes I make at home, have turned into a mélange of both American and French recipes and brioche has replaced other types of dough that I would usually use. Cinnamon rolls, hamburger buns, french toast…all of these 'American' recipes have all taken on a French influence. So why couldn't doughnuts. But how did I chose the right brioche base recipe? Well, we ate a lot of doughnuts. The best way to decide what works best is to test it right?
Filling
My go-to filling is my salted butter caramel. I make it the same day that I make my brioche dough. As the dough needs to proof in the fridge for at least 12 hours, this gives the caramel time to cool and thicken in the fridge. When I'm ready to fill the doughnuts, I whisk the caramel to smooth it out then transfer it directly to a piping bag. Voilà! You can also make any flavor of pastry cream or simply fill them with a nice confiture. Really, anything goes!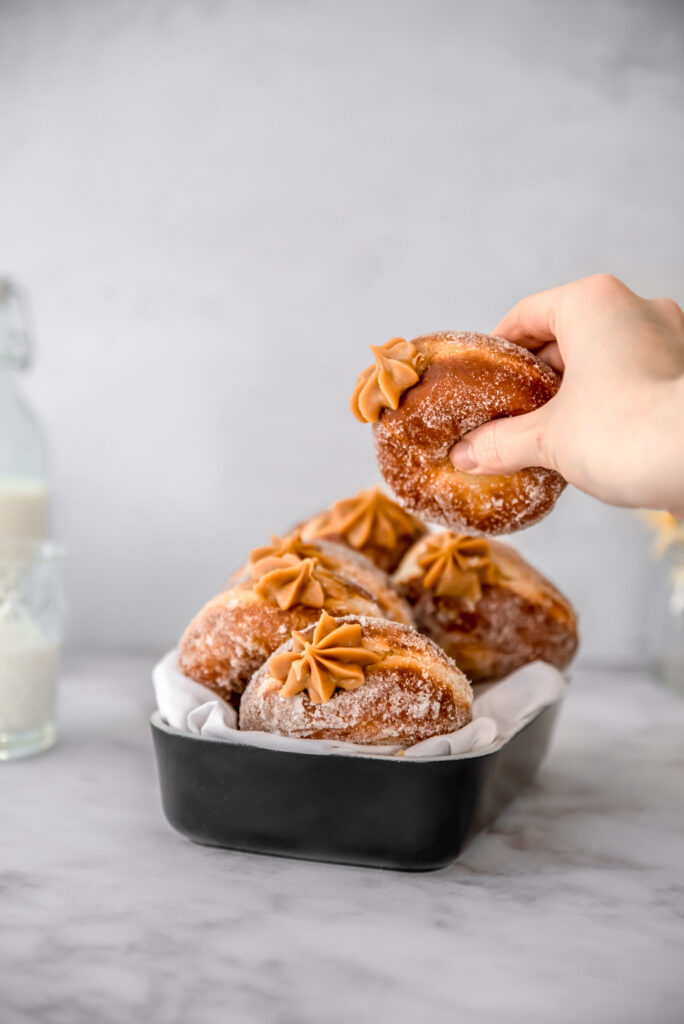 Frying the doughnuts
The best results are with an actual fryer but if you don't have a fryer, you can fry them in a heavy bottom pan with a thermometer to watch the temperature of the oil. Ideally, the oil should be between 165°c – 180°c. If the oil is heating up too much, I turn off the heat. When the oil gets to the lower end of the temperature range, I'll turn the heat back on medium. Easy peasy.
Depending on the size of the doughnuts, you'll need to fry each side for about 1-3 minutes or until golden brown. Flip them over and let them cook for an addition 1-3 minutes. I personally like to toss them in granulated sugar before filling them, but you can easily forgo this step. If you do want to toss them, let them drain on a cooling rack for about a minute, then toss them in sugar. Once fully coated, I transfer them to a second cooling rack to cool completely.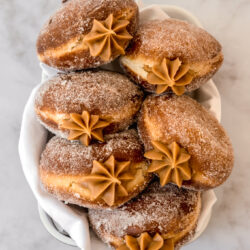 Salted Butter Caramel Brioche Doughnuts
The perfect marriage of a classic American dessert and French brioche.
Print
Pin
Rate
Equipment
fryer or heavy bottom pan (dutch oven)

Thermometer

drying racks

circle cookie cutter

oil for frying
Ingredients
Brioche Dough
500

g

flour

T55

75

g

granulated sugar

25

g

fresh yeast

6

eggs

50

ml

heavy cream

10

g

salt

200

g

butter,

cold & diced

10

g

vanilla extract
Salted Butter Caramel
105

g

granulated sugar

40

ml

water

120

g

butter,

salted

120

ml

heavy cream
Finishings
100

g

granulated sugar,

tossing
Instructions
Brioche Dough
In a mixer add all of the liquid first and mix on slow.

Add the dry ingredients and mix on slow until mixed together for

4 minutes

Bring up to medim speed and mix until you hear thumping against the sides. Add diced butter and continue mixing for an additional

10 minutes

. The dough should be glossy and wrapped around the dough hook.

Turn out onto a floured countertop and gently knead into a ball. Lightly wrap with plastic wrap and let proof in the fridge for at least 12 hours and maximum 24 hours.
Salted Butter Caramel
Add the sugar and water to a sauce pan and heat over medium-high heat.

In a separate sauce pan, heat up the cream. It needs to get to 160°C – 170°C (320°F – 138°F)

Once the sugar mixture starts to brown, swirl the pan off of the heat. The longer you cook the caramel, the more bitter it becomes.

Off the heat, slowly add the cream, stiring continuously. Once everything is combined, add the butter.

Transfer to a bowl, cover with plastic wrap and cool in the fridge.
Doughnuts
Pull the dough out onto a lightly floured work top. Degas it, then roll out to 1.5cm-2cm thick (1/2-3/4inch).

Using a cookie cutter, cut out your doughnuts and place on a baking sheet lined with parchment paper. Roll up and reroll out the remaining dough and repeat.

Let proof at room temperature for 45 minutes – 1 ½ hours or until doubled in size.

Meanwhile, warm up your fry or oil. This can take 20-30 minutes to be fully at temperature.

Prep your frying area with two drying racks and a bowl with granulated sugar (if you're tossing the doughnuts in sugar)

When the doughnuts are proofed and the oil is at temperature, add your first doughnut. Cook for 1-3 minutes (depending on size) then flip when browned. Cook the otherside for 1-3 minutes.

Transfer cooked doughnuts to the cooling rack to drain for

1 minute

then toss in sugar until fully covered.

Transfer covered doughnut to secondary cooling rack and let cool completely.

Continue until all doughnuts are cooked.
Filling
When the doughnuts are cooled, whisk the cooled caramel until smooth and transfer to a piping bag with piping tip.

Cut a 2-3cm (1inch) long slit on the side of each doughnut.

Insert the piping tip into the slit and fill until the filling comes back out of the side of the doughnut. Finish off with a little swirl of filling if desired.
Nutrition
Calories:
414
kcal
|
Carbohydrates:
45
g
|
Protein:
6
g
|
Fat:
24
g
|
Saturated Fat:
14
g
|
Cholesterol:
127
mg
|
Sodium:
442
mg
|
Potassium:
82
mg
|
Fiber:
1
g
|
Sugar:
19
g
|
Vitamin A:
795
IU
|
Calcium:
27
mg
|
Iron:
2
mg