If you're like 90% of the population who started making sourdough bread during the confinement, you may be looking for ways to use that sourdough discard. For those of you who are familiar with sourdough starters, you know how hungry they can get. Normally, I just shrug this off and know that's it's a small cost to have great sourdough bread. Yet due to the current food shortages and how hard it is to find basic ingredients, I cringe every time I have to toss some of my starter. So when The Boy Who Bakes posted a recipe for sourdough chocolate chip cookies, I knew I had to try it.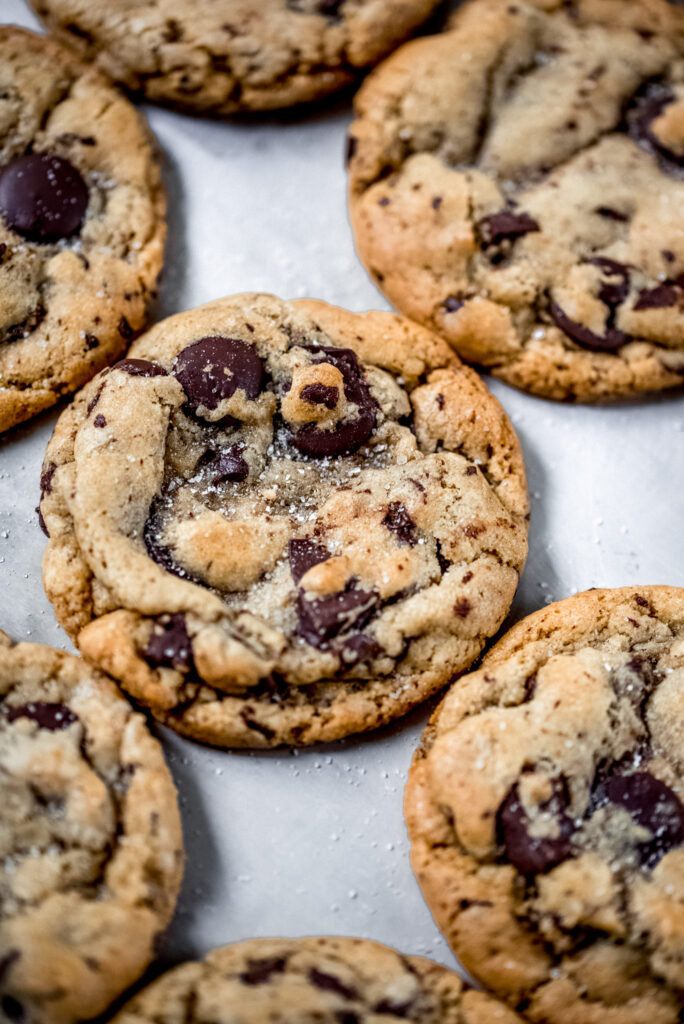 Baking with Sourdough Waste
So sourdough discard is basically 50% water & 50% flour. Hypothetically, you could use discard in any recipe that has flour and a liquid. Yet chocolate chip cookies don't have any liquids, other than butter, so how do you add in the sourdough discard? One simple answer – browned butter. In Europe, butter is a minimum of 82% fat, the rest is water. So if you brown your butter before using it, you're essentially getting rid of the water, which you can then replace with another liquid. In our case – sourdough discard.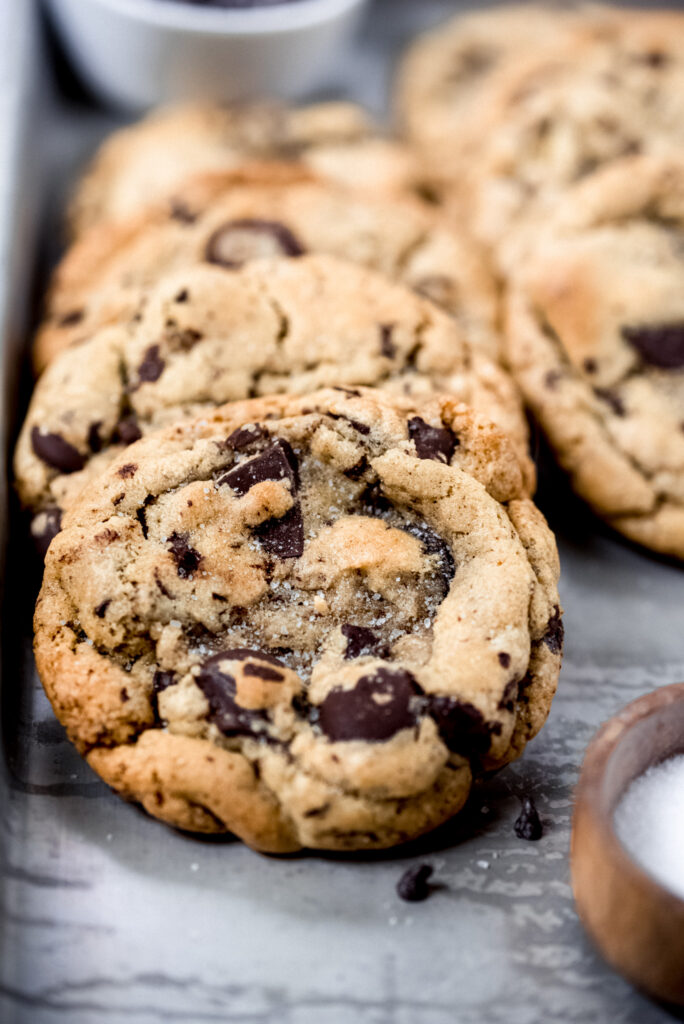 What kind of chocolate?
The initial recipe calls for 500g of dark chocolate chips (3 US cups). When I first made these cookies, I added all 500g however the dark chocolate was too overpowering. So I pulled back the dark chocolate to 300g and then did 50/50 dark and milk chocolate. If you really do prefer dark chocolate, I would still only do 300g of chocolate.
You can use chocolate chips if you wish. They work just fine. I personally chopped up a tablet of chocolate. Then I added some chocolate callets, to play upon the different textures of the two.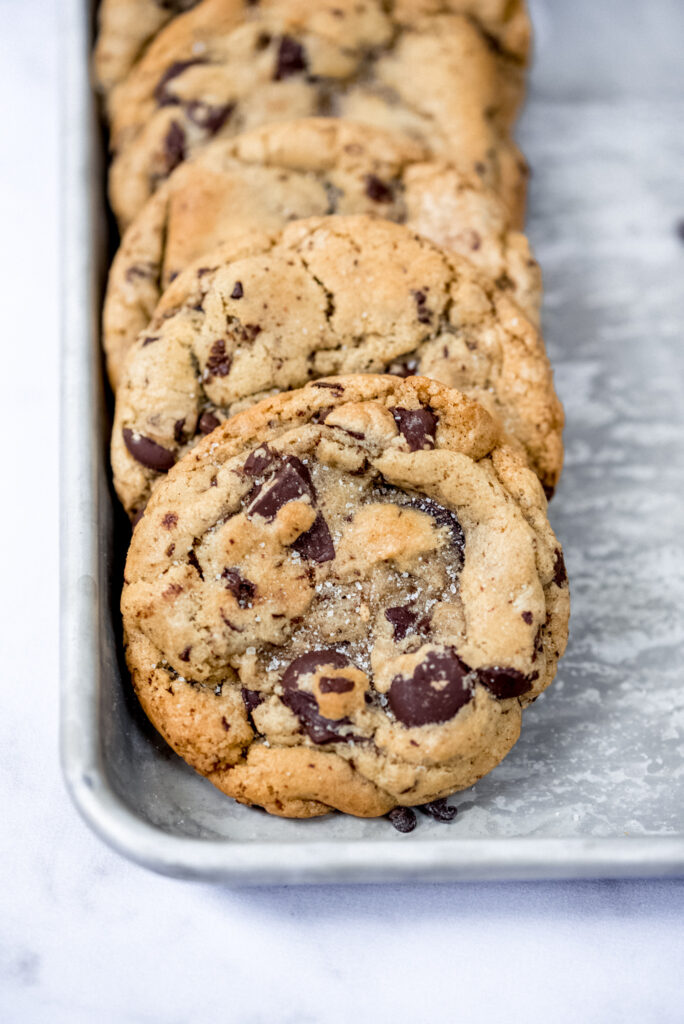 How do I brown butter?
Browned butter is amazing. It can change dishes so easily yet I feel isn't used very often. Melt the butter in a medium sized pan on medium high heat. The butter will start to foam, which is normal. Keep it on heat and the foam will subside. At this point you'll want to watch it like a hawk, as it can burn before you know it. At the bottom of the pan, you should see little brown specks which are the milk solids. When you see that, it means that the water has evaporated and you can take it off of the heat.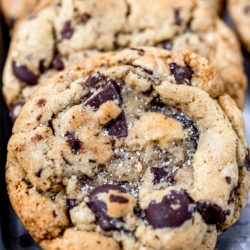 Sourdough Chocolate Chip Cookies
Based off of The Boy Who Bakes recipe, this sourdough chocolate chip cookie recipe is one to hold on to!
Print
Pin
Rate
Ingredients
225

g

butter

380

g

all-purpose flour,

type 45

1

tsp

baking powder

1

tsp

baking soda

1

tsp

sea salt

220

g

granulated sugar

220

g

light brown sugar

3

large egg yolks

240

g

sourdough starter discard

1

tsp

vanilla extract

150

g

dark chocolate,

roughly chopped

150

g

milk chocolate,

roughly chopped
Instructions
Cookie Dough
Chop the butter into cubes and brown in a medium sized sauce pan on medium high heat.

In a medium bowl, whisk together the flour, baking powder, baking soda and salt. Set aside.

In the bowl of a mixer, add the sugar and butter, then cream until light and fluffy, about 2-3 minutes.

Add the egg yolks and mix for an additional 3 minutes, scraping down the sides of the bowl half way through.

Add the starter and vanilla, then mix until fully combined. It should be smooth and look like a cake batter.

Add the flour in three additions, scraping down the sides after each one.

Add the chopped chocolate and mix until just combined.

Cover the bowl in plastic wrap and let rest in the fridge for 24 hours.
Baking
Preheat the oven to 180°C (355°F) and prepare a couple of cookie sheets.

Roll the dough out into 70g balls and place on the prepared cookie sheets with ample room between them, so they don't touch during baking.

Bake for about

16 minutes

. The edges of the cookies should be slightly browned and the centers puffed up.

**Tip** If the cookies are a little out of shape, you can use a round cookie cutter that's a tad bigger than the cookie to 'nudge' it back into shape as soon as you remove them from the oven.

Let cool for about

10 minutes

prior to transfering to a cooling rack.
Notes
Store in a sealed container for no longer than 4 days
You can freeze the cookie dough prior to baking for up to a month
Bake frozen cookie dough balls for about 18-20 minutes.
Nutrition
Calories:
281
kcal
|
Carbohydrates:
39
g
|
Protein:
3
g
|
Fat:
13
g
|
Saturated Fat:
8
g
|
Cholesterol:
45
mg
|
Sodium:
234
mg
|
Potassium:
97
mg
|
Fiber:
2
g
|
Sugar:
23
g
|
Vitamin A:
269
IU
|
Calcium:
31
mg
|
Iron:
2
mg