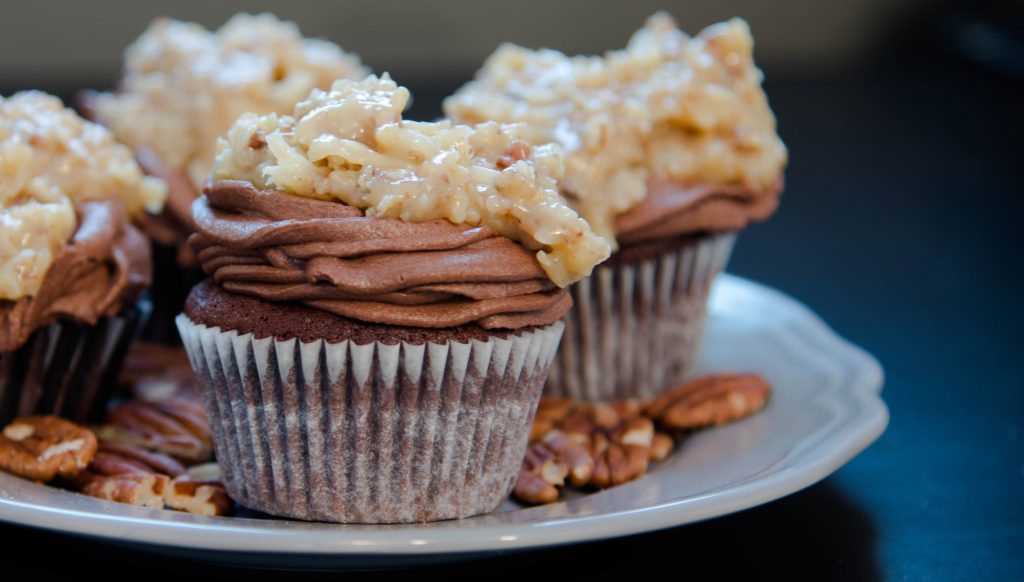 To those who know me, it is fairly common knowledge that I love to be in the kitchen, whipping up something. Cakes, cookies, comfort food, exotic dinners, you name it. I have been playing with the idea of starting a food blog for quite sometime, however it wasn't until I mentioned it to my husband over dinner a few weeks ago did the wheels starting rolling.
As a long time food-blog lurker, I have watched others jumping into the blogging world head first, while I hid quietly on the sidelines. I have my favorite bloggers who I have been following for years as well as a few go-to sites for when I'm hitting a creative wall. Most days I am in awe of their ideas, dumbfounded in how they found the fabulous recipes that were now at my fingertips. Once I mentioned what seemed to be a far-fetched dream of joining the food blog world to Mr. Hubby, he encouraged me to use the opportunity of studying for my CAP Pâtissier to take the leap and share my passion with the world. Needless to say, he also offered to be my taste tester (not that I needed to twist his arm much) and free in-house tech support. And voila, My Secret Confections was born.
Anyways, enough about the who and the why, let's get to the food, which is obviously the reason you are really here. Growing up, before I started learning how to cook from scratch, I remember my dad was a big fan of German Chocolate Cake. The decadent coconut pecan frosting generously spread over a light chocolate cake. As I am not at all a chocolate fan *scrunches my nose* and there is just the two of us, it wasn't reasonable to make an entire cake. A cupcake variation seemed like the perfect answer, allowing my husband to take any "unwanted" leftovers to his coworkers.
As the traditional German chocolate topping is notoriously sweet, keeping the sweetness level in the actual cake is quite important. Finding the perfect chocolate cake took a couple of tries, not that any of my husbands co-workers complained!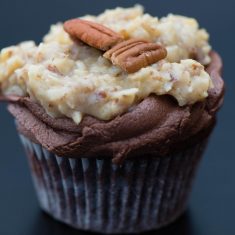 Ingredients
Chocolate Cupcakes
93

g

Flour

100

g

Sugar

50

g

Light brown sugar

115

g

Butter

60

g

Dark chocolate

42

g

Cocoa Powder

2

Eggs

120

ml

Buttermilk

1/2

tsp

Baking soda

3/4

tsp

Baking powder

1/4

tsp

Salt

1

tsp

Vanilla Extract
Chocolate Frosting
290

g

Icing sugar

30

g

Cocoa powder

85

g

Butter (softened)

2

tbsp

Milk

0.5

tsp

Vanilla extract

1

pinch

Salt
Coconut-Pecan Topping
3

Egg yolks (lightly beaten)

240

ml

Evaporated milk

113

g

Butter

200

g

Sugar

115

g

Sweetened shredded coconut

1

tsp

Vanilla extract

1

pinch

Salt

125

g

Chopped pecans

Pecan halves (optional)
Instructions
Chocolate Cupcakes
Preheat the oven to 175°C degrees (350°F). Line a 12-cup cupcake/muffin pan with cupcake liners. Set aside.

Melt the butter and chocolate together in the microwave; in 30 second increments, stirring between each time. You may also melt the butter and chocolate over low heat on the stovetop. Stir until smooth and set aside to slightly cool.

In a medium sized bowl, toss the cocoa powder, flour, baking soda, baking powder, and salt together until thoroughly combined. Set aside.

In a large bowl, whisk the eggs, sugar, brown sugar, and vanilla together until smooth.

Add the cooled butter/chocolate and whisk until smooth. Add half of the flour mixture, then half of the buttermilk. Repeat until everything is added. Stir until *just* combined; do not overmix. The batter will be very thick like pudding.

Divide the batter between 12 liners in your cupcake pan. Bake for

18 minutes

, or until a toothpick inserted in the center comes out clean. Allow to cool completely before frosting.
Chocolate Frosting
Beat butter in bowl of electric mixer on medium speed until fluffy, about 1 minute.

Reduce speed to low and add sugar, 1 cup at a time, beating for about 15 seconds between each addition. Add cocoa powder and beat for 15 seconds. Increase speed to medium and beat until smooth, about 3 minutes.

Add salt, vanilla and milk, beating on low speed to combine. Increase speed to medium and beat until fluffy, about 3 minutes, stopping to scrape down sides once or twice.
Coconut-Pecan Topping
Combine evaporated milk, egg yolks, butter, sugar, coconut, and salt in a medium saucepan. Stir until combined.

Cook over medium-high heat, stirring constantly, until thick, about 5 to 7 minutes. Remove from heat; stir in vanilla extract and chopped pecans. Let cool to lukewarm.
Put everything together
Frost each cupcake with chocolate frosting.

Top each frosted cupcake with a bit of coconut topping.

Place a pecan half on top (optional).