Looking for a fall salad, full of flavor? This salad has become a staple in our home. It is easy to throw together and tastes like Thanksgiving in a plate. I'm not even kidding, I generally make this at least twice a month, it is just that good! From the roasted sweet potatoes, to the crunchy pecans and the slightly sweet yet zippy dressing, it's a great addition to any holiday dinner, or even to be a dinner on its own.
Roasting sweet potatoes is by far my favorite way to prepare them. They're soft and juicy inside, yet crispy and slightly caramelized on the outside. I prefer butter over olive oil in 99% of cases, I mean come on, have you tried french butter? However, since the potatoes are roasted at such a high temperature, butter would have just burnt and become bitter, so olive oil was the way to go.
Despite the fact that sweet potatoes are, well sweet, the honey lemon dressing pairs perfectly. There's not too much honey in the dressing and it brings down the zippyness that you get from the fresh lemon juice and Dijon mustard. Speaking of which, use freshly squeezed lemon juice, and not the pre-squeezed stuff you get in the bottle, trust me. It makes all the difference.
*This salad serves 2 as a main or 4 as a side dish.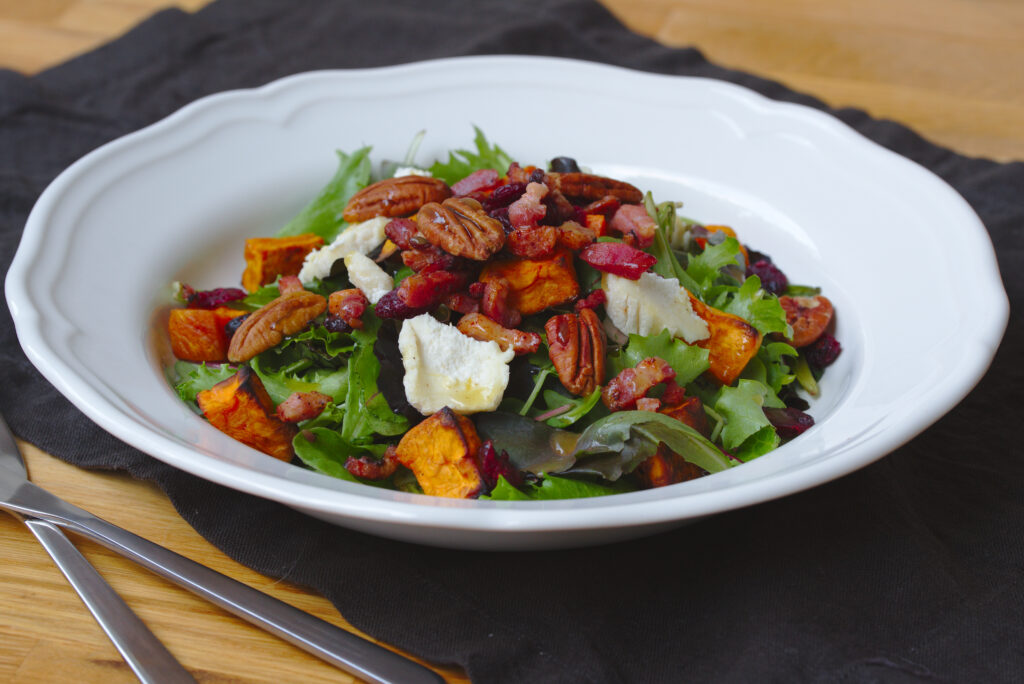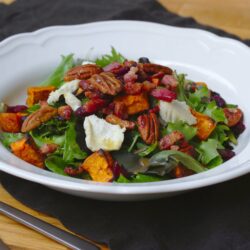 Roasted Sweet Potato Salad
Light salad with oven roasted sweet potatoes, soft goat cheese, toasted pecans and a zippy yet sweet vinigarette.
Print
Pin
Rate
Ingredients
Ingredients
600

g

sweet potato,

peeled

1 1/2

tbsp

olive oil

salt & pepper

(as needed)

200

g

lettuce

60

g

dried cranberries

70

g

pecans

1

tsp

oil

100

g

bacon

60

g

goat cheese
Honey Lemon Dressing
1

tbsp

honey

2

tbsp

lemon juice,

freshly squeezed

2

tbsp

olive oil

1/2

tsp

Dijon mustard

salt & pepper,

to taste
Instructions
Preheat your oven to 220°C (430°F)

Cut the sweet potato in about 2cm cubes. Try to keep them about the same size so they cook evenly. Transfer to a medium sized bowl. Toss with the olive oil as well as salt and pepper, then spread out evenly onto a baking sheet.

Roast for

20 minutes

, then flip, roasting for another

10 minutes

or until golden and thoroughly cooked.

While the sweet potatoes are in the oven, make the salad dressing. *Personally, I measure out all of the ingredients directly into a squeeze bottle and shake until well combined. Easy to mix, dress the salad and store if there are extras, meaning I have a ready made dressing sitting in the fridge.

In a medium dry skillet, toast the pecans over medium high heat until they smell nutty, which usually takes about 2-3 minutes.

Remove the pecans and heat the oil in the pan. Add the chopped bacon and cooked until golden. Transfer to a plate lined with a paper towel and pat the bacon to absorb the excess oil.

To assemble, place everything in a bowl, keeping some of the bacon, pecans, dried cranberries and goat cheese on the side for garnish. Drizzle with some of the dressing, then toss.

Transfer to a serving bowl and garnish with the remaining ingredients. I personally like to serve extra dressing in a small sauce cup, so each guest can use as desired. Enjoy!