To be honest, growing up we didn't eat a lot of salads. It may be because we didn't really know how to make a good salad. The french however know how to make a good salad. Perhaps that's how they stay so thin…. Originating from the city of Nice, in the south of France on the Mediterranean, the nicoise salad has so many components that it doesn't seem like you're actually eating salad. That may be why I love it so much!
There is quite a bit of debate over what should be in a salad nicoise. Some purist argue that there should only be anchovies, tomatoes, green peppers and never potatoes. I beg to differ. Tuna wasn't actually added in to the norm of ingredients until the 19th century which is quite amusing. When I think of salade niçoise, the first thing that comes to mind is tuna.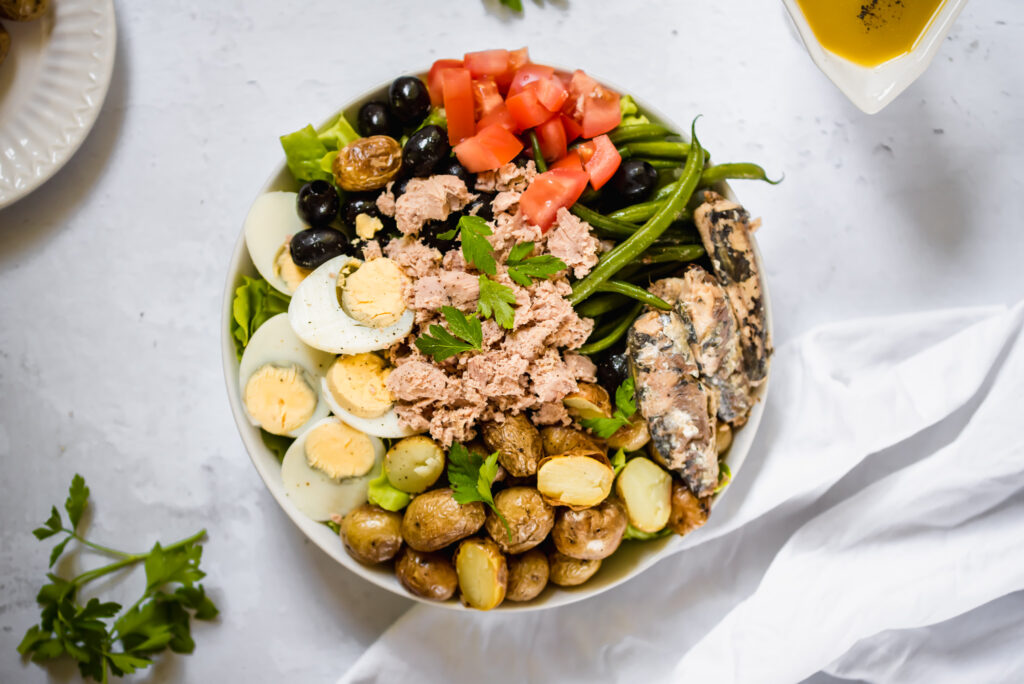 Julia Child
For many of you, there is no need to tell you who Julia Child is. For those of you who are unfamiliar with her, she was an American who moved abroad after WWII, studied at Le Cordon Bleu Paris (aka my dream school) and wrote a thorough cookbook on la cuisine française. After returning back to the States, she went on to become an iconic figure in households across America, thanks to her cooking shows on TV. If you want a quick intro into her, Meryl Streep (in my opinion) portrayed dear Julia fantastically in the film Julie & Julia. For those who want a bit more information on her time in France, I would strongly suggest reading her autobiography My Life In France.
I have personally always felt a sort of kinship with Julia Child. Maybe it's the fact that we both have the same maiden name, or perhaps it's simply our shared love for France and french cuisine. Whatever may be the reason, when I find myself in a rut, I always look to Julia Child for guidance and fresh ideas.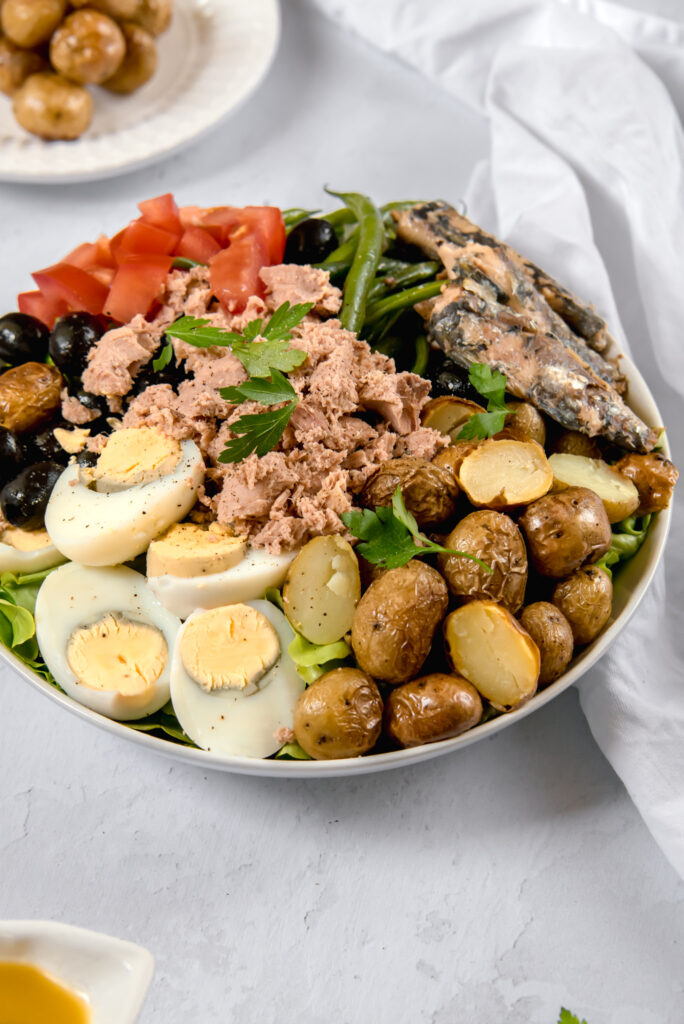 Salade Niçoise
As for most salads, it's vitally important to choose the best produce you can, to make sure that all of the ingredients stand out. For Julia Childs recipe, she uses
Boston lettuce
Green beans
Tomatoes
Canned tuna
French potato salad
Hard-boiled eggs
Anchovies
Capers
Black olives
Olive oil for drizzling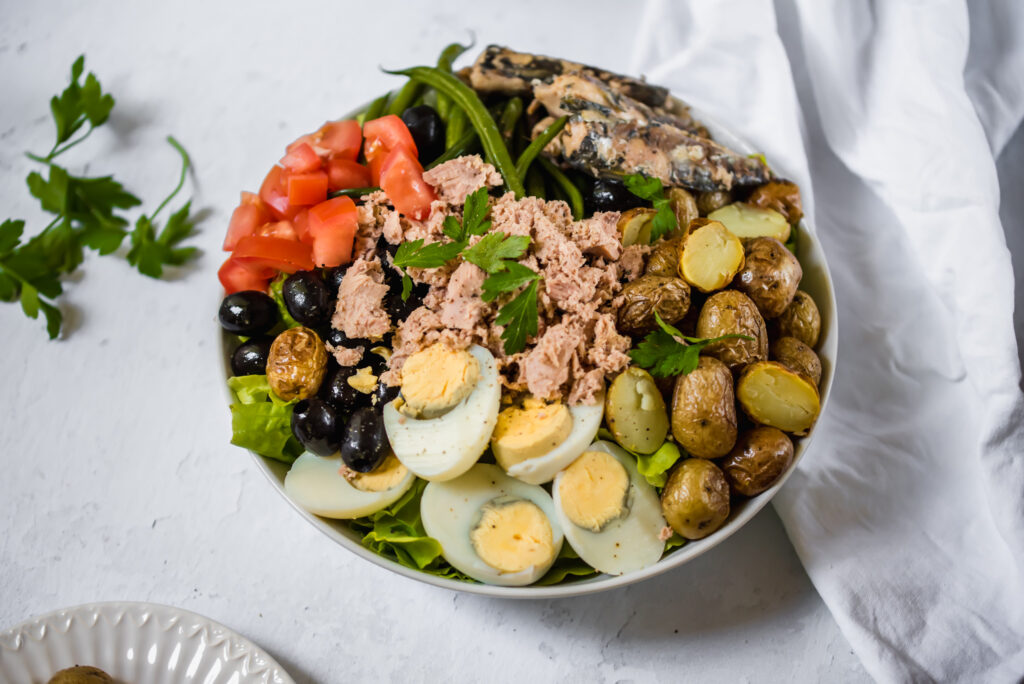 I didn't want to change her recipe too much. However in the end, I didn't end up using all of the ingredients in her recipe. Personally, I'm not a fan of capers nor anchovies. The capers were dropped all together and then I replaced anchovies with sardines. I also roasted pommes de terres rattes rather than slicing boiled potatoes for the potato salad and in the end, I prefer them over the traditional french potato salad.
For the dressing, Mr. Hubby and I both found the initial amount of olive oil quite over powering, so I brought down that amount, then upped the Dijon mustard. In the end, it's become one of my favorite 'hearty' salads.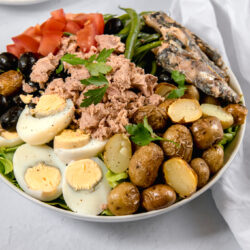 Salade Niçoise
A classic summer french salad, this salad niçoise has something for everyone- fresh tomatoes, olives, green beans, fish. Perfect for a hearty yet light meal on those warm summer days!
Print
Pin
Rate
Equipment
Sheet Pan

sauce pan

Strainer

salad spinner
Ingredients
Salad
1

head of lettuce,

I used Batavia.

150

g

green beans,

fresh & trimmed

4

ripe tomatoes,

quartered

200

g

Ratte potatoes

4

eggs,

hard boiled

115

g

canned sardines,

in olive oil

150

g

black olives

salt & pepper,

to taste
Vinaigrette
30

ml

lemon juice,

freshly squeezed

15

g

Dijon mustard

60

ml

olive oil

salt & pepper,

to taste
Instructions
Vinaigrette
Add all of the ingredients to a bowl (or mason jar) and mix until combined.

Store in the fridge until needed
Salad
Preheat the oven to 200°C (400°F)

Drizzle the potatoes with olive oil & season with salt & pepper. Toss to cover.

Transfer the potatoes to a sheet pan and roast for approximately

30 minutes

, mixing the potatoes half way through.

Blanche the green beans in heavily salted water for

6 minutes

Strain and plunge in ice water to stop the cooking entirely. Transfer to a kitchen towel and let dry.

Wash and chop the lettuce into smaller, bite size pieces and add to a large, wide salad bowl lettuce leaves.

Drizzle 15ml (1tsbp) of vinaigrette over the lettuce and sprinkle with a bit of salt.

Toss the green beans with a bit of olive oil & season with salt & pepper.

Break up the canned tuna with a fork and season with salt & pepper.

Add all of the ingredients to the bowl, creating mounds of each ingredient then add the tuna to the center of the salad.

Drizzle the salad with some vinaigrette and serve the rest along side the salad.
Nutrition
Calories:
258
kcal
|
Carbohydrates:
12
g
|
Protein:
11
g
|
Fat:
19
g
|
Saturated Fat:
3
g
|
Cholesterol:
136
mg
|
Sodium:
564
mg
|
Potassium:
514
mg
|
Fiber:
3
g
|
Sugar:
4
g
|
Vitamin A:
1312
IU
|
Vitamin C:
23
mg
|
Calcium:
124
mg
|
Iron:
2
mg