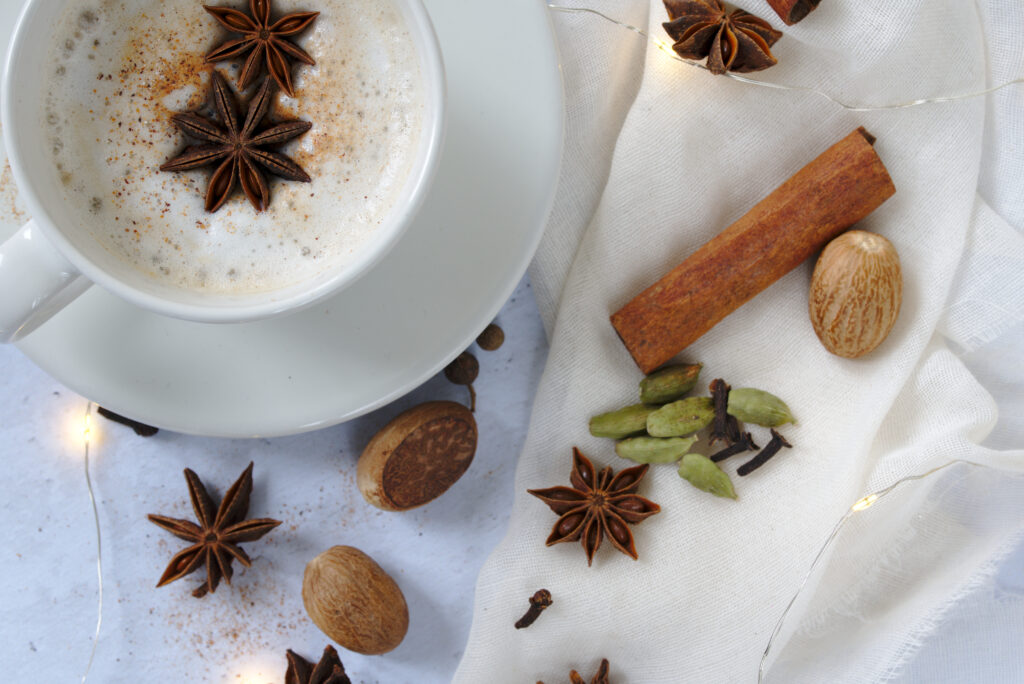 Before starting my adventure on making a homemade chai concentrate, my first encounter with Chai was at Starbucks and I instantly fell in love. It honestly tasted like Christmas in a cup and became my go-to order at any coffee shop.
Not long after, I found myself on the hunt for a way to recreate my favorite drink at home, yet after trying every type of Chai available in the stores, I found myself wanting. They smelled spot on but as soon as the tea was steeped, it just tasted weak with no particular flavor. So, I moved away from store bought Chai and focused on using whole spices to recreate the exact flavor I was looking for.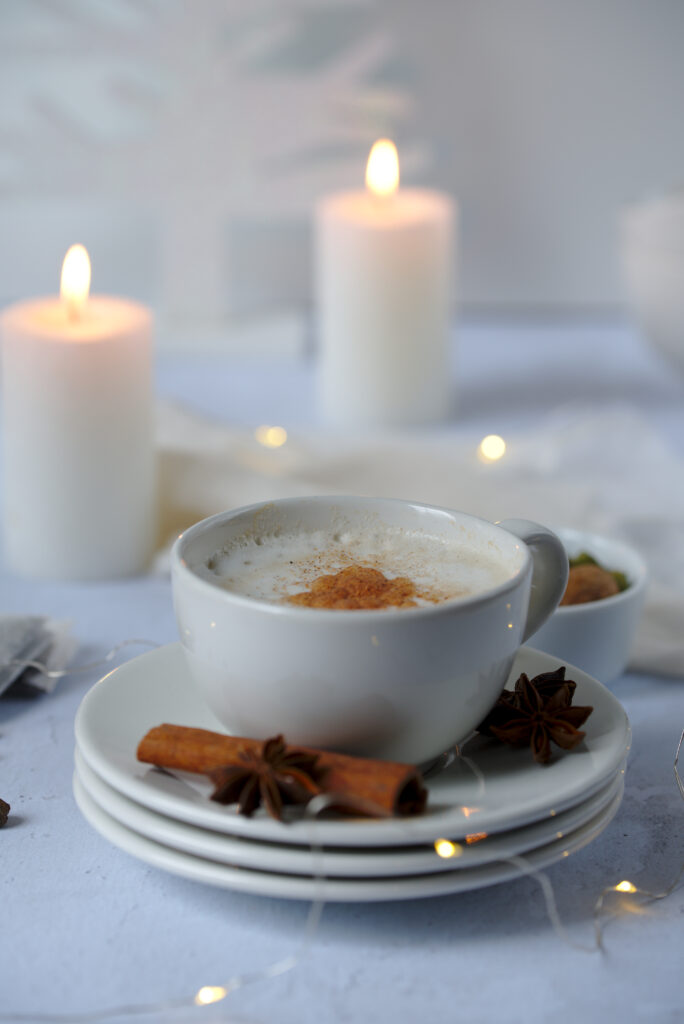 Enjoying at home
The best thing about making homemade Chai concentrate is that you can alter it to your specific desire. After quite a few years, I found myself shying away from overly sweet drinks, even the Starbucks Chai Latte is now too sweet for me. I started messing around with my own concoction but I wanted to make sure that the other flavors in the drink held their own without drowning in sugar. Once I found the balance of spices that I was looking for, I slowly added sugar back in to the recipe until I had the perfect cup of spicy Chai with just a touch of sweetness.
I opted for fresh ginger, rather than dried, along with fresh orange zest, giving the concentrate a nice zippy bite, but it wasn't quite perfect. By adding whole peppercorns, they really elevated all the other flavors. To add back in a touch of sweetness, I used brown sugar rather than granulated sugar. Honey also works great too! But as I mentioned before, the best part of Chai is that there are no rules, just tweak it until you get exactly what you want and have fun with it!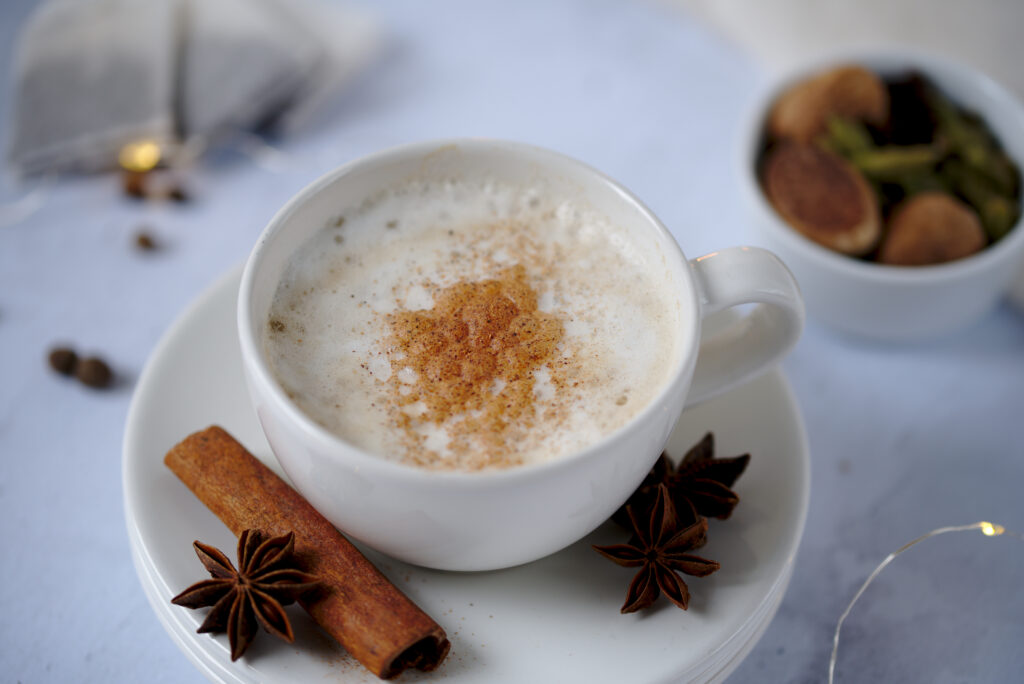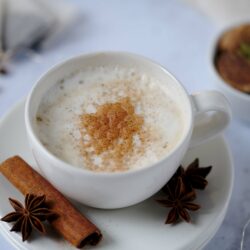 Homemade Chai Concentrate
The perfect chai concentrate prepared with full-bodied black tea, star anise, nutmeg, cloves, allspice, cinnamon, black peppercorns, cardamom, and brown sugar.
Print
Pin
Rate
Equipment
Large Sauce Pan

Strainer

Storage Bottles
Ingredients
4

tbsp

loose black tea leaves,

(or 4 black tea bags)

5

cinnamon sticks

9

whole allspice berries

10

whole cloves

3

whole star anise

10

green cardamon pods,

crushed

1/2

tsp

whole black peppercorns

1/2

tsp

nutmeg

3

4-inch slices of fresh ginger,

peeled

1

tsp

orange zest

3

tbsp

brown sugar

1

vanilla bean, split and scrapped,

(or 1 tablespoon vanilla extract)

cheese cloth

kitchen twine
Instructions
Measure out all of your ingredients, excluding the tea and place into a large sauce pan.

Cut a large square of cheesecloth. It needs to be large enough to tie up into a large tea bag. Measure out the tea leaves and place on the cheese cloth. Tie it up with some kitchen twine creating a large tea bag then place into the sauce pan with the rest of the spices.

Fill the pot with about 2 liters of water and bring to a boil. Turn down the heat and let simmer for about

20 minutes

.

Strain the chai, removing the cinnamon, tea and spices. If using vanilla extract instead of whole vanilla, add now. Let cool to room temperature then transfer to a storage container and keep in the fridge for up to a week (if it lasts that long!).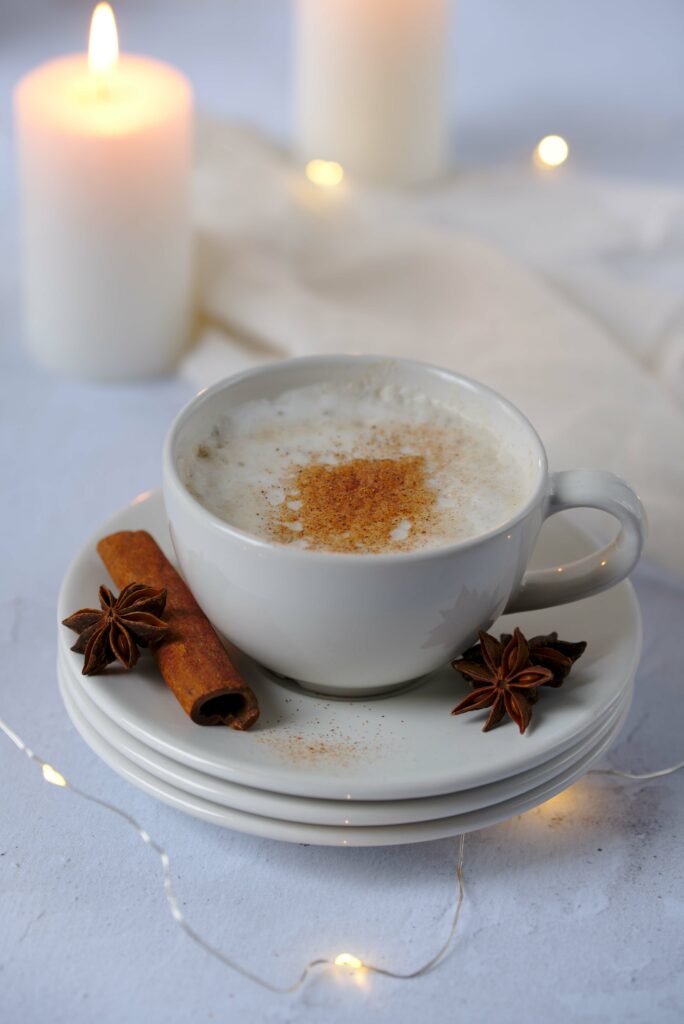 How to serve-
For hot Chai, combine 1 part homemade Chai concentrate with 1 part milk (cow's milk, almond milk, soy milk, etc.), and stir to combine.  Heat in a saucepan over medium heat until simmering, stirring occasionally. Alternatively, heat your Chai concentrate in the microwave or on the stove-top and heat your milk up in a frother, then combine, to make a nice latte. I personally prefer this method, I suggest top it off with freshly grated nutmeg and voila!
For an iced Chai, follow the same proportions of concentrate to milk (1:1) and serve over ice.
Enjoy!