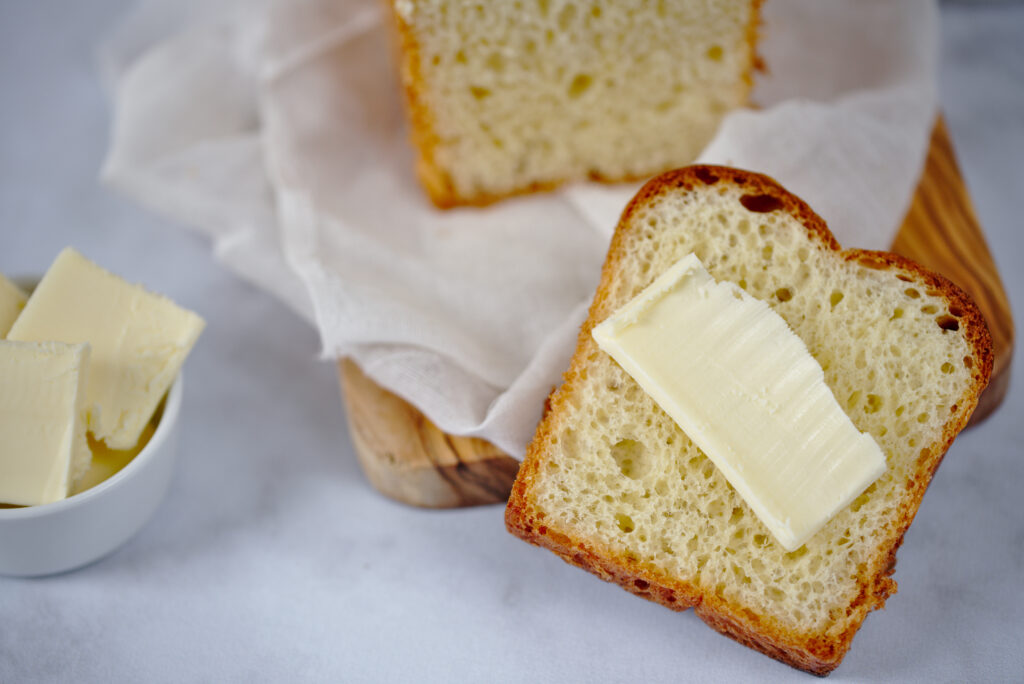 Hey everyone! It's been a minute hasn't it? How was everyone's holiday season? My little sister flew in from Slovenia where she's going to school and it being her first Christmas in France, we played tourist and hit up all of the good spots. Paris Christmas markets, the iconic Christmas tree at Galeries Lafayette, went ice skating in the Grand Palais, ate foie gras, tons of duck and drank mulled wine at every chance we could get, you get the gist.
I'm now getting back into the swing of studying, although after a two week break, it was a bit difficult! Due to the burn I got on New Years Eve, courtesy of dipping choux in hot caramel for a Saint Honoré dessert, I decided to ease back into it with something a bit 'soft' and I know some people have been asking for a good brioche recipe for a while….you know who you are *cough*.
Brioche
So what exactly is brioche? In all honesty, I don't remember hearing about brioche before I moved here, but as an Au Pair, it was a constant staple in the house. I learned very fast that French kids love smothering a slice of brioche with Nutella for an after school snack. For those of you who don't know what exactly it is, brioche is a yeast bread that is enriched with eggs and butter, giving it a nice fluffy texture with a delicate crumb.
It is now my go-to bread for french toast topped with salted caramel or for homemade hamburger buns and once you get the process down, it's quite easy to throw together. We honestly never buy store bought hamburger buns anymore and will refuse to make french toast with store bought bread. Once you make your own, there is simply no replacing it. Even Nibbles will go to the kitchen and refuse to leave when there is brioche in the house, he loves it!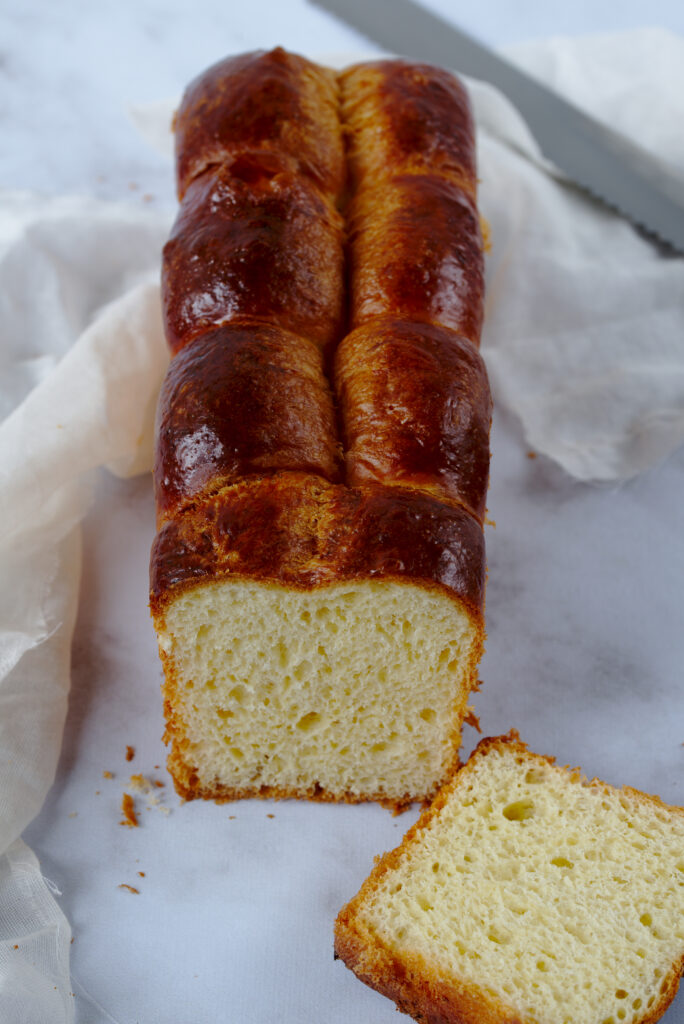 Sizes of loaves
Below I have given you all of the instructions on how to make loaves, however if you wish to make other forms, mess around with it! This recipe makes about a kilo of dough, so you can split it up however you wish. I tend to make a couple hamburger buns with each batch and freeze them for later. They freeze quite nicely, I double wrap them then leave them on the counter to defrost when needed.
Nanterre Loaf, which is what I explain in the recipe below, it should be 250-350g, depending on your pan size, meaning 5-7 balls of 50g each, or 8 balls of 30g each
For a braided loaf, each strand should be 100g.
Parisian brioche – 300g total (6 balls of 50g)
Wreath brioche- 250g-300g total
Hamburger buns- 100-120g each (sprinkle sesame seeds on after the last egg wash, before you bake them)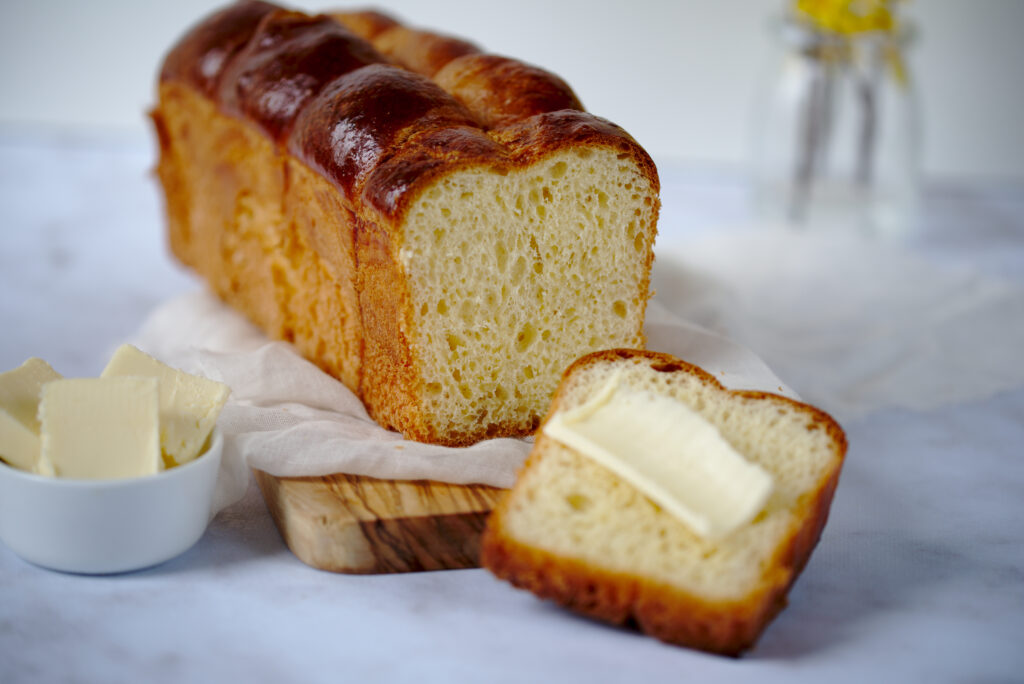 Traditional French Brioche
One of the more popular french breads, brioche is perfect for french toast, hamburger buns and more!
Print
Pin
Rate
Equipment
Stand Mixer

Baking Sheets

Bread Pans

Scale
Ingredients
Brioche Dough
500

g

All-purpose flour

Type 45

10

g

salt

60

g

sugar

20

g

fresh yeast

300

g

eggs

250

g

butter
Egg Wash
1

egg yolk

pinch of salt

pinch of sugar

splash of water
Instructions
In the bowl of a mixer, measure out the eggs. Crumble the fresh yeast directly over the eggs.

Add the flour, completely covering the eggs, then add the salt and sugar to opposite sides of the bowl. You do not want them to come in direct contact with the yeast, or it will die.

In a mixer equipped with the dough hook, mix for

5 minutes

on low speed and then

15 minutes

on medium speed until the dough pulls away from the sides of the bowl. If the dough is a bit dry, add a bit of water. Alternatively, if it is too wet, add a bit of flour.

Add the butter in two additions and mix on low speed for about

10 minutes

or until the butter is thoroughly mixed in. The dough should be shiny and have pulled away from the sides of the bowl. Check the temperature of the dough before removing the dough from the bowl. Ideally, it should be 24°c (75°f). If it is under 24°c (75°f), continue to mix until it reaches temperature.

Pull the dough onto a lightly floured work space and spread out into a rough square. Fold the top half of the dough to the middle. Repeat with bottom half, ending with both of the sides. (N + S + E + W). Turn the dough over and roll into a smooth ball. Transfer to a greased bowl and cover the dough with plastic wrap in direct contact with the dough. Let the dough rise at room temperature for

30 minutes

.

After the first proofing time, remove the dough from the bowl and degas the dough with the palm of your hand. Repeat the folding process as previously done – N + S + E + W . Roll into a smooth ball once again and place back into the bowl, ensuring direct contact with the plastic wrap and dough. Let the dough proof for the second time. See the chart at the bottom of the page, for the second proofing times.

While the dough is proofing in the fridge, prepare a sheet pan covered in parchment paper. Remove the dough from the fridge and using a scale, weigh out 50g (1 3/4oz) sections. Flatten the sections of dough, then fold as before – N + S + E + W – turn the dough over, seam side down and roll into balls. Place finished balls on the sheet pan and cover with plastic wrap. Continue until all the dough has been rolled out, then place in the fridge to chill for

30 minutes.

Prepare your bread pans by greasing them, then set aside. Remove the dough balls from the fridge. Working with one ball at a time, flatten each one with the palm of your hand, then fold as done before- N + S + E + W – turn the dough over, seam side down and roll once more into balls.

Depending on the side of your bread pans, the number of balls will vary. The loafs that I make are generally 300g (10 1/2 oz), ie 6 balls in each pan, as we rolled 50g balls (1 3/4oz).

Prepare the egg wash by mixing an egg yolk, pinch of salt, pinch of sugar and a splash of water together. Lightly brush the dough with egg wash and place in a warm spot for it's final proof. The dough should double in volume. Depending on the season and temperature of your kitchen, this can take from

45 minutes

up to 1h30. Alternatively, you can create a proofing chamber in your oven. Turn the oven on to 40°c (105°), once it comes to temperature, turn it off. Place a bowl of hot water in the bottom of the oven.

Preheat the oven to 180°c (355°f). Brush the dough gently with egg wash, being careful not to deflate it and bake for about

30 minutes

. Place on a rack and let cool for

10 minutes

before removing from the pan. Let cool for an additional

20 minutes

.
Nutrition