As a pastry student, crème pâtissière or pastry cream is one of the most important elements that you learn. It is the base of so many different recipes! You'll need it for a lot of tarts, cream fillings for eclairs, crème mousseline, for fraisiers, etc etc! It is so versatile and probably one of the most important basic recipes to master.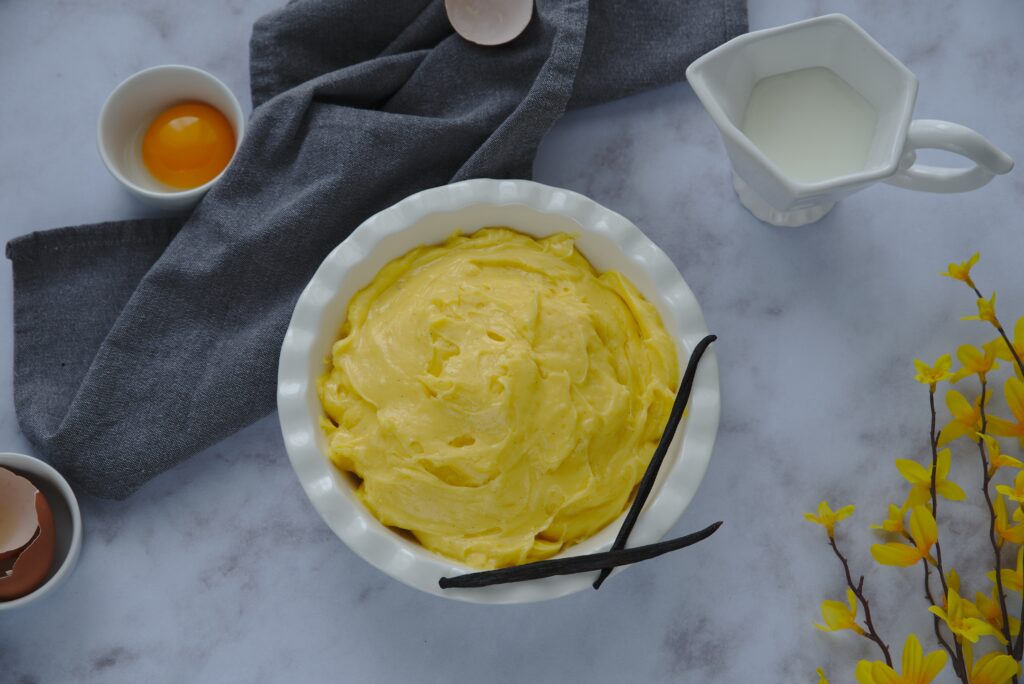 How to make pastry cream
Some recipes use whole eggs, while others use egg yolks; to which sugar, milk and poudre à crème are added.
To start off, whip the egg yolks with half of the sugar until they lighten in color. Add the poudre à crème and whisk again. If you can't find poudre à crème, you can easily replace it with flour or corn starch.
Bring the milk to a simmer with the other half of the sugar along with the vanilla grains (or vanilla extract). You'll then need to slowly add the hot milk to the egg mixture, mixing continuously. Transfer it back to the sauce pan and cooked, while whisking nonstop. The cream will continue to thicken. Stir and continue to cook for about two minutes before taking off the heat to all sterilize the cream.
Transfer immediately to a fine mesh strainer and sieve into a container, prior to putting it in the fridge. Make sure that the plastic wrap is in contact with pastry cream so it does not create a crust.
What is exactly poudre à crème
Poudre à crème is a mixture of starch and vanilla, which is used to thicken and flavor many creams found throughout French pastries. It's easily replaced by corn or potato starch, or flour. But in this case, you'll need to cook it a bit longer to make sure you don't have a flour after taste. Flour tends to make a thicker pastry cream than starch, but it would work in a pickle.
How to flavor pastry cream?
The most common flavor is vanilla. It is the base for crème mousseline, crème dipolmate, crème chiboust etc etc. Of course if I am going for a good vanilla pastry cream, using vanilla beans is worth the hassle and the couple extra euros. Vanilla extract is fine, when making cupcakes, etc, but when it comes to pastry cream, the real deal is better. Split the vanilla bean, scrape the grains and add them to the milk. I also take the split vanilla bean and add it to the milk as well. As the milk heats up, the flavors from the bean will infuse into the milk.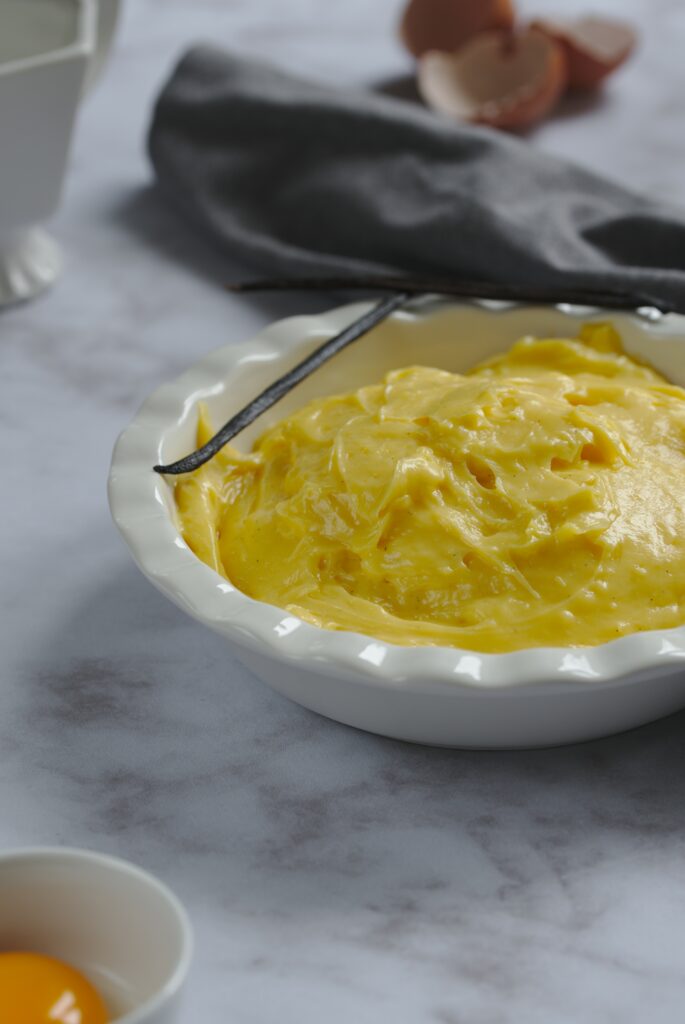 If you want to make chocolate pastry cream, melt the chocolate (about 100g) in the milk and then continue the recipe as normal. You can then take that cream and fill choux or éclairs and you'll have your guests drooling for me.
Coffee, praline, mint, pistachio, the options are endless! The process remains the same, add the aroma that you're using to the milk and let it infuse, then proceed as normal.
To infused your pastry cream with fruit, replace the milk with equal parts of fruit purée. The rest of the recipe remains the same.
What can I use pastry cream for?
Oh, boy. Everything! Doughnuts using my brioche dough recipe filled with crème pâtissère is one of my favorite desserts!
As an integral part of French pastries and can be used to fill tarts with fresh fruit, éclairs, choux, flans. It is also the base of many creams that create those iconic french cakes, such as fraisiers, charlottes etc.
Pastry cream with softened butter – crème mousseline
Pastry cream with gelatin mixed with whipped cream – Crème diplomate
Pastry cream mixed with Italian meringue – crème chiboust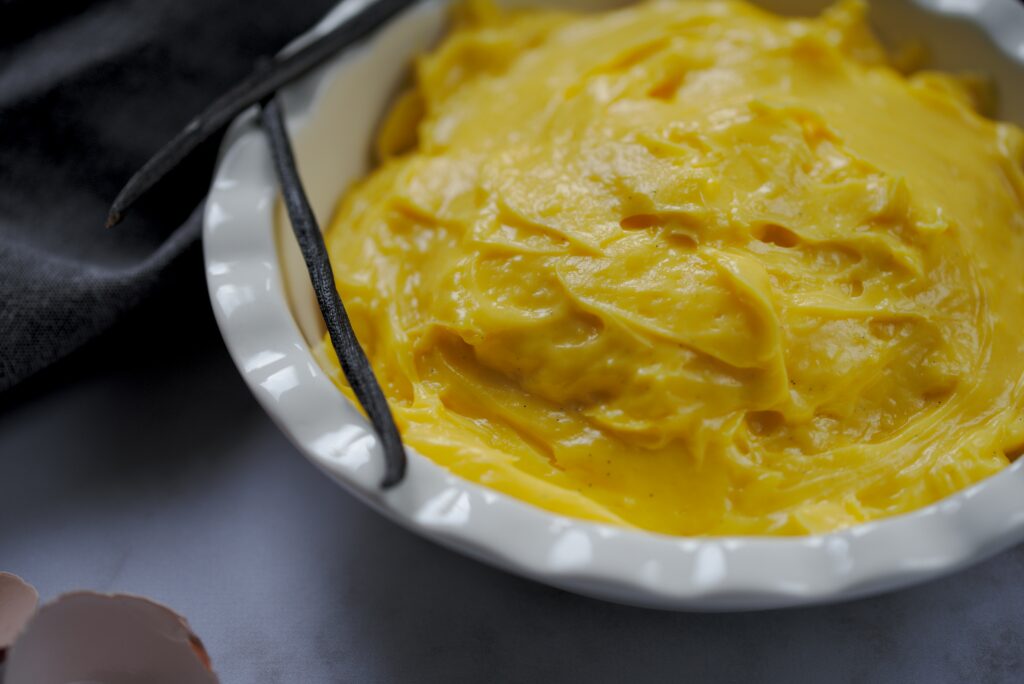 How long does it keep?
Pastry cream does not keep very long unfortunately, so I generally make it the day I need it. As it is heavy on the dairy, you should not keep it in the fridge for longer than 48 hours.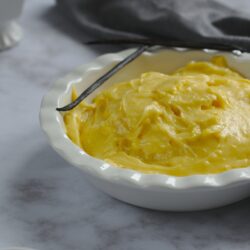 Crème Pâtissière – French Pastry Cream
One of the most important bases of French pastry, this pastry cream can be used in just about anything, from tarts, to pastries to even filling doughnuts.
Print
Pin
Rate
Ingredients
500

ml

Whole Milk

1

Vanilla Bean,

split and scrapped

50

g

Granulated Sugar

100

g

Egg Yolks

45

g

Poudre à Creme,

Corn Starch
Instructions
In a sauce pan, add the milk, vanilla grains and half of the sugar. Bring to a boil.

In a bowl, mix together the egg yolks and the other half of the sugar until lightened in color. Add the poudre à crème (or corn starch) and mix again.

Once the milk is boiling, pour half of the milk on the eggs, whisking nonstop.

Pour the egg mixture back into the sauce pan and cook on medium heat, whisking continuously.

Once the pastry cream thickens (after about 4 minutes), pour it through a sieve and into the casserole, spreading it out into a thin layer. Cover in plastic wrap, making sure it is in contact with the cream and transfer to the freezer for

10 minutes

.

After 10 minutes in the freezer, transfer to the fridge and let it continue to cool.