It's been a little less than a month since my last CAP practice exam, but I wanted to give it another shot and try to improve on those couple things that I had issues with last time.
Just as last time, I asked the hubby to choose my subjects and to only give me the recipes the morning of.
An entremet (mousse cake)
A tart
Dessert based of either pâte à choux (choux dough) or pâte feuilletée (puff pastry)
Viennoiserie – made of pâte levée feuilletée (croissant dough) or pâte levée (yeast raised dough)
Morning Preparations
The one big change between this practice exam and my previous one was that I now have my 'malette'. For the actual exam, we have to come equipped with all of our pastry supplies, minus the ingredients. I wanted to use the official list of material we need to have, to see if I found anything missing. Overall I did alright and had everything I needed. I am going to be sure to put a couple forks in my kit. They come in handy for whisking a couple egg yolks for egg washes, docking the bottom of a tart shell etc.
Subject wise, it was pretty smooth sailing. However the day itself was off to a bad start. Nibbles, woke me up for an urgent potty break at 4:30am, only a few short hours away from my alarm. I finally got back to sleep after quite a bit of tossing and turning, only to be woken up shortly after by my alarm clock.
I made myself an extra large, extra strong coffee, then sat down to organize my day. Not one, but TWO pens, broke on me, leaking blue and red ink all over my hands and on our white table. I ran for the cleaning product before the color set too long. Of course I then knocked over my water glass, spilling all over the table, chair cushion and floor. Not. My. Day.
Entremet – Craqueline
Tarte – Tarte Chocolat Noisette aka Tarte Piémontaise
Pâte à Choux – 16 Individual Paris-Brest
Pâte Levée Feuilletée – 16 Croissants
"Take a deep breath", I told myself. In the end, I started my day about 15 minutes late and with a half-assed ordonnancement.
Plan of Attack
The first thing I set out to do was to make the croissant dough, since it needed to rise for a total of an hour before I could start laminating it. Better get that done and out of the way. This was done quite fast, after weighing out the ingredients, the mixer does the rest, you just need to make sure not to over knead it.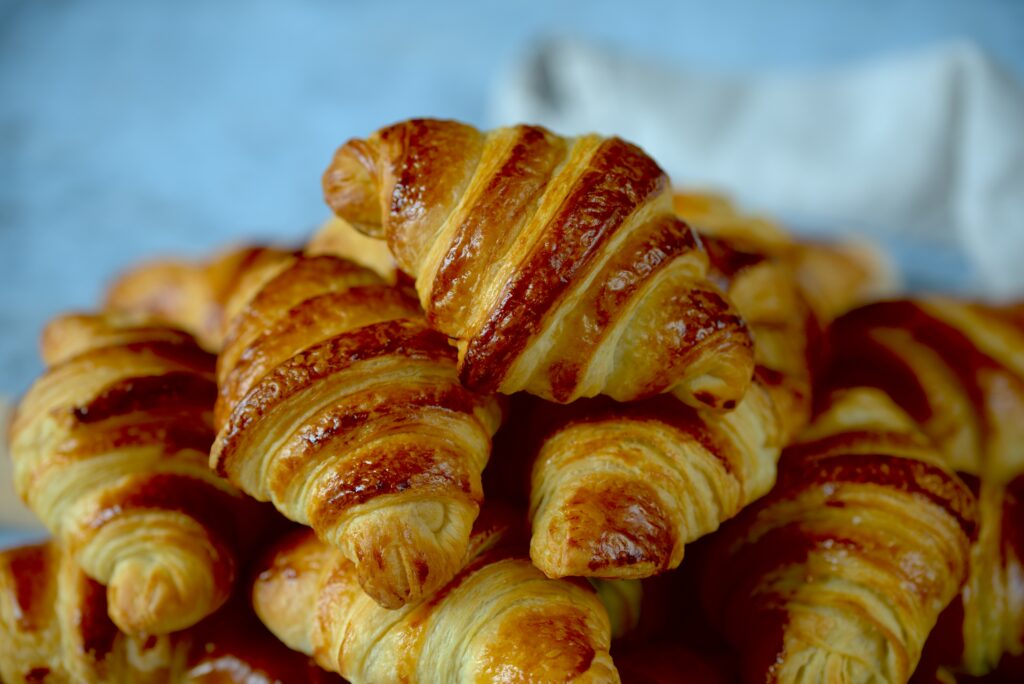 For the entremet, I had never actually made a Craqueline before, but as for the individual elements, I was familiar with them. Dacquois Noisette is quite straight forward, so once the mixer was done kneading my croissant dough, I had my ingredients ready, whipped up the egg white and the dacquois was in the oven in a matter of minutes.
The only other element of the entrement was a créme bavarois au gianduja, meaning I had to make a créme angalise, add the gianduja and gelatine, let that cool and then fold in whipped cream.
I knew from my last CAP Blanc that I wanted to get the entremet into the freezer before lunch to allow enough time to set up. Oh boy, let me tell you, by getting that done and in the freezer, it was so nice to be able to focus on other elements of the day, knowing all I had to do is finish the decorations.
Pâte à Choux
Despite the day starting off on the wrong foot, I managed to get back on track and everything was going good until the Pâte à Choux…
I made the panade (flour, butter and liquid, generally milk, water or half half), which was fine. The panade went to the mixer bowl. I let it mix for a couple of minutes to cool, then started to add the egg. All 250g of eggs went in. Then I second guessed myself. It seemed like it wasn't quite wet enough, so I added a bit more egg. It's all good. It looks better.
I transferred the dough to a piping bag and let it sit in the fridge while I prepared the pans. After I pipped the choux, my mind was elsewhere and I kept thinking about everything else I had to do. Then I 'checked' back in with reality and found myself sprinkling sliced almonds on the choux. Crapioli. I forgot my egg wash. I tried my best to apply egg wash where I could, then popped them in the oven, hoping for the best.
Fast forward 40 minutes later. They were flat. Every single one. Why the hell do I always second guess myself? Why can't I ever just follow my gut?!
I dumped those in a bowl on the balcony, out of sight out of mind, then set off to remake my dough. I listened to my inner self and voila voila, an hour later I had properly cooked choux. A bit irregular due to the piping but much better than the flat doughy disks sitting on the balcony.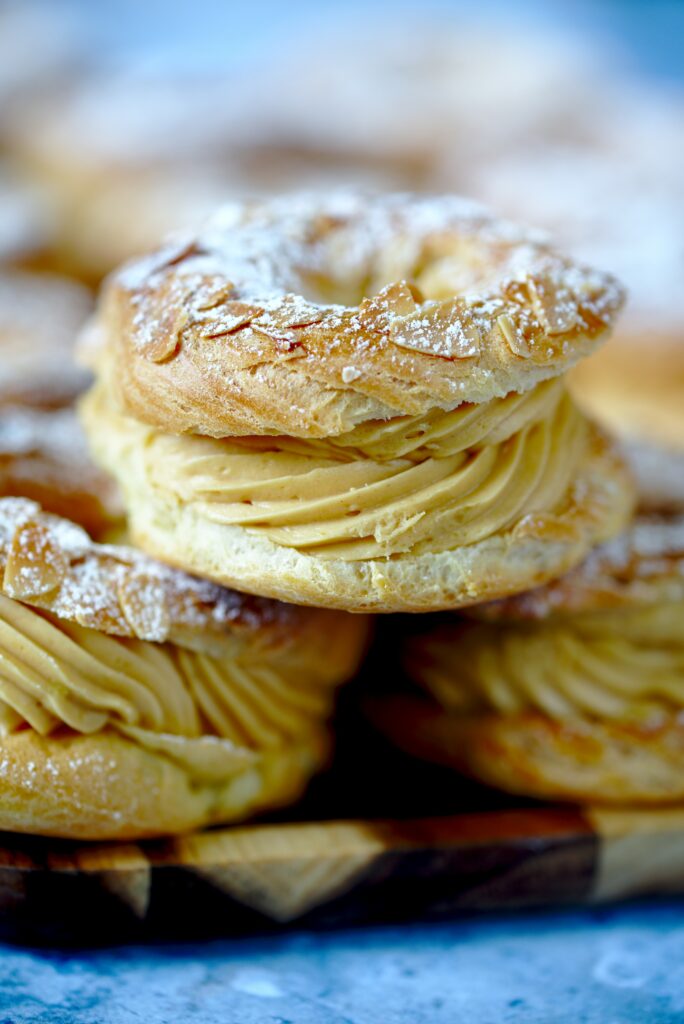 Making Up Lost Time
Since I have a tiny oven that can only accommodate two 30×40 pans at a time, I was now behind schedule. My tart was sitting in the fridge, waiting for its oven time slot, which had been taken by the pâte à choux fiasco. With lunch coming up, I desperately wanted to get my croissants proofing ASAP.
I started rolling out the croissant dough, but it wasn't quite cold enough to roll out entirely, so rather than risk crushing my butter layers, I popped it back in the fridge. It would have to wait until after lunch.
As it stood, I still managed to get quite a bit done prior to leaving for lunch. After lunch, if all went well, I needed to –
Roll croissants + final proof + cook
Make créme mousseline and fill Paris-Brests
Decorate the Craqueline
Cook the tart, make caramelized hazelnuts and decorate the tart.
After-Lunch
The end of the day was a bit smoother than the morning. I rolled out and got the croissants proofing. I attacked the Paris-Brests and finished those off, the only thing I would have to do is dust them with powdered sugar prior to serving.
The entremet was still in the freezer, so I started messing around with ways to decorate the top, settling on dusting it with powdered sugar and adding a few elements of decorations. I did however manage to do my first inscription with a cornet d'écriture. I'll definitely need to practice more of that before the exam itself…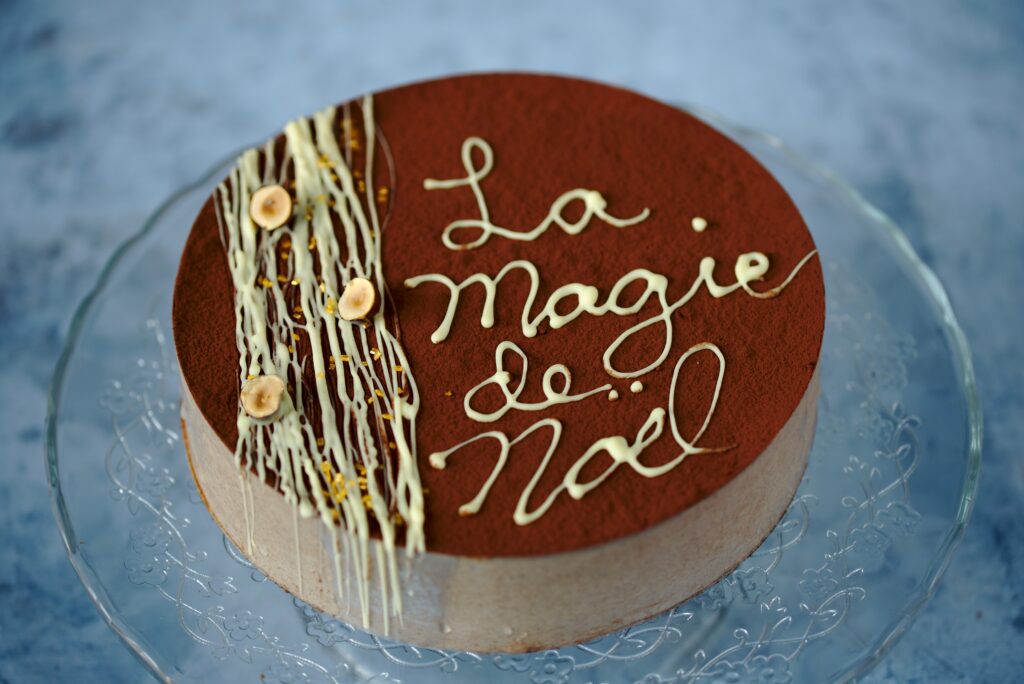 Once the croissants were cooked, I popped the tart in the oven. Once that was cooked, I popped it in the freezer to try to cool it down as fast as possible, but since it was still a tad warm when I decorated it as the ganache did not hold up as it has in the past. In the end I didn't get a photo of the tart as my in-laws had already arrived for tea.
Recap of the Day
In the end, despite my PAC (Pâte à choux) issue, today's exam went a lot smoother than my first practice exam.
Here are some improvements that I will need to make next time:
Ensure that I have the correct quantities

13 Paris Brest instead of 16
22 smaller croissants instead of 16, due to miscalculations

Trust my gut. If it doesn't feel right, it's probably not right. Don't cook it, start over. In the end it'll still be faster.
Ensure proper cooling time
Rather than end on a negative note, here are the improvements I saw –
I finished everything on-time
I managed to decorate the entremet
The croissants weren't 100% brioché and had a nice flaky exterior
I did not get stumped on any of the recipes!
I would call that a successful practice exam! What would you say?