It's kind of funny that I decided to become a pastry chef because I don't really care for sweets. I love making them, but eating…meh. However, when I eat breakfast (once in a blue moon) I sure do enjoy brioche french toast. Especially if there's salted butter caramel, whipped cream and toasted pecans (when I can find them).
Growing up, I wasn't a huge fan of french toast and now I know why. We were making it will regular ol' sandwich bread. Now…french toast with sliced brioche. *boom* My mind was blown. I had no idea that french toast could be so good. From the first bite, I was a goner. To be honest, I'd rather have brioche french toast than a normal dessert most of the time!
Testing Brioche Recipes
So when I test out recipes that are going to be used as a 'base' recipe, I try to make multiple things with the same recipe. This gives me a better idea if it's truly going to be a base recipe or something I am only going to keep for one thing. The Le Cordon Bleu brioche recipe has proven it's worthy. It's the base brioche recipe that I use not only for my french toast, but my brioche doughnuts & hamburger buns. It's just so good and ticked off so many things on my list of what I was searching for.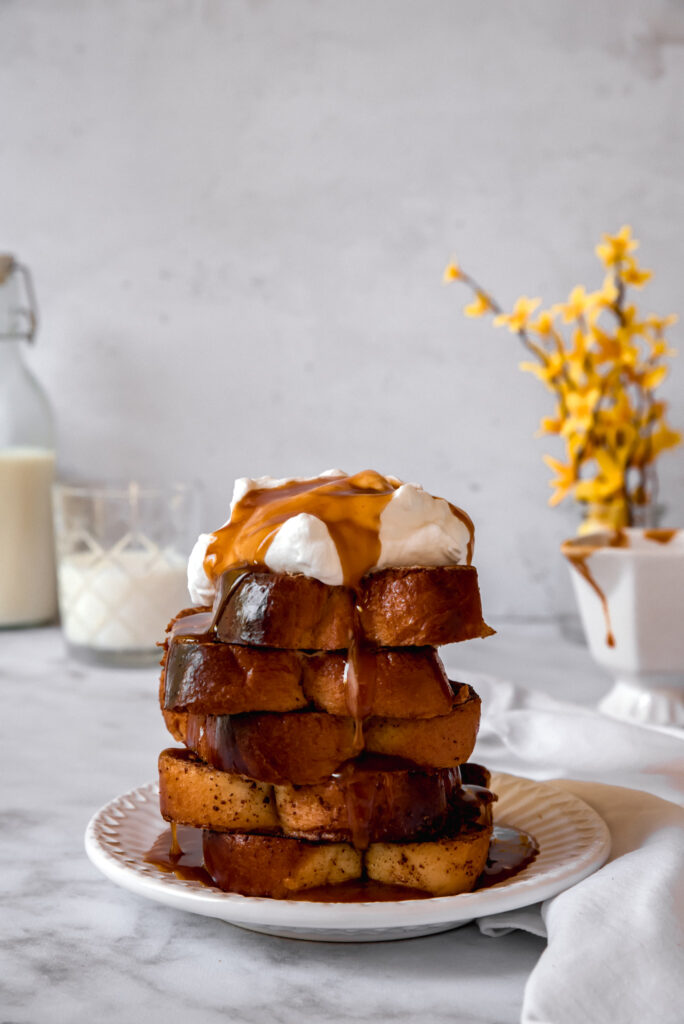 LCB recipe
For this recipe, it is crucial that it's left for a minimum of 12 hours in the fridge. Not only do the flavors deepen, but the end result is much better if you had let it proof at room temperature before using it. I generally let it sit about 20 hours, but you can make it the evening before you need it. Then wake up, form your loaves and let it do a final proof before baking.
French Toast Mix
Now, for the french toast batter, there are tons of different recipes out there, most of them using a mix of milk, vanilla, egg and sometimes cinnamon. But I figured that since the brioche and egg wash are both better with cream, why can't we make a french toast mix with cream? Well you can! I also add a nice pinch of nutmeg along with cinnamon and oh boy does it make good french toast!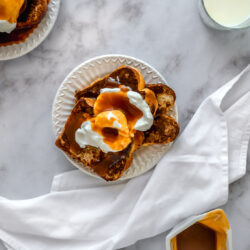 Brioche French Toast
Rich, custardy french toast is a game changer! Top it with salted butter caramel & whipped cream or with your favorite breakfast toppings!
Print
Pin
Rate
Ingredients
Brioche
250

g

flour

t55

38

g

granulated sugar

13

g

fresh yeast

3

eggs

25

ml

heavy cream

5

g

salt

100

g

butter,

cold & diced

5

g

vanilla extract
French Toast Mix
120

ml

milk

120

ml

heavy cream

10

g

vanilla extract

10

g

ground cinnamon

3

g

ground nutmeg

2

eggs
Egg Wash
1

egg yolk

splash of heavy cream

pinch of sugar
Instructions
Brioche
In a mixer add all of the liquid first and mix on slow.

Add the dry ingredients and mix on slow until mixed together for

4 minutes

Bring up to medium speed and mix until you hear thumping against the sides. Add diced butter and continue mixing for an additional

10 minutes

. The dough should be glossy and wrapped around the dough hook.

Turn out onto a floured countertop and gently knead into a ball. Lightly wrap with plastic wrap and let proof in the fridge for at least 12 hours and maximum 24 hours.

Grease each loaf pan with butter and set aside.

Roll out the dough and degas. Divide the dough into 12 equal sections.

Flatten each section into a flat rectangle then fold each side into the middle. Flip over.

Using the palm of your hand to cup the ball against the countertop. Move your hand in a circle, pulling the dough into a tight ball.

Once all of the dough is rolled, place 6 balls in each loaf pan, positioning them 2 x 3.

Brush with egg wash and cover. Let proof for

1½ hours

at room temperature or until doubled in volume.

You can speed up this process by putting a pan of boiling water in the bottom of your oven, creating a proofing chamber. Then place the bread pans in the oven to let proof.

Once the loaves are proofed, preheat the oven to 180°C (355°F). Bake for

20 minutes

or until the center of the loaf registers at 95°C (200°F)

Let cool for

10 minutes

before removing from the pan to cool further.
French Toast
Mix all of the ingredients together in a bowl, then pour into a shallow pan so you can dunk bread slices easily.

Heat a large non-stick skillet up on medium heat with a bit of butter.

Slice the brioche loaf into 2cm (3/4 inch) slices. Dip a slice in the cream mixture and let sit for about 10 seconds. Flip and repeat.

Let the slice drain for a couple seconds before adding to the warm skillet. Cook on each side until golden brown.

Repeat until all of the french toast is cooked.

Top with salted butter caramel and whipped cream or your favorite french toast toppings!
Nutrition
Calories:
470
kcal
|
Carbohydrates:
42
g
|
Protein:
11
g
|
Fat:
28
g
|
Saturated Fat:
16
g
|
Cholesterol:
240
mg
|
Sodium:
515
mg
|
Potassium:
157
mg
|
Fiber:
2
g
|
Sugar:
8
g
|
Vitamin A:
1045
IU
|
Calcium:
90
mg
|
Iron:
3
mg