The more often I cook, the more comfortable I am getting to creating my own recipes. I remember when I first started working on recipes, it would take be ages to get it right…What I have realized is that I was actually just over thinking everything. I wasn't listening to my senses because my head was getting in the way. This plum & thyme tarte tatin turned out so much better than I thought it would. It's now given me the confidence to try more 'unusual' combinations, but it also boosted my self-confidence.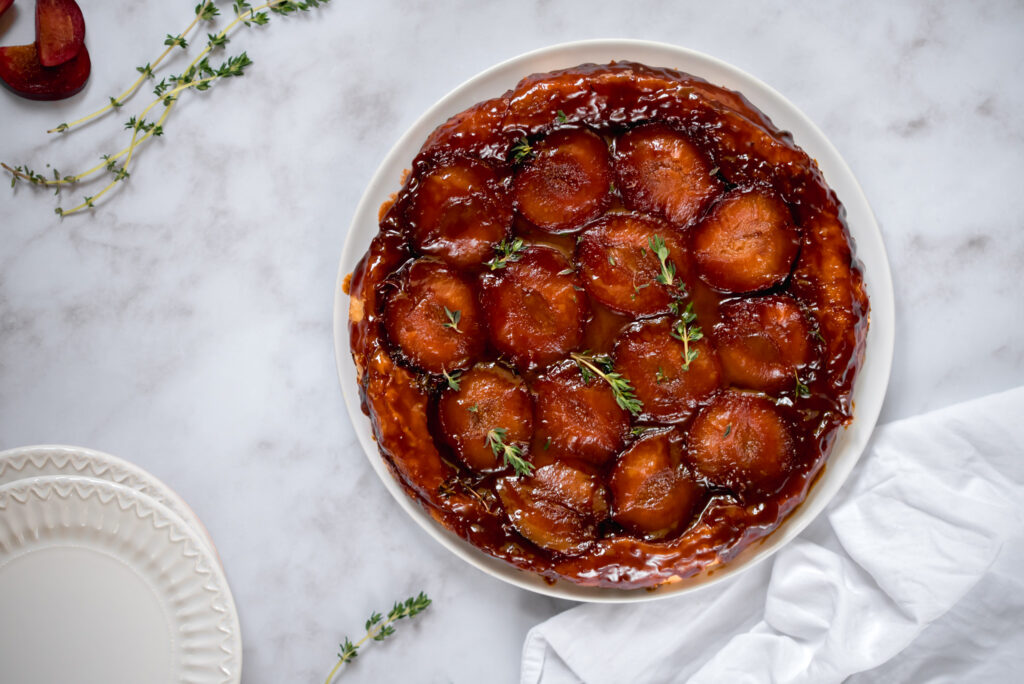 What is a Tarte Tatin?
In short, it's an upside down tart or pie which is traditionally made with apples. This is then served with either crème fraîche or vanilla ice cream. The apples are pre-cooked in caramel, then covered with pâte feuilletée (puff pastry). The whole thing is then transferred to the oven and cooked for about an hour. The tarte tatin is then flipped out onto a serving dish, with the caramel apples being the star of the dish.
In the more recent years, the tarte tatin has evolved and taken many different shapes, but hey, I'm a traditionalist…for the most part. I love the rustic, homey version of a tarte tatin.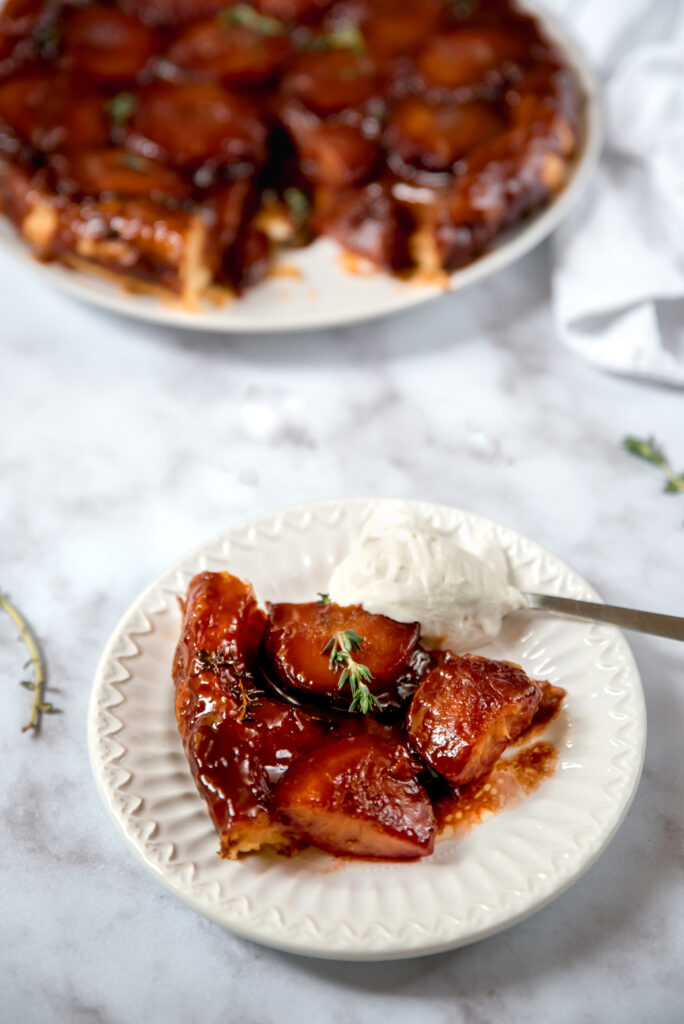 Do Plums & Thyme work?
The more common versions of a tarte tatin are apple and pear, which caramelize beautifully by the way. In the more recent years, there as been an influx in 'out there' ideas in the pastry world. I have actually seen someone make a tarte tatin with bananas. Why not?
I wanted to make something that isn't as common and would be a bit different, yet sticking with the tradition. To be honest, I can picture perfectly an old grandma in the country side collecting plums from her fruit trees, picking fresh thyme and whipping this up in her kitchen. And that's the kind of cooking I love. Not fancy, five star cooking. But a meal that you can see a family gathering around and enjoying throughout the ages. What can I say? I'm more of a traditionalist anyways. My biggest challenge was trying to find a way to infuse the caramel with the thyme and here's why.
Dry Caramel VS Wet Caramel
There are actually two different ways to make caramel – dry or wet. Well isn't all caramel wet? Yes, but how we get the sugar to caramel is different. For a wet caramel, like my salted butter caramel sauce, you add a ratio of 1:3 for water and sugar. For a dry caramel, there is no water. You simply add the sugar to a pan and let it melt. It is a much slower process but the end result is actually a bit thicker as there is no cream. This makes it ideal for a tarte tatin, as your caramel won't flow every which way once you flip.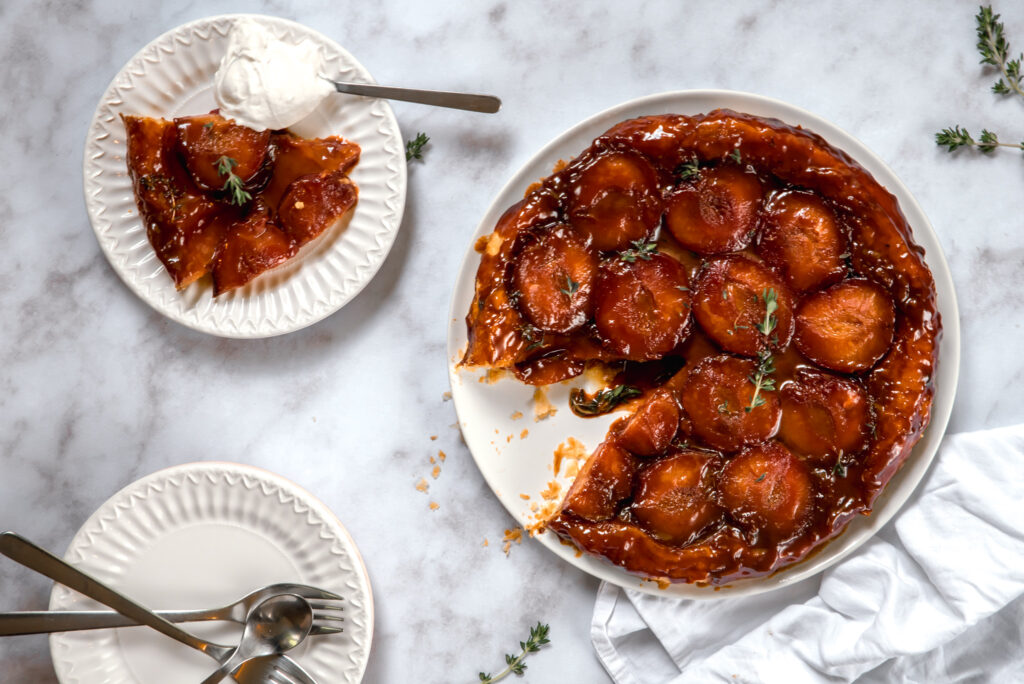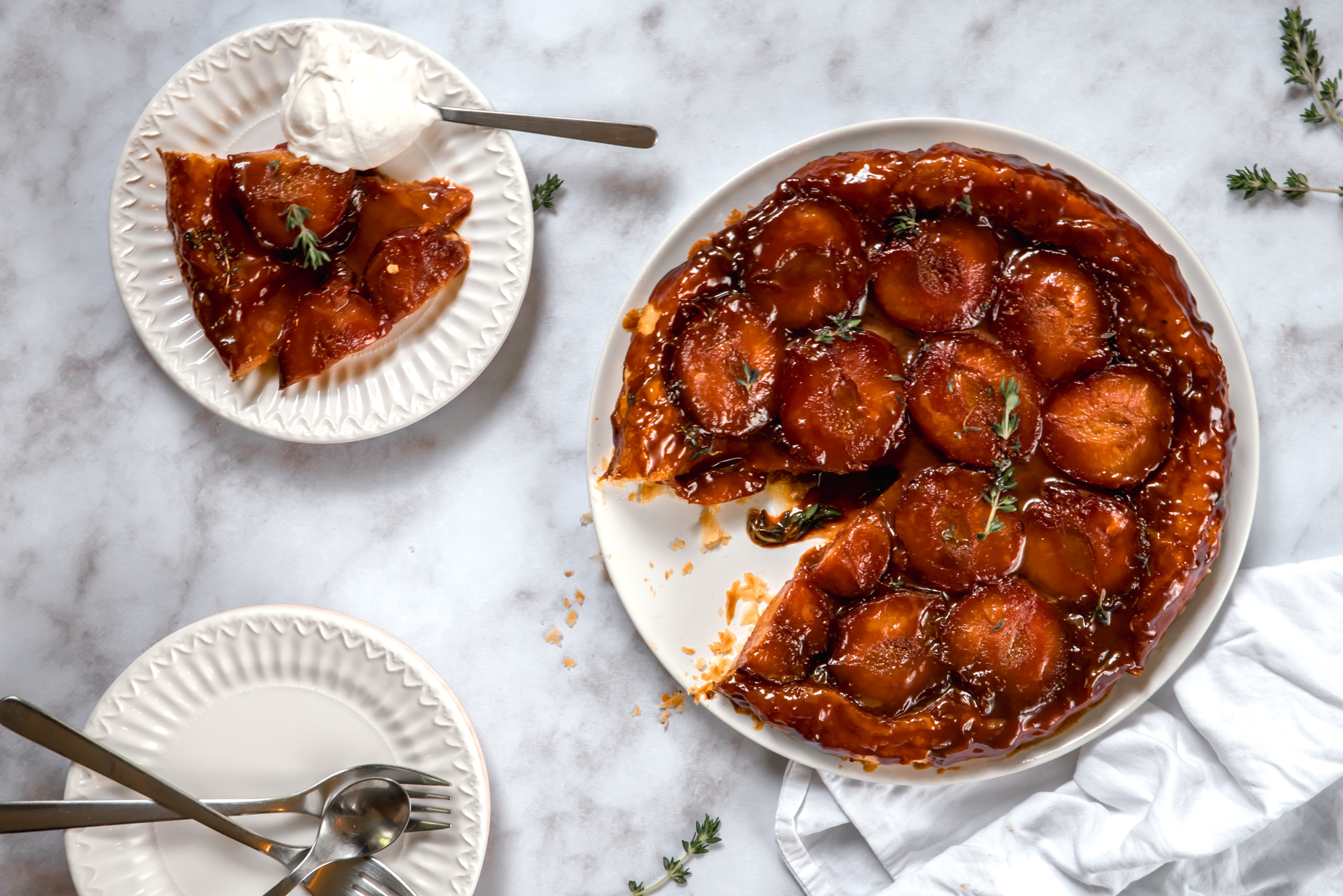 So how do I infuse the thyme? In the end, the best thing that worked was to start with a dry caramel base. I then added a very small amount of heavy cream which had been infused with thyme. Of course I also sprinkled some thyme leaves over the plums before adding the puff pastry and well, what do you know. It worked like a charm!
I don't like thyme, what else can I use?
Honestly you do not have to infuse your caramel at all, if you don't want to! A simple plum tatin is just as tasty! However if you do want to do something a bit different, I found that rosemary also worked nicely! I have also seen other pastry chefs infuse their caramels with lavender, although I cannot attest to the flavor combinations.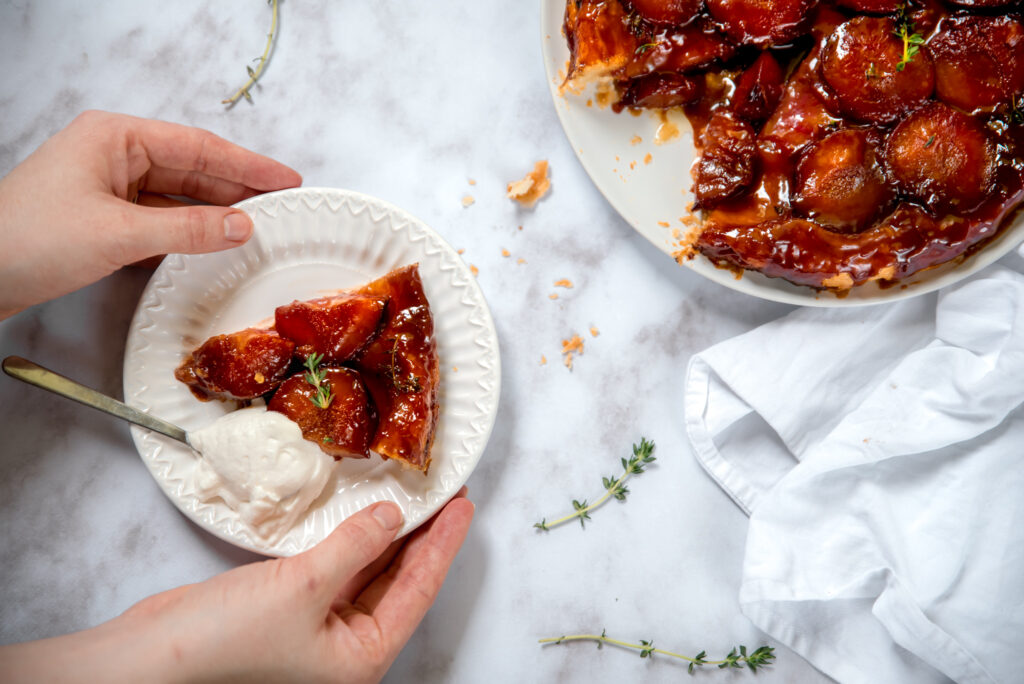 Follow your gut…I mean taste buds
The best part of baking is when you no longer need to follow a recipe to the T. Once you get to the point where you can start following your own song and creating your own masterpieces, is the most wonderful feeling. A book that really helped me jump off of the hamster wheel baking wise, is The Flavour Thesaurus. It does not have every flavor known to man, for example, they don't have a plum section. A book like that would be obnoxiously large, but it helped be start to think about each flavor separately and how they could enhance each other. This Tarte Tatin is proof of that!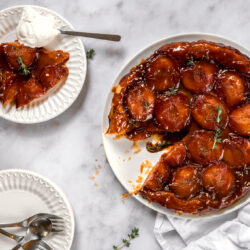 Plum & Thyme Tarte Tatin
A rustic twist on a traditional tarte tatin – thyme infused caramel, caramelized plums and delicate buttery layers of puff pastry.
Print
Pin
Rate
Equipment
large skillet

tart pan

Rolling Pin

pastry brush

knife & cutting board
Ingredients
Quick Puff Pastry
200

g

butter,

cut into cubes & cold

250

g

all-purpose flour

5

g

salt

120

ml

water,

cold
Tarte Tatin
100

g

granulated sugar

70

g

salted butter,

cubed

50

ml

heavy cream

4-5

sprigs of thyme

7

ripe plums
Instructions
Quick Puff Pastry
Add the flour and salt into a medium sized bowl and stir around with your fingers to mix

Add your cold cubed butter to the bowl and toss to cover in flour.

Gently squish each cube with your fingers to flatten slightly. Don't over work too much, we want to keep the butter in fairly big chunks.

Slowly start adding your cold water, about a TBSP at a time. Gently toss the dough with your fingers. Don't over mix. You don't want to 'activate' the gluten, this will result in an elastic dough that will shrink more during baking.

Once all of the dough starts to stick together and there aren't any large dry patches, pull it out onto your floured work top and shape into a square. You should still see large chunks of butter, that's fine.

Roll out the dough into a long rectangle. Brush off the excess flour and do your first letter-fold.

Rotate your dough, so the open ends are at the top and bottom (closest to you). Roll out once more and repeat the letter fold.

Rotate once more, so the ends are at the top and bottom. Now you're going to do your first book fold.

Rotate once more, so the ends are at the top and bottom. Do your last book fold.

Wrap the dough in plastic wrap and let rest in the fridge, while you prep the rest of your ingredients.
Tarte Tatin
Preheat the oven for 205°C (400°F)

Cut the plums in half and discard the core, then generously butter your tart pan. Set both aside.

In a small sauce pan, add the cream and sprigs of thyme. Bring to a simmer.

In a large skillet, add the sugar and bring to medium high heat to caramelize. Don't mix. Simply spread out the sugar by shaking the pan slightly and allowing the un-melted sugar granuales to fall into the melted sugar.

Let the sugar continue to melt and starts to color. You're looking for a medium amber color.

Strain the cream into a bowl and discard the thyme.

Once the caramel is a medium amber color, take it off the heat then pour the cream into the caramel, whisking non-stop.

Once the cream is combined with the caramel, add the cubed salted butter and continue to whisk until completely until combined.

Back on the heat and transfer your plum halves to the caramel, cut side down.

Cook for about 10 minutes, occasionally rotating the plums around in the pan to ensure that they cook evenly.

While the plums cook, roll out your puff pastry to a circle slightly larger than your tart pan and about 5mm thick (1/8 – 1/4inch) .

With a pair of thongs, transfer the plums to the tart pan, creating one layer of fruit. Pour the caramel evenly over the fruit.

Transfer the dough to the top of the plums and tuck in the edges in along the edges of the tart pan lip.

Cut 1-2 vents in the pastry dough for the steam to vent during baking.

Bake for

45 minutes

or until the dough is golden brown and flaky.

Allow to cool for

5 minutes

then place a serving dish on top of the pan. In one swoop, flip the pan over and let sit for a minute or so until the caramel and fruit releases.

Garnish with fresh sprigs of thyme then serve warm with homemade whipped cream or vanilla ice cream!
Nutrition
Calories:
362
kcal
|
Carbohydrates:
35
g
|
Protein:
3
g
|
Fat:
24
g
|
Saturated Fat:
15
g
|
Cholesterol:
65
mg
|
Sodium:
390
mg
|
Potassium:
108
mg
|
Fiber:
1
g
|
Sugar:
15
g
|
Vitamin A:
927
IU
|
Vitamin C:
5
mg
|
Calcium:
18
mg
|
Iron:
1
mg