First off, I want to thank all of you who tuned in to my very first LIVE bake-along. It was such a great experience and I had a blast teaching all of you the secrets behind quick puff pastry! I really hope you enjoyed the class and this tasty rustic tomato & chevre tart!
For those of you who couldn't attend, don't worry! There will be more bake-along's in the future, so if there's anything that you would like us to bake, please let me know in the comments. In the meantime, you can still go watch the LIVE broadcast below!
The best thing about this tart is that there are no rules! Isn't that the best way to cook? Can't find any nice tomatoes? Change it up and use mushrooms, caramelized onions, some bacon…really the options are endless!
What kind of tomatoes should you use?
This question comes up quite a bit. As the tomatoes are basically the star of the dish, choose some tomatoes that are tasty! Personally, I LOVE using heirloom tomatoes or tomates anciennes in French. Not only are the beautiful, but they taste fabulous. If you can't find heirloom tomatoes, vine-ripened tomatoes work great. Cherry tomatoes are good too, but you'll need a lot more, so keep that in mind when gathering your ingredients! I would stray away from roma tomatoes as I personally find them too watery.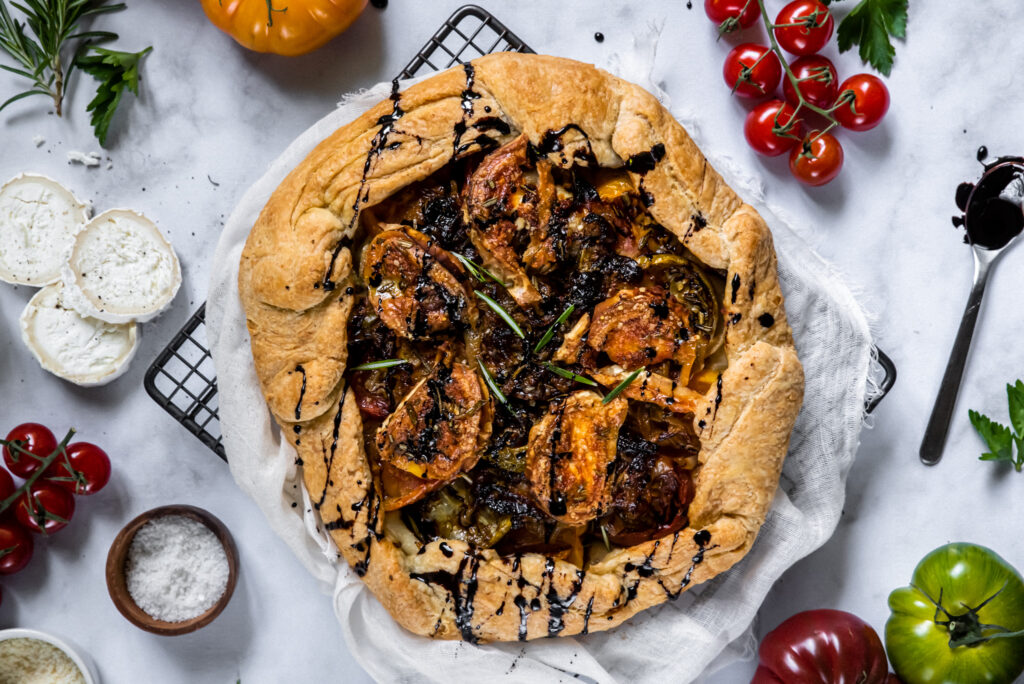 Alternatives for goat cheese?
Anything that pairs well with tomatoes works great! Mozzarella is a great alternative. I've also used parmesan and feta. It really boils down to personal preference. Like I said before, there are no rules!
Can I use my mixer for the dough?
Yes! To be honest, 99% of the time, I actually do use my mixer. However, as some people do not have stand mixers, I wanted to teach you how to make the dough by hand. For those of you who do have mixers, now you know how to make it by hand, you can make it in any kitchen! Plus, there is something therapeutic about making your dough by hand, isn't there?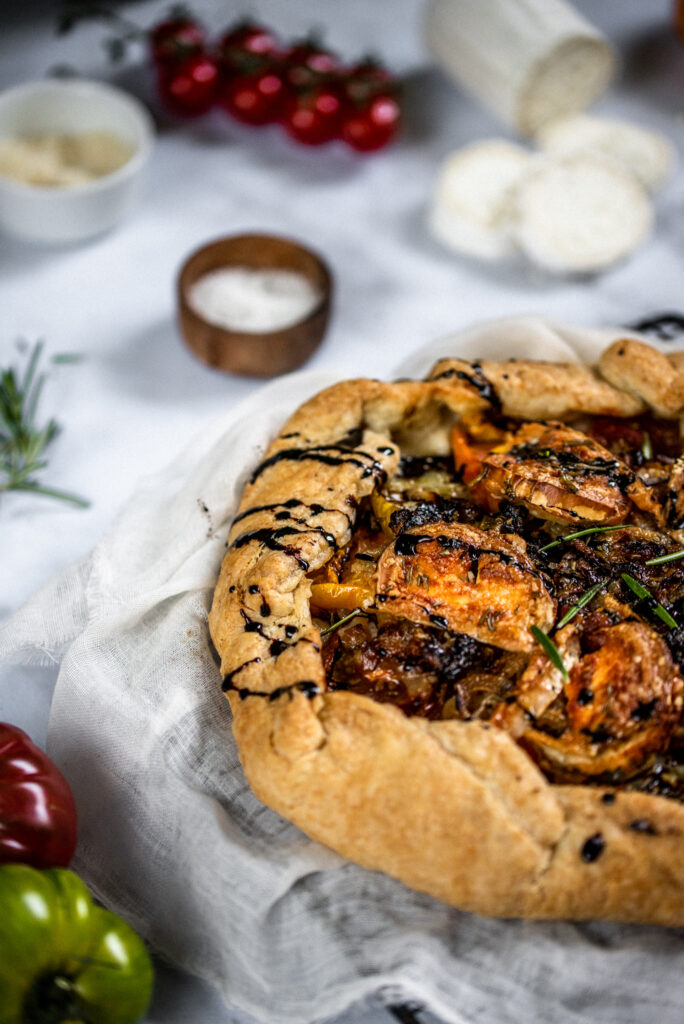 To make the dough in the mixer, put your cubed butter in the freezer about 15 minutes prior to starting. Then add all of the dry ingredients to the mixer bowl with the butter. Run for about 20 seconds, then add the cold water. Run for an addition minute or until the dough comes together. It'll look rough, but pull it together and pat it into a square. Wrap in plastic wrap and let sit for 10 minutes at room temperature. Then you can proceed with your folds.
What's the difference between quick puff pastry and traditional puff pastry?
Time! Quick puff pastry only takes me about 10 minutes to pull together. The butter is also cut up in cubes, where as a traditional puff pastry or pâte feuilletée your butter is rolled out in a square, which is then folded in the dough, then rolled out. You can see more about traditional puff pastry in our croissant recipe.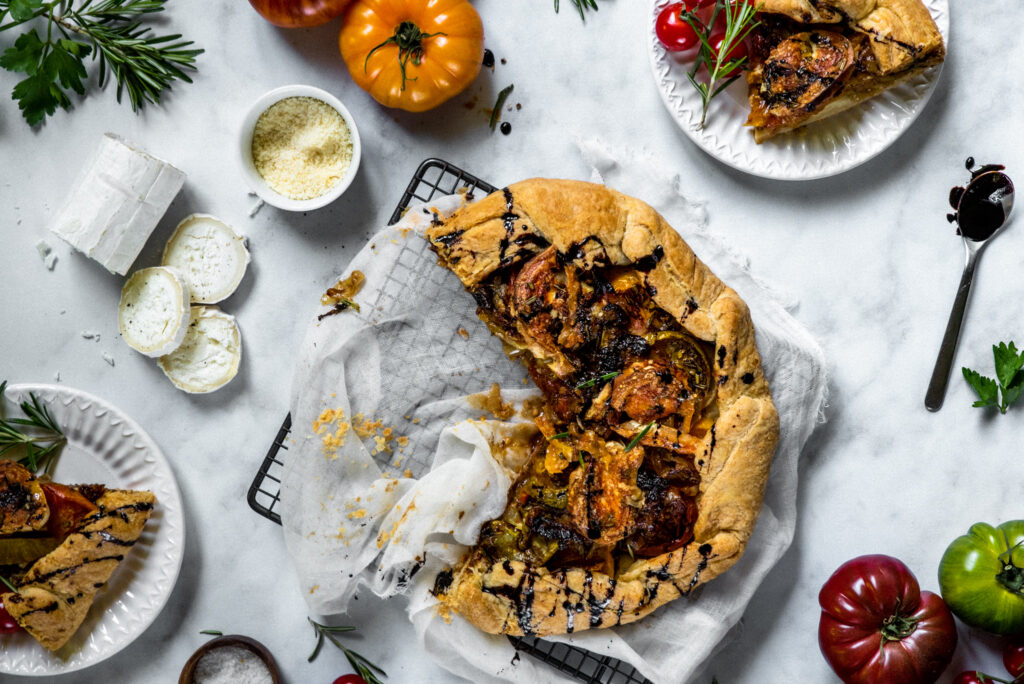 Tips for those who live in a warm climate
If you live somewhere warm and have a hard time making butter based treats because of the heat, don't worry…I have some tips for you! Make sure that you keep everything as cold as possible. Put your butter in the freezer before hand and make sure that you use COLD water. You can even throw your flour into the fridge about an hour before you start. By keeping all of you ingredients as cold as possible before you start, you'll buy yourself a bit more time.
If you find that your butter is warming up too fast as well, you can let it rest in the freezer for 10-15 minutes between folds, allowing the butter to stiffen back up. You could even spread the process over couple days as there's no yeast. For example, if you wanted to make this for a dinner on Friday night, start on Tuesday by making the dough and do your first fold. Wednesday do another fold, Thursday another and Friday your last fold, then finish your tart. A tip I learned during my internship if you make your dough days in advance is to add a tiny splash of vinegar to your dough with the water at the beginning. It will not affect the flavor of the dough and will help keep the dough from discoloring. The discoloration isn't bad, it's just oxidation.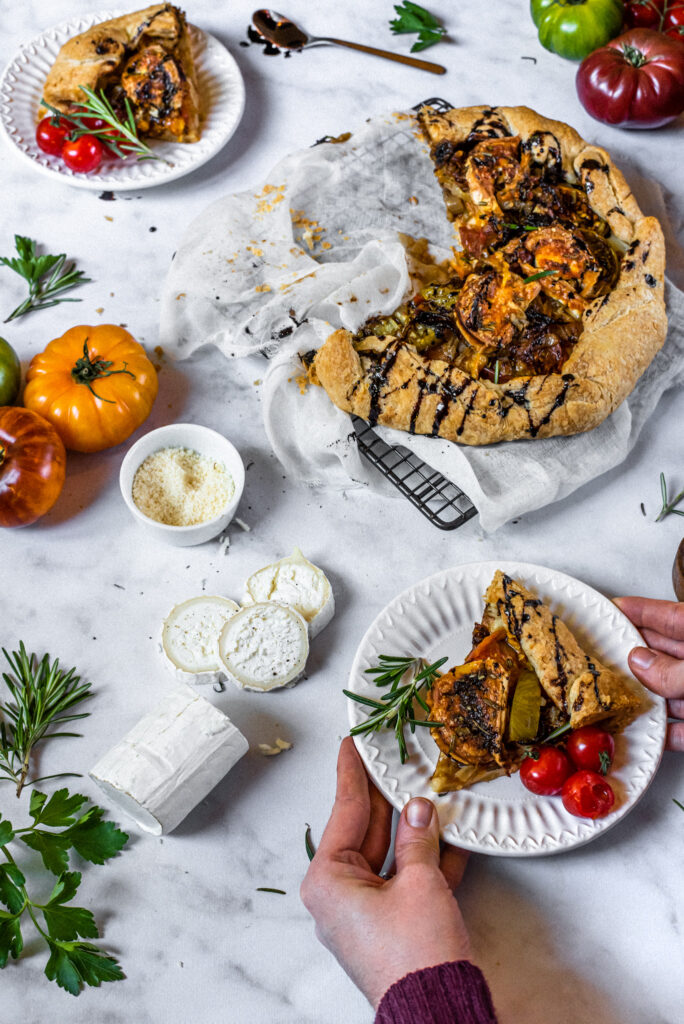 How many folds do we have to do?
We are going to do a total of 5 folds. There is really no 'right' way to do this, you just need to end up with 5 folds. In this case, I prefer doing 2 single folds (letter folds) and 2 double folds (book folds). Just keep in mind that a double fold is only worth 1.5 single folds, which makes total sense. Haha.
To recap the folding process, a single fold is exactly like a letter – fold the bottom half up a third, then the top half overlaps the bottom half. Here is a diagram to help –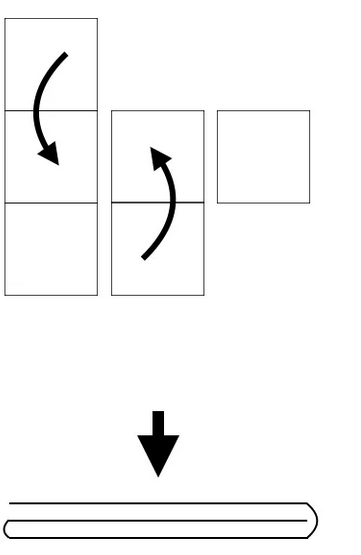 For a double (book) fold, you'll need to roll out your dough a bit longer than for a single (letter) fold. Fold each end into the middle so they meet. Brush off the excess flour, then fold it in half once more, just like you are closing a book. Here is a diagram –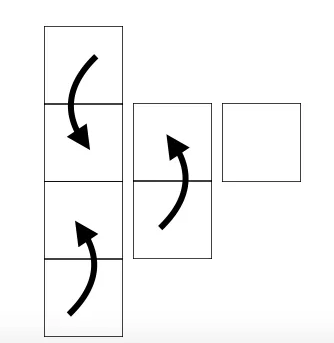 Help! My butter is sticking when I roll it out!
This is not a problem. It just means your butter is warming. If your butter is sticking to the worktop, make sure that you're flouring your counter and move the dough quite frequently so it doesn't stick. If you can see the butter sticking out, take a bit of flour and brush it over the butter. This gives it a bit of a protective layer and keeps all of the buttery goodness inside. Finish the fold you're working on and put it in the freezer to chill for about 10 minutes before moving on to the next fold.
When is the next LIVE bake-along?
Soon! In the meantime, I'll be creating a discussion on our Facebook page where you can weigh in on what kind of equipment you have, as well as what interests you the most! Let me know you're thoughts and of course thank you for your continued support in my pastry endeavors and I hope to bake with you soon!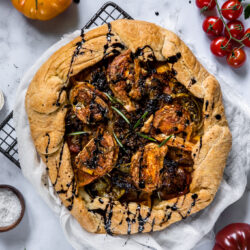 Rustic Tomato & Chevre Tart
An easy rustic tart that can be adjusted to fit everyones tastes!
Print
Pin
Rate
Equipment
medium sized bowl

cookie sheet

parchement paper

Rolling Pin

cutting board

knife
Ingredients
Quick Puff Pastry
200

g

butter,

cut into cubes and cold

250

g

all-purpose flour

5

g

salt

120

ml

water,

cold
Toppings
4-6

large tomatoes

100

g

goat cheese

herbs of choice

1

egg yolk,

(optional egg wash)

olive oil,

optional

sea salt,

optional
Instructions
Puff Pastry
Add the flour and salt into a medium sized bowl and stir around with your fingers to mix

Add your cold cubed butter to the bowl and toss to cover in flour.

Gently squish each cube with your fingers to flatten slightly. Don't over work too much, we want to keep the butter in fairly big chunks.

Slowly start adding your cold water, about a TBSP at a time. Gently toss the dough with your fingers. Don't over mix. You don't want to 'activate' the gluten, this will result in an elastic dough that will shrink more during baking.

Once all of the dough starts to stick together and there aren't any large dry patches, pull it out onto your floured work top and shape into a square. You should still see large chunks of butter, that's fine.

Roll out the dough into a long rectangle. Brush off the excess flour and do your first letter-fold.

Rotate your dough, so the open ends are at the top and bottom (closest to you). Roll out once more and repeat the letter fold.

Rotate once more, so the ends are at the top and bottom. Now you're going to do your first book fold.

Rotate once more, so the ends are at the top and bottom. Do your last book fold.

Wrap the dough in plastic wrap and let rest in the freezer for about

10 minutes

, while you prep the rest of your ingredients.
Assembly
Preheat your oven to 200°c (400°F). Prep your baking sheet with a sheet of parchment paper. Set aside.

Slice your tomatoes in even slices, about 1.5cm thick (2/3 inch). You don't want them too thin that they'll fall apart after cooking nor too thick that they won't cook through.

Slice or crumble the cheese and chop the herbs if you desire.

If you're using an egg wash, add a small splash of milk, small pinch of salt and large pinch of sugar. Mix and set aside.

Once your dough has cooled, roll it out to a circle. It doesn't have to be perfect. It should be about 5mm thick. Transfer it to the sheet of parchment paper.

Leave about 3-4 cm (1-1.5inch) of dough around the edge of the dough. Start layering in your tomatoes on the dough.

Top off with cheese, chopped herbs, drizzle with some olive oil and sprinkle a bit of sea salt if desired.

Fold in the edges of the tart, pulling up on edge, then another section, allowing them to overlap. If the dough isn't sticking to itself, wet it with a bit of water. Continue all the way around the tart until the edges are all pulled in.

Brush the edges of the tart with egg wash if desired.

Bake for

45 minutes

or until the dough is golden brown and crackles under the pressure of your finger.
Balsamic Reduction
In a small saucepan, add the balsamic vinegar and bring to a boil.

Once it comes to a boil, bring the heat down to medium low and let simmer for

5 minutes

or until thickened. Remember as it cools it will thicken more.
Nutrition
Calories:
494
kcal
|
Carbohydrates:
42
g
|
Protein:
9
g
|
Fat:
32
g
|
Saturated Fat:
20
g
|
Cholesterol:
112
mg
|
Sodium:
639
mg
|
Potassium:
292
mg
|
Fiber:
2
g
|
Sugar:
8
g
|
Vitamin A:
1731
IU
|
Vitamin C:
11
mg
|
Calcium:
60
mg
|
Iron:
3
mg