I've been feeling quite nostalgic of the late. I miss being able to just run down to the doughnut shop and grab a couple doughnuts without having to take out a loan *insert laugh* Times are changing, so at least I do have the option to buy American doughnuts in Paris. However, I simply cannot justify spending 5 euros on a single doughnut! So, I have been making brioche doughnuts at home. There's a little more work behind the scenes but I'm okay with that! The salted caramel brioche doughnuts that I made a couple months back ended up being a huge hit, so I wanted to try and do something that was chocolate based. Whipped chocolate ganache or ganache montée is quite popular in France, so it only seemed logical to continue with the theme of American desserts with a french twist.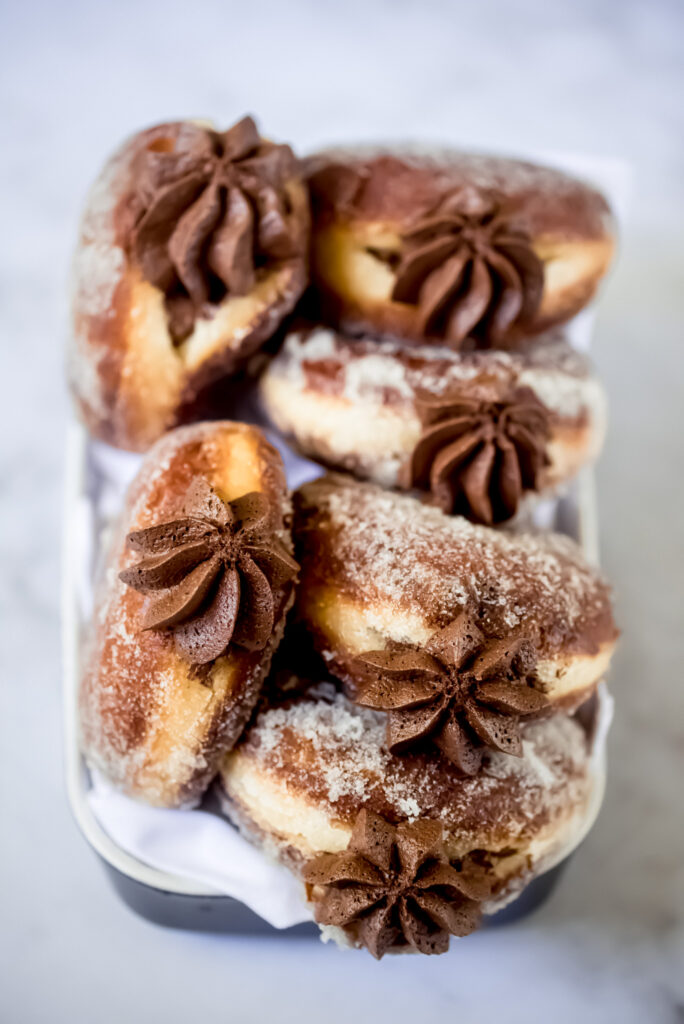 Brioche-Base
Being in France, a lot of the recipes I make at home, have turned into a mélange of both American and French recipes and brioche has replaced other types of dough that I would usually use. Cinnamon rolls, hamburger buns, french toast…all of these 'American' recipes have all taken on a French influence. Brioche doughnuts have thus far been my favorite dough base, so until I stumble across another type of dough that has results just as good, if not better, that's what I use!
Chocolate Ganache Filling
My go-to filling is my salted butter caramel, but I wanted to make a chocolate based doughnut so I decided to fill them with whipped chocolate ganache. In the end, I made the ganache the same day that I made my brioche dough. The dough needs to proof in the fridge for at least 12 hours, this gives the ganache time to cool and flavors to meld. When I'm ready to fill the doughnuts, I let the ganache whip in my Kitchenaid standmixer and until light and fluffy. Afterwhich, I transfered it directly to a piping bag. Voilà! You can also make any flavor of pastry cream or simply fill them with a nice confiture. Really, anything goes!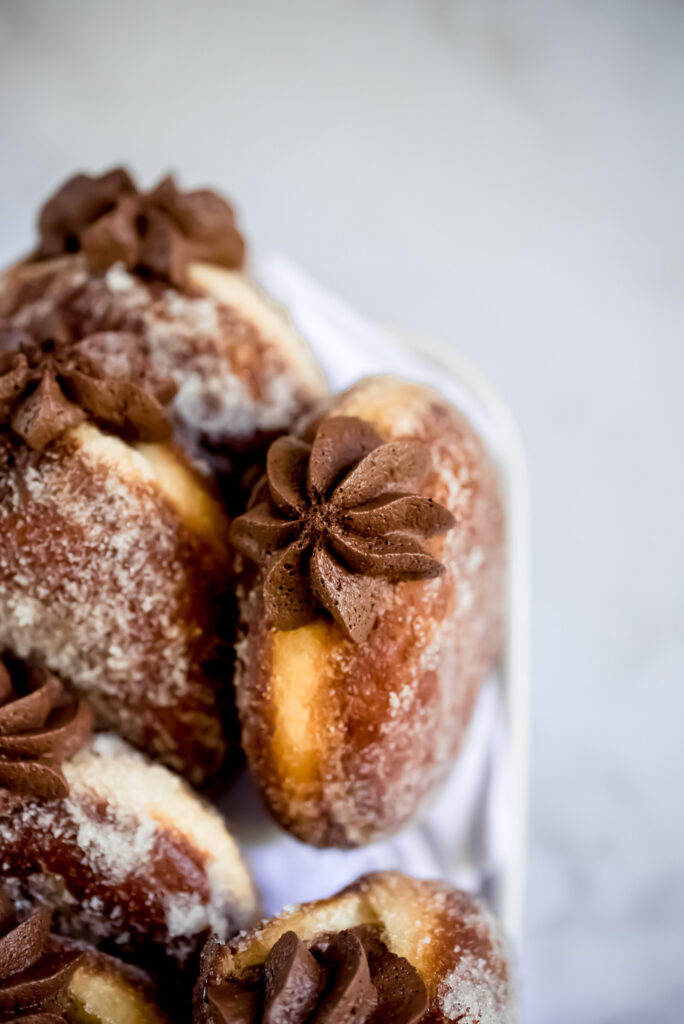 Frying the doughnuts
The best results are with an actual fryer but if you don't have a fryer, you can fry them in a heavy bottom pan (I used my Le Creuset dutch oven) with a thermometer to watch the temperature of the oil. Ideally, the oil should be between 165°c – 180°c. If the oil is heating up too much, I turn off the heat. When the oil gets to the lower end of the temperature range, I'll turn the heat back on medium. Easy peasy.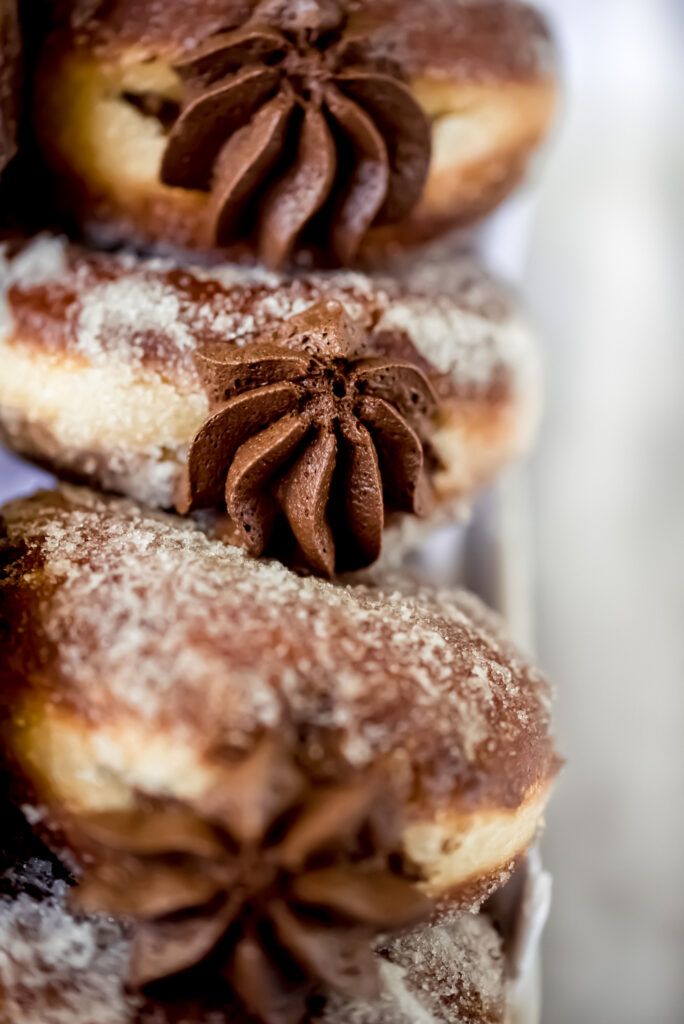 Depending on the size of the doughnuts, you'll need to fry each side for about 1-3 minutes or until golden brown. Flip them over and let them cook for an addition 1-3 minutes. I personally like to toss them in granulated sugar before filling them, but you can easily forgo this step. If you do want to toss them, let them drain on a cooling rack for about a minute, then toss them in sugar. Once fully coated, I transfer them to a second cooling rack to cool completely.
Doughnut day in our house means that my kitchen turns into what looks like a little assembly line – proofed doughnuts – dutch oven/frying station – drying rack #1 – sugar for tossing – drying rack #2. If you're organized from the beginning, the process of cooking the doughnuts is quite easy and can be done by one person.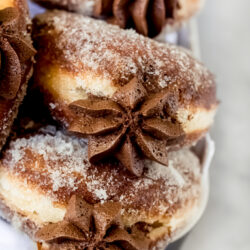 Whipped Chocolate Ganache Brioche Doughnuts
The perfect marriage of a classic American dessert and French brioche, filled with whipped dark chocolate ganache.
Print
Pin
Rate
Equipment
fryer or heavy bottom pan (dutch oven)

Thermometer

drying racks

circle cookie cutter

oil for frying
Ingredients
Brioche Dough
500

g

flour

T55

75

g

granulated sugar

25

g

fresh yeast

6

eggs

50

ml

heavy cream

10

g

salt

200

g

butter,

cold & diced

10

g

vanilla extract
Whipped Dark Chocolate Gananche
200

g

dark chocolate

200

ml

heavy cream

15

g

butter,

salted
Finishings
100

g

granulated sugar,

tossing
Instructions
Brioche Dough
In a mixer add all of the liquid first and mix on slow.

Add the dry ingredients and mix on slow until mixed together for

4 minutes

Bring up to medium speed and mix until you hear thumping against the sides. Add diced butter and continue mixing for an additional

10 minutes

. The dough should be glossy and wrapped around the dough hook.

Turn out onto a floured countertop and gently knead into a ball. Lightly wrap with plastic wrap and let proof in the fridge for at least 12 hours and maximum 24 hours.
Chocolate Ganache
Add the chocolate to a medium sized bowl with the butter and then bring the cream to a boil in a medium sauce pan.

Once the cream mixture starts to boil, pour it over the chocolate. Cover the bowl with plastic wrap and let sit for 10 minutes

Stir the chocolate and cream until fully combined. The mixture should be smooth and shiny.

Cover with plastic wrap (touching the surface of the ganache) and let chill for a minimum of

2 hours
Doughnuts
Pull the dough out onto a lightly floured work top. Degas it, then roll out to 1.5cm-2cm thick (1/2-3/4inch).

Using a cookie cutter, cut out your doughnuts and place on a baking sheet lined with parchment paper. Roll up and re-roll out the remaining dough and repeat.

Let proof at room temperature for 45 minutes – 1 ½ hours or until doubled in size.

Meanwhile, warm up your fry or oil. This can take 20-30 minutes to be fully at temperature.

Prep your frying area with two drying racks and a bowl with granulated sugar (if you're tossing the doughnuts in sugar)

When the doughnuts are proofed and the oil is at temperature, add your first doughnut. Cook for 1-3 minutes (depending on size) then flip when browned. Cook the other side for 1-3 minutes.

Transfer cooked doughnuts to the cooling rack to drain for

1 minute

then toss in sugar until fully covered.

Transfer covered doughnut to secondary cooling rack and let cool completely.

Continue until all doughnuts are cooked.
Filling
When the doughnuts are cooled, whisk the ganache in a stand mixer until light & fluffy. Then transfer to a piping bag with piping tip.

Cut a 2-3cm (1inch) long slit on the side of each doughnut.

Insert the piping tip into the slit and fill until the filling comes back out of the side of the doughnut. Finish off with a little swirl of filling if desired.
Nutrition
Calories:
435
kcal
|
Carbohydrates:
44
g
|
Protein:
7
g
|
Fat:
26
g
|
Saturated Fat:
15
g
|
Cholesterol:
120
mg
|
Sodium:
396
mg
|
Potassium:
181
mg
|
Fiber:
2
g
|
Sugar:
15
g
|
Vitamin A:
703
IU
|
Calcium:
39
mg
|
Iron:
3
mg