We're neck deep in renovations and have been for almost 2 years now, I figured I would share some of the behind the scenes and the transformation that the cottage has undergone to become the vacation rental of your dreams.
When we first looked for properties to buy, we had a list of requirements, like most. A nice yard, some dependencies, a certain amount of square meters of living space and of course a maison d'amis that could be turned into a vacation rental.
I scoured real estate websites, looking for homes that fit our requirements and to be honest, it was like looking for a needle in the haystack. Some needed extensive renovations, others were too small. Of course trying to find a house 300km from where we were actually living wasn't the easiest tasks.
Then one day, I stumbled across the listing for our little chateau. And with it, an already usable, maison d'amis. It just needed a bit of work to bring it out of the 1980s.
First Look
At first look, the maison d'amis, or cottage, was dark and dated. It was a bit difficult to envision what could be, but what we could see is the work that we didn't have to do. There was electricity, a floor, bathroom. Better than nothing right?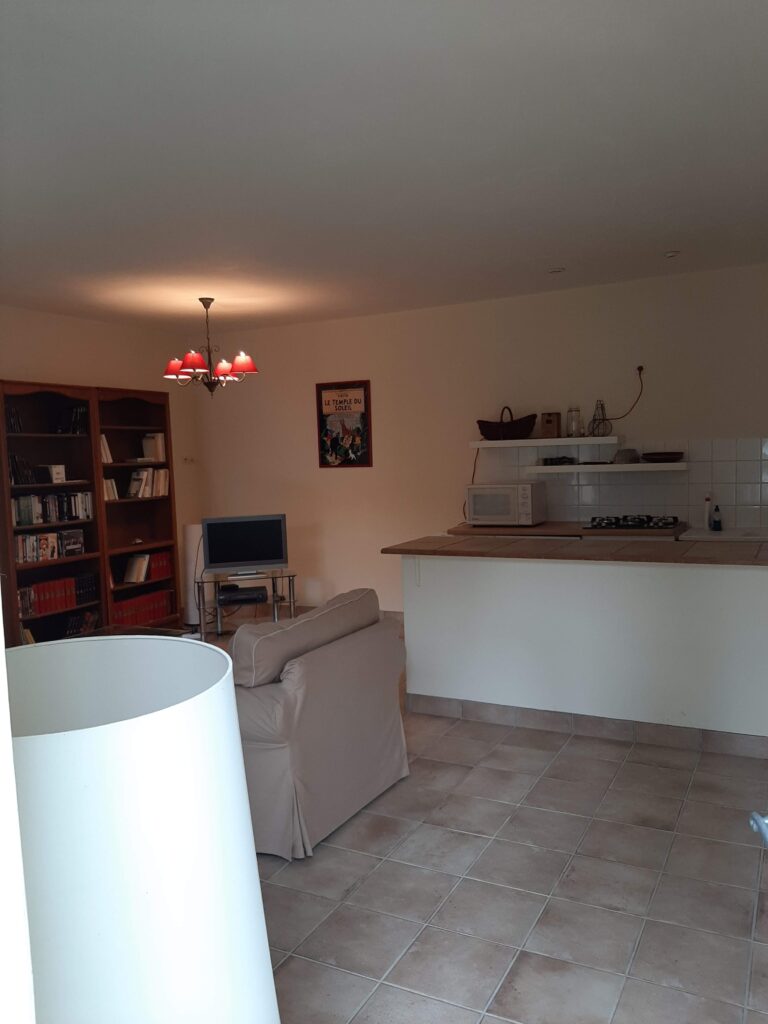 Ready, Set, Go
As soon as we moved, in October, it was full speed ahead. The goal was to have the cottage ready for Easter holidays, a mere 6 months away. Little did we know that it would take an extra two months. The previous owners left most of everything in the cottage, so we emptied it all into a neighboring building. Our first order of business was to pull out the old kitchen. The kitchen peninsula ate up a lot of the living area and made everything feel so cramped. The kitchen was made out of plaster, complete with old tile countertops. We used a hammer drill to break the entire thing down into removable chunks. It was the first time using any 'heavy duty' material. It was a bit nerve racking at first, but quite satisfying to see the room open up.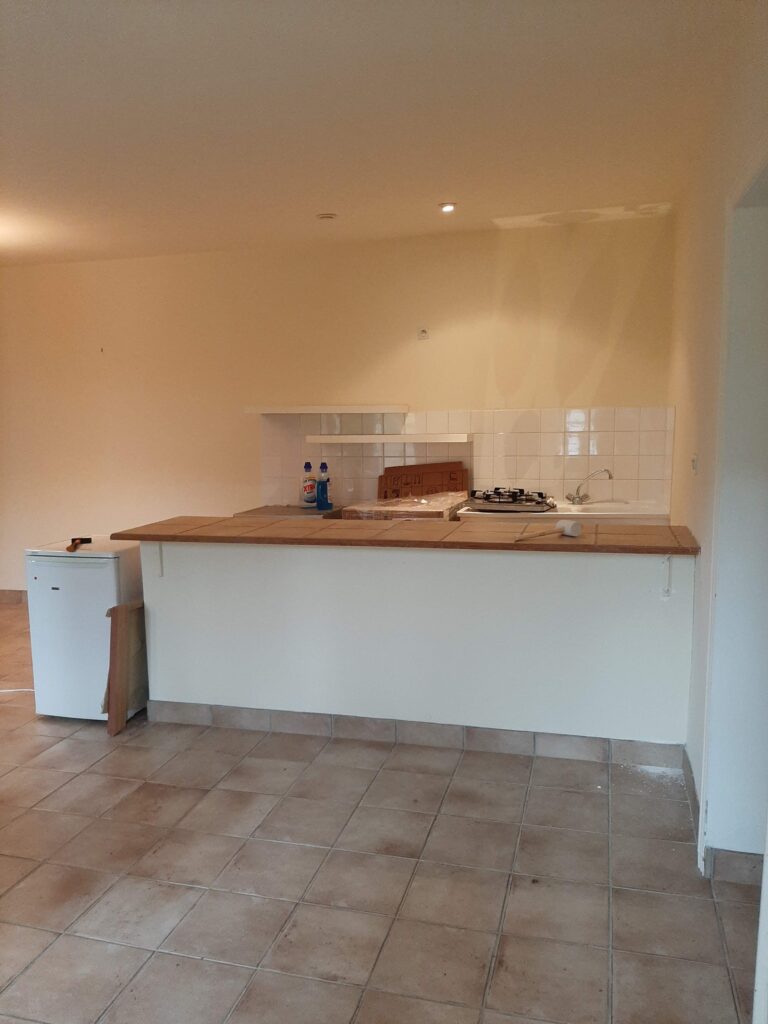 Bedroom
The bedroom had an old closed up fireplace that dominated the main wall, meaning the only place one could put a bed was tucked behind the door, which would be less than ideal for a vacation rental. When one goes on vacation, having a welcoming, comfortable room is such an important factor, that there was no way the bed could be kept behind the door. By removing the fireplace, not only did we learn a new skill (installing a drywall), but it opened up the room, allowing us to change around the room arrangement.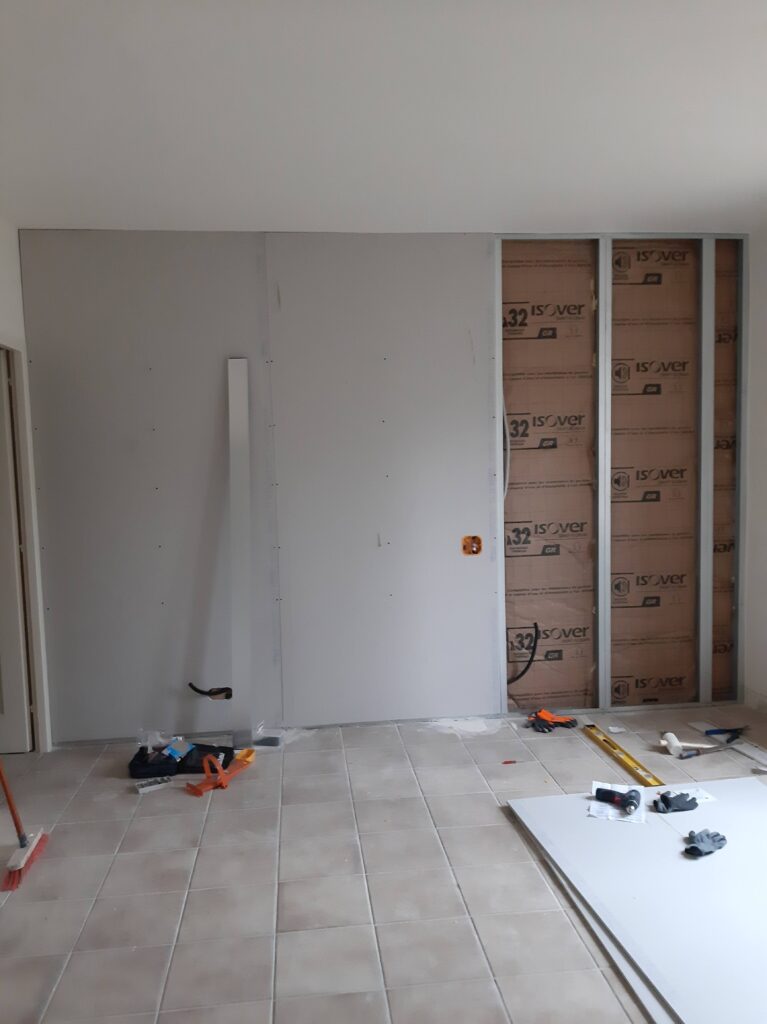 Next Up
On the floor was a dated brown tile, that in my option, not only made the entire space feel old, but a bit dark and dreary. Rather than pull it up, we decided to lay an engineered floor wood over the top. A quick but effective way to change the feel of the vacation rental.
Once the floors were installed, we moved on to my favorite part of any renovation. The kitchen. As it was going to be quite a bit of time before we renovated the kitchen in the main house, we decided to reuse our lightly used Ikea Bodbyn kitchen cabinets that we installed in our Paris apartment two years prior. They fit perfectly with the 'country cottage' esthetic that I was going for and saved us quite a bit.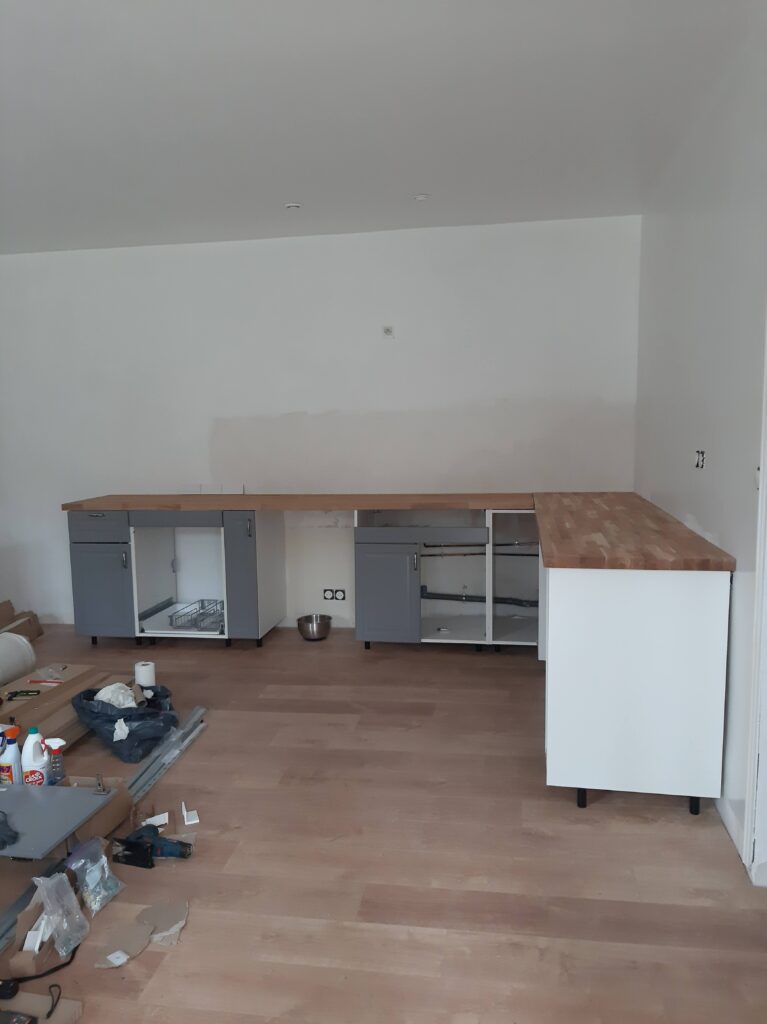 In the bedroom, we decided to install wallpaper to create a feature wall. In the past, I have always been quite anti-wallpaper. Little did I know, this would be the turning point, making be actually appreciate wallpaper. After much deliberation, I chose the Painted Dahlia wallpaper from Wallpaper Direct. They no longer have the color that we chose, but now have a nice light blue version that looks lovely.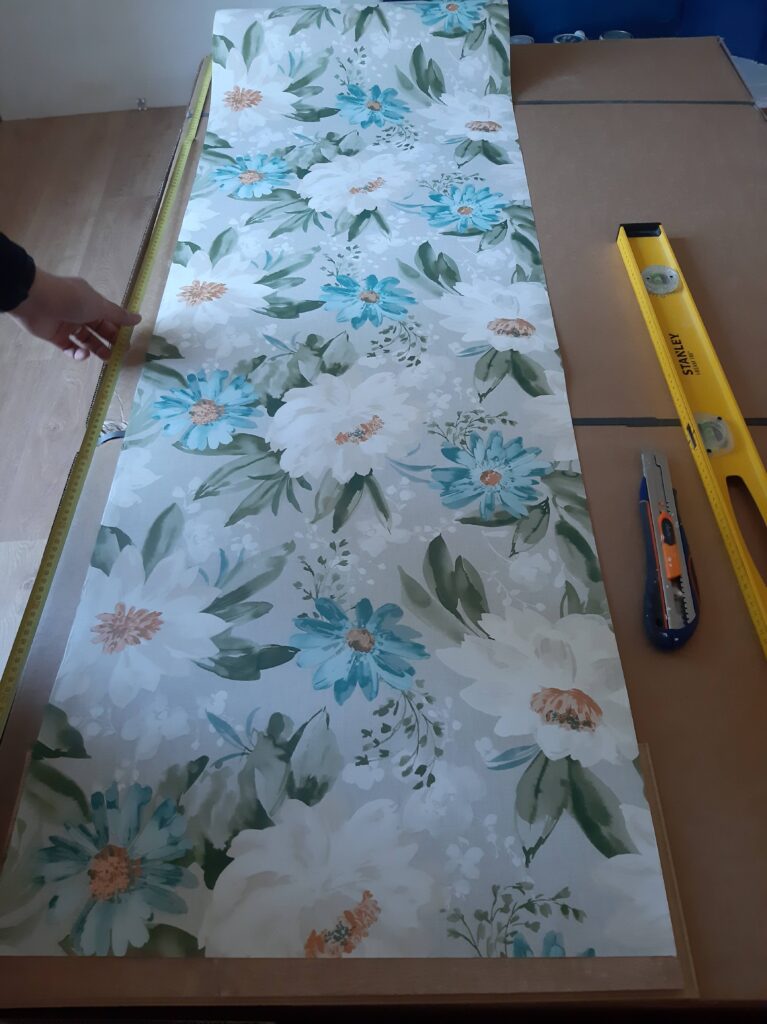 To freshen up the bathroom, we settled on painted the floor tiles and using a stencil. It was a painstakingly long process but the result was fairly nice. However, they did not hold up very well to a the passage in the cottage and about 7 months later, we ended up laying down new tiles on top of the old ones. I found some nice imitation cement tiles that resemble a random tile we found in our old wood workshop. On the plus side, now the bathroom floor is the same level as the bedroom and the floor will be much more durable for the upcoming season! Not only was this project fun creatively, we have also learned quite a few things and become fairly efficient bricoleurs!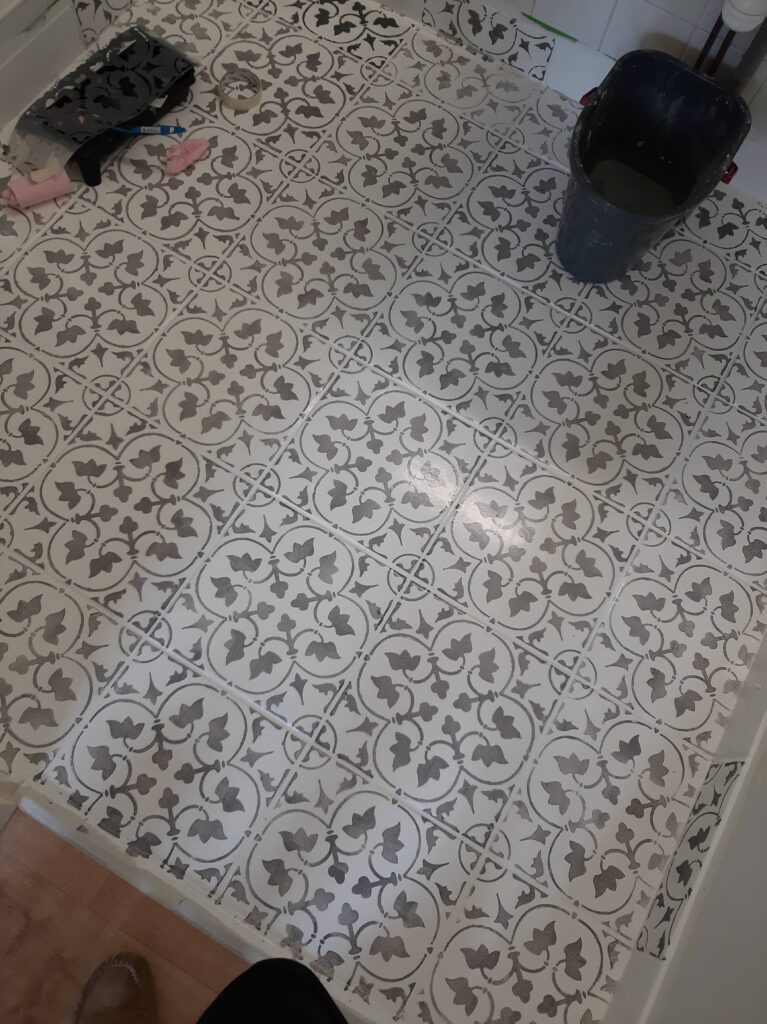 A Year Later
Our vacation rental, The Fig Tree Cottage officially opened up a year ago. We have had the opportunity to host travelers from all over the world. Situated 10 minutes outside of the medieval city of Loudun, the cottage is the perfect Loire Valley home for everyone in the family! Visit the nearby historical cities of Chinon, Saumur, Thouars and Poitiers. It's also very easy to visit the nearby water park at Centre Parcs – Le Bois aux Daims or a day trip to Futuroscope or Puy du Fou. To celebrate our first year of hosting, we are offering a gourmet welcome basket for all stays during all stays for the rest of this year. Don't forget, we also host in person bespoke cooking classes, which you can get 10% off just by mentioned the code "mysecretconfections10"! Click here to book and we hope to see you soon!