Flan. Being American, the only type of flan that I ever came across before moving to France was Mexican flan. You know the jiggly, yellow stuff with the caramel (I think) on the top, sitting in its own liquids… Bleck. To be honest, I am still not a huge fan of flan, even french flan. If I had to choose one or the other, French flan would definitely be my poison.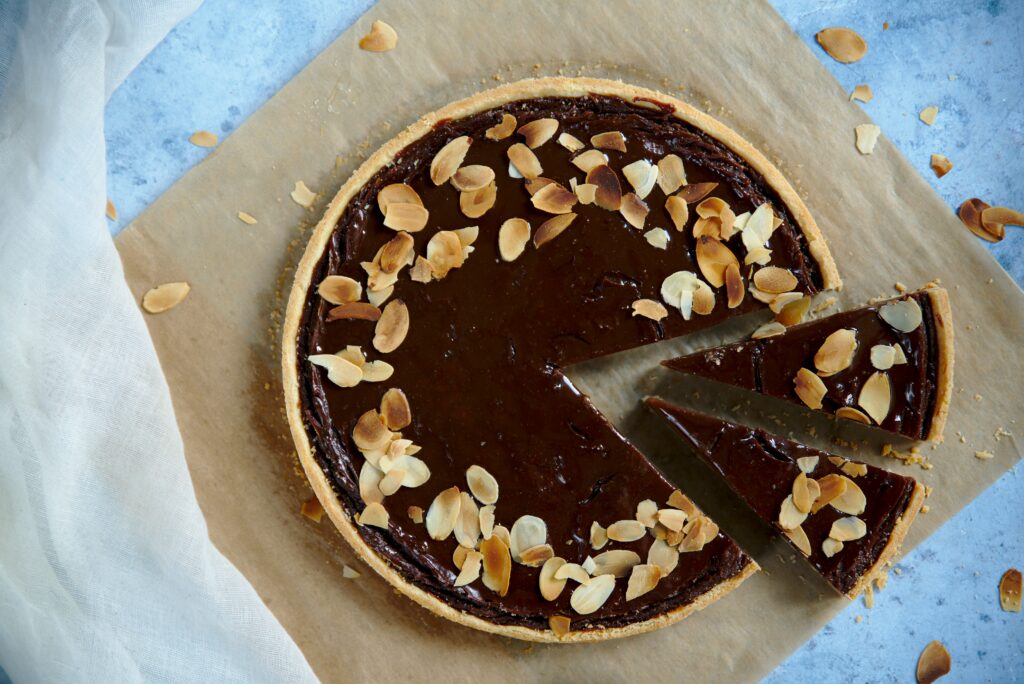 Chocolate Flan
This recipe isn't technically in the CAP repertoire, however as each element of it is, let's just say that this counts as studying right? This last weekend, I made religieuse au chocolat for the first time. You may have seen clips of my making chocolate pastry cream on social media. Well basically, I filled round choux with that and topped them with chocolate fondant etc. They turned out fairly good for a first shot, speaking solely from the aesthetic aspect, since chocolate and I are not great friends. My in-laws enjoyed them though. The problem was, I found myself with tons of left over chocolate pastry cream. "Well crap, what am I going to do with this?"
Generally I would make more and send them to work with Mr. Hubby. However, our trains aren't currently working due to a landslide, so he has to transfer multiple times. Taking boxes of pastries with just add to the stress of the extra commute. I also hate throwing out perfectly good food, but the problem was, pastry cream only keeps about 48 hours. It can't be frozen for later…then it hit me! Chocolate Flan!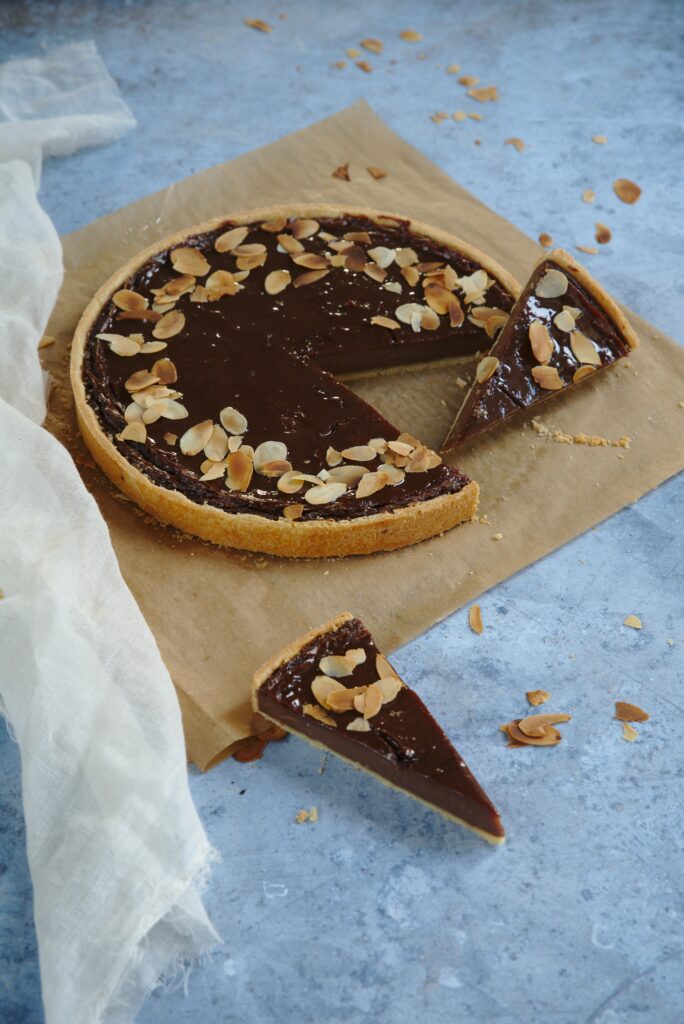 In the French pastry world, there are two ways to make flan; with a flan cream (fairly similar to a creme anglaise) or with pastry cream (which is how I'll be required to do it in the exam). I just had to reheat up the pastry cream and pour it into a tart shell. It would give me an opportunity to work on my fonçage or lining a tart shell.
Pastry Crust
Pâte à foncer (otherwise known as pâte brisée) can be pulled together in mere minutes. Cut the butter into the flour to create a sand like consistency. Then the egg and milk (where the salt and sugar have been dissolved) is added to the mixture. After a rest in the fridge, you'll need to roll it out into a circle and line your tart pan. Pop the shell in the freezer, while you prepare the pastry cream. The cream is poured into the shell when it's hot and baked directly afterwards.
Chocolate Pastry Cream
Pastry cream is so versatile. You can use it for everything and flavor it with anything you can think of. The important thing to remember is to add your flavoring with the fat, ie the milk. You'll proceed like a normal pastry cream, but add the chocolate to the milk and slowly heat it up in a sauce pan so the chocolate does not burn.
Once it comes all together, don't forget to pass through a fine meshed strainer, this will catch any chunks of chocolate that have not completely melted and smooth out your overall cream. If you are using it for anything else, you would put it in the fridge to cool prior to proceeding with your recipe. In this case, the hot mixer can be poured directly into the chilled tart shell and baked for about 45 minutes.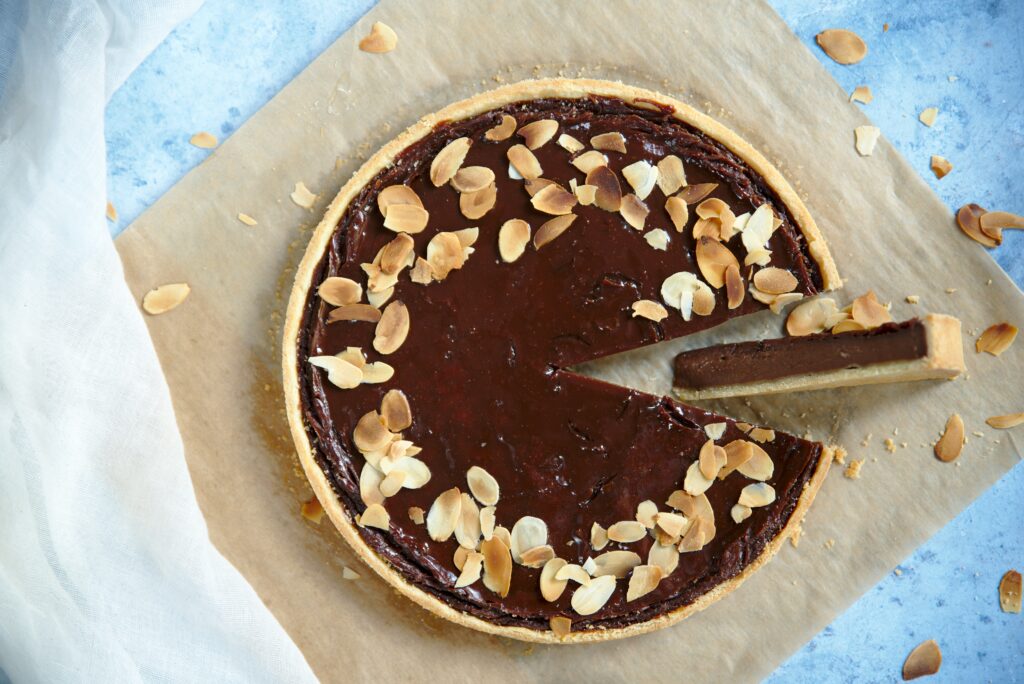 When I first started making flan, I had the hardest time perfecting the cooking time. It never seemed cooked and was always still a bit liquid. Nowhere did anyone indicate that it was normal and that it would continue to set up while cooling. To my defense, I know that things tend to set up after cooking, but to me, it seemed like it was entirely liquid. That's normal. Just take it out and let it cool until it is set up. If it's overcooked, it'll be rubbery, much like eggs from a fast food joint.
Finishings
I brushed a sugar syrup over the top of the flan when it was still warm. This gives it a bit of a shine and also protects the top layer from getting too dry. You can omit this step is you want, it's just a personal preference.
If you find that the edges of your tart shell are a little rough, you can use a micro blade zester to clean them up. This will make your overall product look a lot more polished. If you prefer the rougher rustic style, then leave them as is!
We're a big fan of roasted nuts, so I toasted some sliced almonds and add some to the perimeter of the flan. Mr. Hubby applauded me on this addition. He said that because of the placement, every time he went to take a bite of the flan he would get a whiff of toasted almonds and it paired perfectly with the chocolate.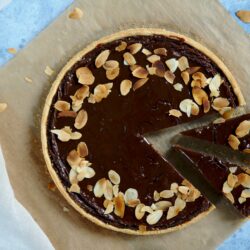 Chocolate Flan
A fun twist on a tradition french custard tart, a recipe that has been around in France for decades.
Print
Pin
Rate
Equipment
Cake pan or tart pan with high sides (mine is 4cm or 1.5 inches tall)
Ingredients
Pâte à Foncer – Pastry Crust
350

g

all-purpose flour

180

g

butter

40

g

egg yolk

40

g

milk

40

g

granulated sugar

6

g

salt
Chocolate Pastry Cream
750

ml

milk

75

g

granulated sugar

150

g

egg yolks

70

g

Poudre à Creme,

or cornstarch

185

g

baking chocolate
Instructions
Pâte à Foncer – Pastry Crust
In the bowl of a mixer, add the flour and butter. Mix until you have a sand-like consistency.

Add the liquids and mix briefly, until things just start to come together.

Dump the continents of the mixing bowl out onto the countertop and push the ingredients away from you and against the counter top, using the palm of your hand. Repeat 3-4 times or until the mixture is homogeneous and there are no large clumps of butter left.

Wrap in plastic wrap and let chill in the fridge for

30 minutes

.

After the dough has chilled, roll it out into a circle. Place your tart circle (or pan) on top of the dough and trim, leaving about two fingers width of extra dough.

If your dough has warmed up too much, place on a baking sheet and transfer back to the fridge for

10 minutes

before moving onto the next step.

Place the dough on top of the tart circle (or pan) and work the dough into the corners. With the rolling pin, roll over the top of the pan to remove the excess dough.

Smooth out the sides once more with your thumbs and use a pairing knife to cut off the excess dough. Dock the bottom of the tart shell and transfer to the freezer for

20 minutes

.
Chocolate Pastry Cream
Preheat the oven to 180°C (350°F)

In a large sauce pan, add the milk, the chocolate and half of the sugar. Bring to a low simmer.

In a large bowl, add the egg yolks and remaining sugar. Mix until the eggs lighten in color.

Add the crème à poudre (or corn starch) and mix again until combined.

Bring the milk mixture to a boil. Slowly add the milk to the egg mixture, whisking nonstop so the eggs don't cook.

Transfer the mixture back to the sauce pan and put on medium heat. Stir constantly until it thickens considerable.

After it thickens, continue to cook for an additional

2 minutes

to ensure it is completely sterilized.

Pass through a fine meshed strainer into a bowl. Discard any chunks that are caught.
Assembly & Baking
Remove tart shell from the freezer.

Pour the hot pastry cream into the shell, smoothing out the top with an offset spatula or a spoon.

Bake for

45 minutes

. The top will be puffed up and the mixture will still look like liquid. This is fine.

Transfer to a cooling rack and leave the tart ring on for

30 minutes

.

Remove the tart circle and brush the top of the flan with a sugar syrup.

Decorate as desired. If you're not serving right away, store in the fridge.
Nutrition
Calories:
362
kcal
|
Carbohydrates:
46
g
|
Protein:
7
g
|
Fat:
17
g
|
Saturated Fat:
9
g
|
Cholesterol:
136
mg
|
Sodium:
268
mg
|
Potassium:
165
mg
|
Fiber:
1
g
|
Sugar:
23
g
|
Vitamin A:
524
IU
|
Calcium:
97
mg
|
Iron:
2
mg