When I was a kid, my grandma loved to take us to Shari's Cafe & Pie. I remember being fascinated by the pie display case. You know the ones that were lit up and rotated, showing off all of their options. So why exactly am I talking about an American pie cafe? My first interaction with Lemon Meringue Pie was in said establishment. Let me be honest, I was not a fan.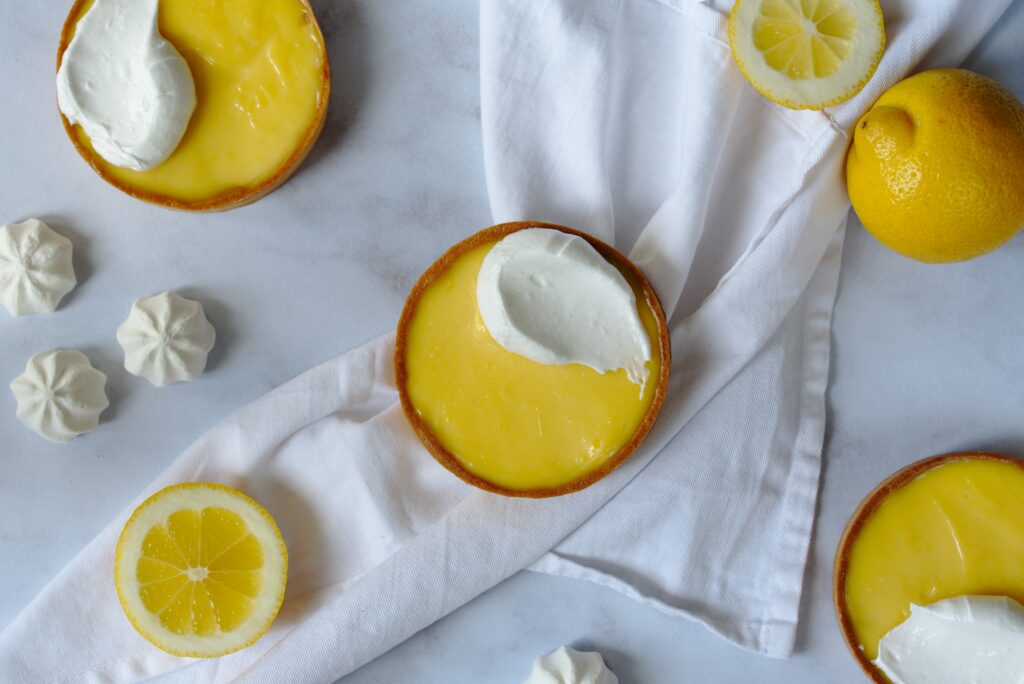 Unlike it's French counterpart, an American style lemon meringue pie is in a pie dish and piled sky high with meringue. So of course when I started my pastry journey and say a lemon meringue tart on the agenda, I wanted to turn around and run away.
I dragged myself back to the kitchen and grudgingly started working my way through the recipe. Much to my surprise, the end result was nothing like what I had been accustom to growing up.
Pastry Crust
This tart uses one of my favorite pastry crusts, pâte sablée. It's prepared by cutting the butter into the dry ingredients, until you have a sand like consistency. Then you'll add the liquid, or in this case the egg, mixing until the dough comes together. It is quite similar to a pâte sucrée, the only difference being that the butter is cut into the dry ingredients where as for pâte sucréé, the butter and sugar are creamed together before adding the liquid then the dry ingredients, but we'll see more about that in a later blog post.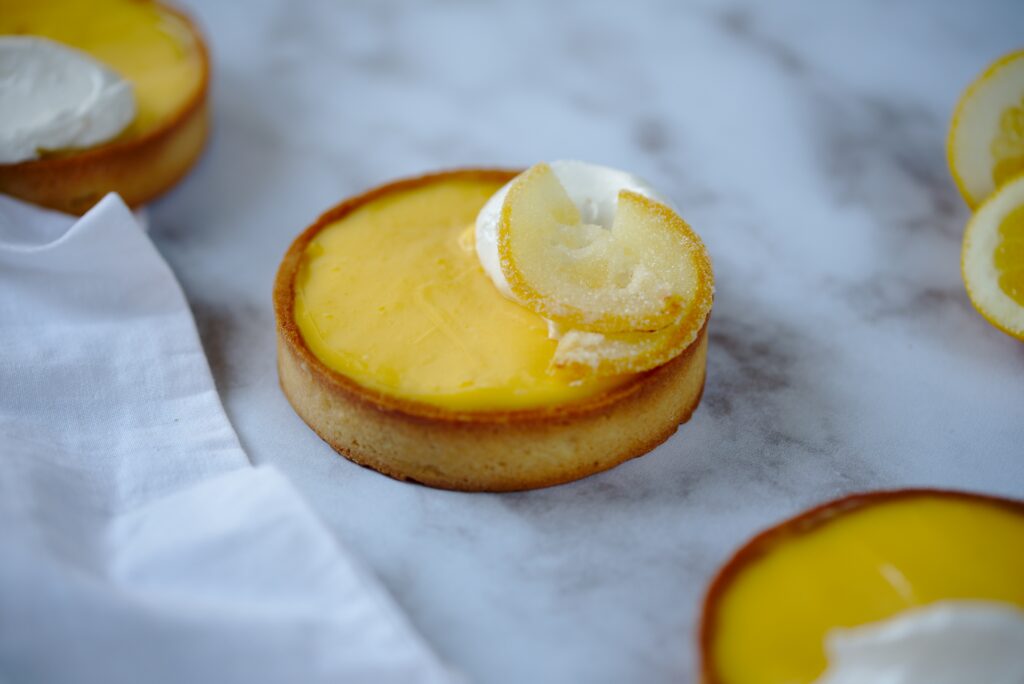 Curd
If you have tried any of the recipes containing a crème pâtissière, you'll find that making this lemon curd a piece of cake! Simply add all of the ingredients to a sauce pan and put on medium heat, mixing continuously. After a couple of minutes you'll find that the curd will start to thicken. You want it to be thick enough to cover the back of a spoon.
Now there are a couple ways that you can finish the curd. A lot of recipes say to add it straight to your tart shell, which works just fine. Personally, I like to pass it through a fine meshed strainer, to get rid of any pesky chunks out, then I use a plunger blender as an extra precaution. This is probably a bit overkill, but I find that it gives you a very smooth finish for the curd.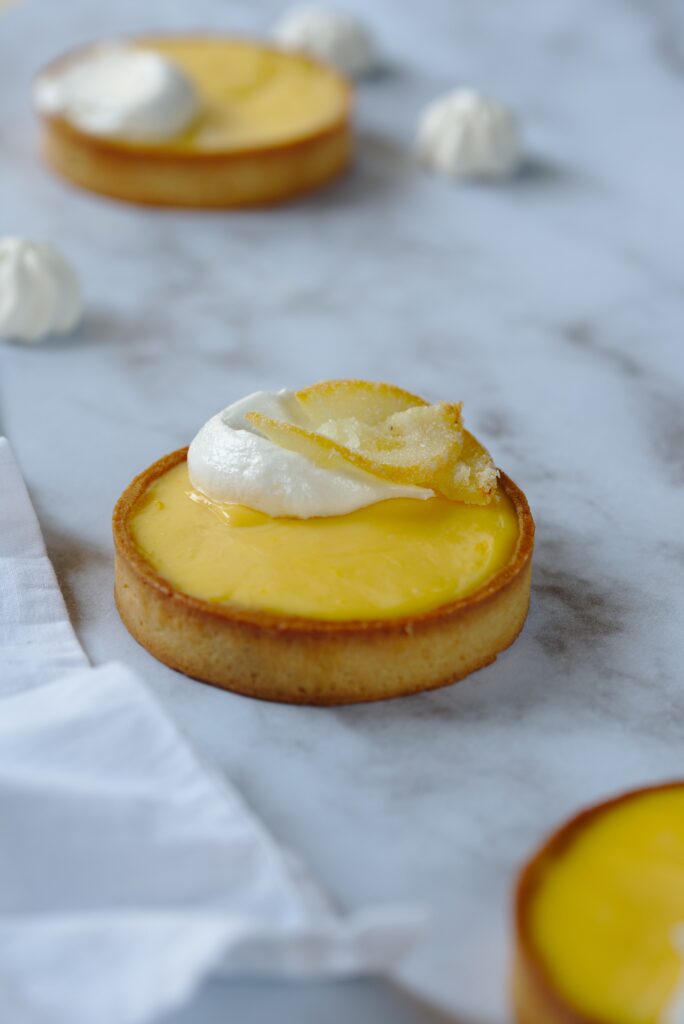 Meringue
I am not a big fan of plain Italian meringue. It makes a great buttercream, or macarons, but just plain meringue? Bleck. But lemon meringue tart without meringue…is just lemon tart.
I like to finish off my tarts with a little wave of meringue and top with candied lemon slices, they're cute, tasty and a little fancy. To replicate this, just pipe a big dome of meringue on one spot of the tart, then use a hot metal spoon (I heated it under the faucet) and create a dip in the dome, swiping away from the dome. For the candied lemon slices, I followed Amy's instructions on her blog She Wears Many Hats and it worked like a charm. I shook them around in granulated sugar afterwards to give them a little more glam.
If you prefer more meringue, using a spoon, you can plop it on top of the tart and make little wispy peaks or put it in a pipping bag and decorate the top as desired. Don't forget to toast it the meringue before serving!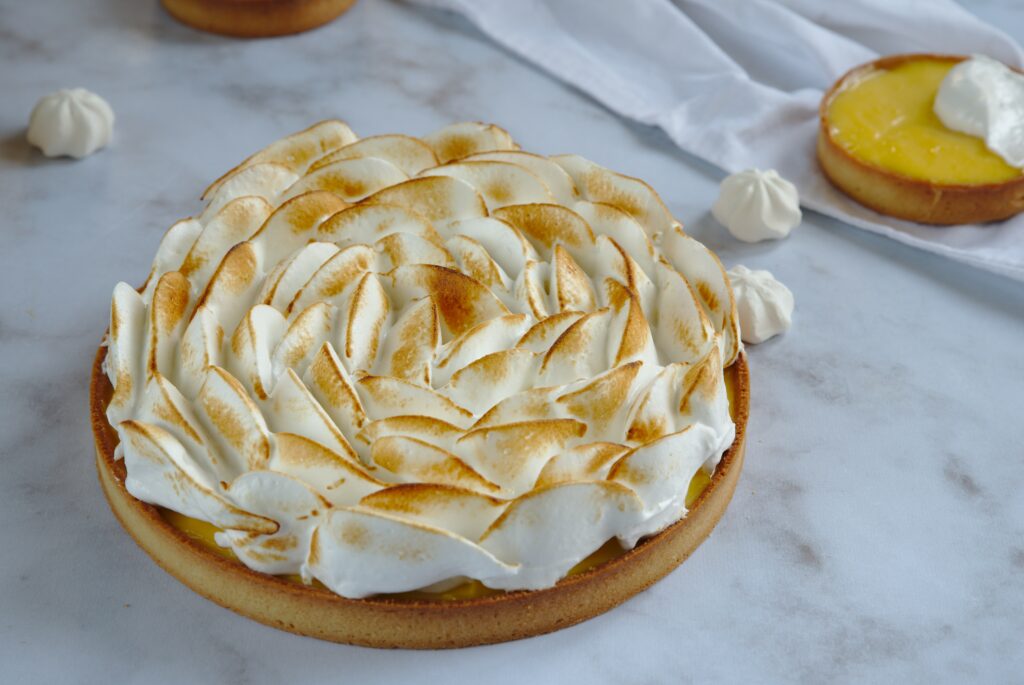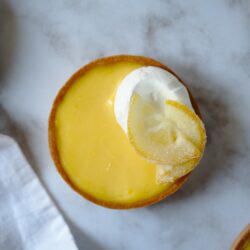 French Lemon Meringue Tart
This French Lemon Meringue Tart has a traditional american tart running for it's money!
Print
Pin
Rate
Ingredients
Pâte Sablée – Pastry Crust
200

g

Flour,

Type 55

120

g

Butter

3

g

Salt

80

g

Powdered Sugar

20

g

Ground Almonds

40

g

Egg
Lemon Curd
75

g

Lemon Juice

200

g

Egg

125

g

Powdered Sugar

125

g

Butter

10

g

Poudre à Creme,

or Corn Starch

10

g

Lemon Zest,

optional
Italian Meringue
120

g

Egg Whites

240

g

Granulated Sugar

80

g

Water
Instructions
Tart Crust
Sift together the flour and powdered sugar.

Cut the butter into the flour and sugar until it resembles sand.

Add the egg and loosely mix the dough.

Dump the dough out onto the counter top and with the palm of your hand, push the dough away from you, crushing it as you go. Repeat 2-3 times or until the dough comes together to form a smooth dough.

Pull into a ball and then flatten slightly. Cover in plastic wrap and let chill in the fridge for about 20 minutes.

After the dough is chilled, place it on a lightly floured worktop. Roll out the dough, moving the dough and making sure there is enough flour so it does not stick.

Transfer to a tart circle or pan and work the dough into the corners. Roll the rolling pin over the top of the tart pan to remove any excess dough. With your thumb, smooth out the dough that may have been pushed down by the rolling pin.

Dock the bottom of the tart shell and put it in the freezer for at least

20 minutes

.

After the shell has chilled, place in an oven preheated at 170°c (340°F) for

20 minutes

or until the tart shell is golden brown.

Set aside on a cooling rack.
Lemon Curd Filling
In a bowl, mix the eggs and half of the sugar in a bowl until lightened in color. Add the créme à poudre (or corn starch) and mix again.

In a sauce pan, bring the lemon juice, butter and other half of the sugar to a boil.

While whisking the egg mixture, slowly add the liquids, until completely combined.

Transfer everything back to the sauce pan and cook on medium heat for about

10 minutes

, stirring constantly. The filling should be thickened and coat the back of a spoon.

Pour directly into the tart shell. Smooth out the surface and transfer to the fridge to chill.
Italian Meringue
Bring the water and sugar to boil in a sauce pan. When the temperature reaches 110°C (230°F) , start whisking the egg whites in a stand mixer on medium high speed.

Once the sugar mixture has reaches 118°-120°c (244°-248°F), lower the speed on the mixer and slowly pour the hot syrup into the mixer bowl. Aim for the inside side of the bowl, if you pour onto the whisk, it'll get kicked around and create a big mess.

Continue to whisk until the meringue has cooled down, about

10 minutes

or so.

Transfer the meringue to a piping bag equipped with any piping tip of your choice and decorate the top of the tart as desired. Toast the meringue with a small blowtorch if desired.
Nutrition
Calories:
599
kcal
|
Carbohydrates:
78
g
|
Protein:
9
g
|
Fat:
29
g
|
Saturated Fat:
17
g
|
Cholesterol:
177
mg
|
Sodium:
434
mg
|
Potassium:
102
mg
|
Fiber:
1
g
|
Sugar:
56
g
|
Vitamin A:
927
IU
|
Vitamin C:
5
mg
|
Calcium:
35
mg
|
Iron:
2
mg