Do you ever find yourself in a cooking rut? Like, you find yourself making the same five recipes over and over? I know I do. I think that's why I love going on vacation. It gives me a change of getting off of the hamster wheel, eat food that I normally wouldn't make at home and just recharge from life. We went to a really nice Italian restaurant when we were on vacation and enjoyed a fabulous 4 course meal. For the main, Jawad ordered seafood pasta and I had Osso Buco served on a bed of parmesan risotto. It was so tasty. When we got home, I wanted to try to add some new dishes into the routine.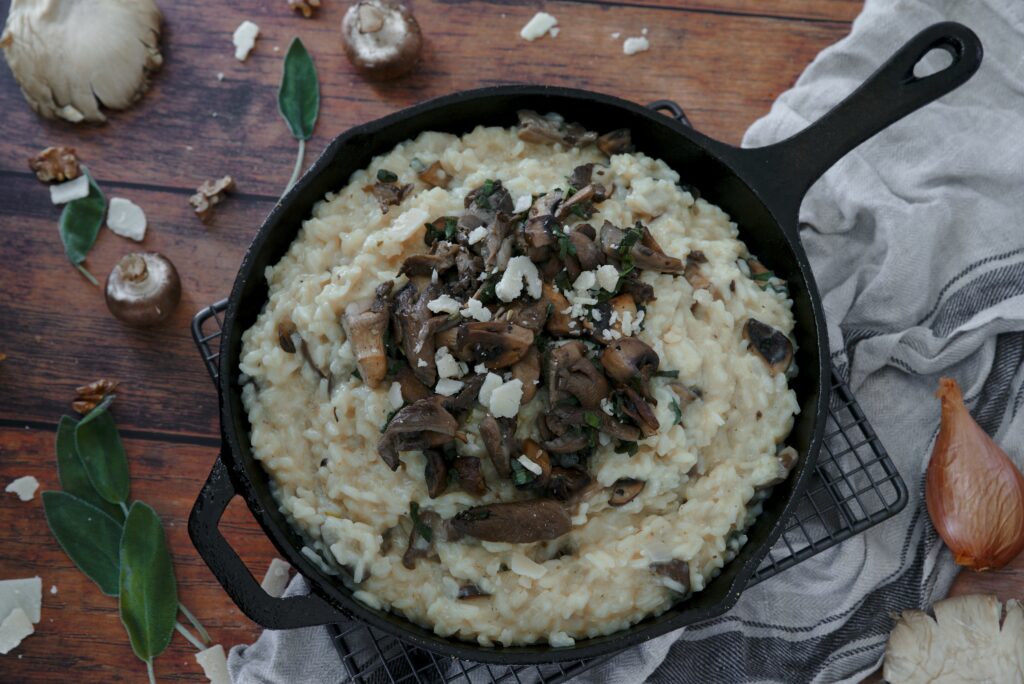 I have always loved risotto and ordered it quite often when we'd go out to restaurants but very rarely made it at home. I'm not even sure why. Maybe out of laziness, since you have to baby it a bit? But that's all changed.
Winters in Paris generally aren't that severe. We have had quite a few large windstorms this year. Mr. Hubby always laughs because every year, like clockwork, I complain about the 'bone-chilling wind', which is the real reason that winters suck here. He had never thought of the wind before. As someone who grew up in Seattle and surrounded by mountains, we never really had very strong wind. Paris however, is another story. The 'bone-chilling' wind does having me craving heavier heartier meals, such as stews and soups and now risotto!
I stumbled across the original recipe on the Sur La Table website, however have make adjustments. I removed the toasted walnuts as they seemed out of place and upped some of the other proportions to fit our tastes.
What kind of rice should I use?
Risotto is made with Arborio, an italian short grain rice. Other varieties include Carnaroli (aka cavier of rice) or Vialone Nano (smaller, pearly and fine rice). I have always used Arborio as it's the easiest to come by in my grocery store.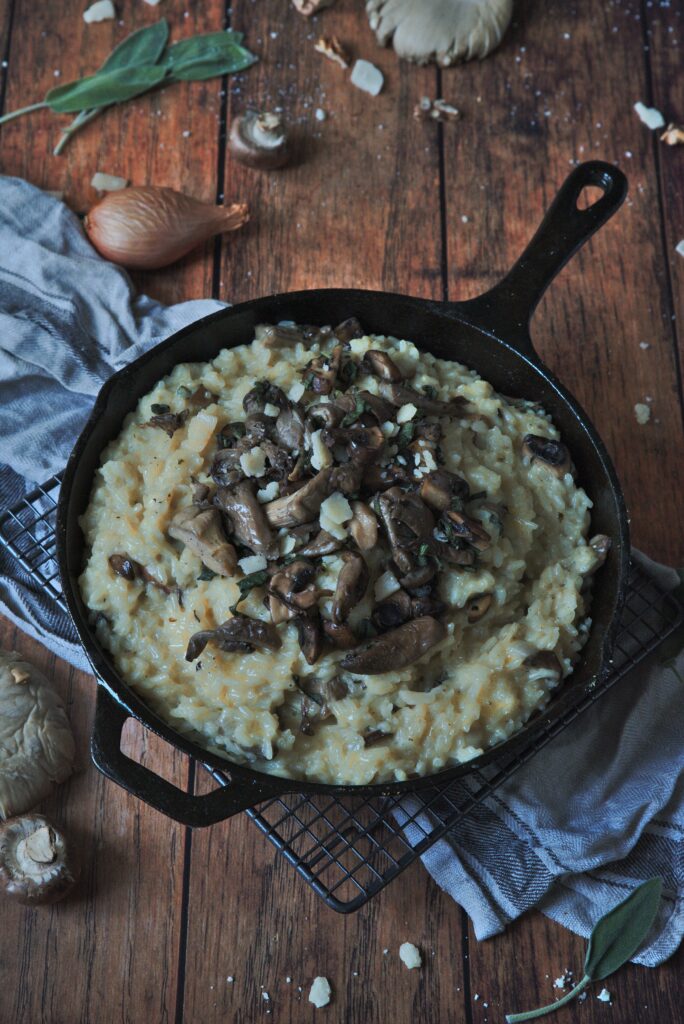 I don't drink, do I have to use the wine?
You can leave out the wine if you wish, however the alcohol does cook off as it's added in the beginning of the cooking process, leaving plenty of time for the alcohol to evaporate. It leaves behind a bit of acidity and a bit of flavor which tames the richness of the dish.
Many chefs suggest replacing the wine with verjus or unfermented grape juice. I have also seen mentions of using vinegar or lime juice, however I have not personally tried these substitutions.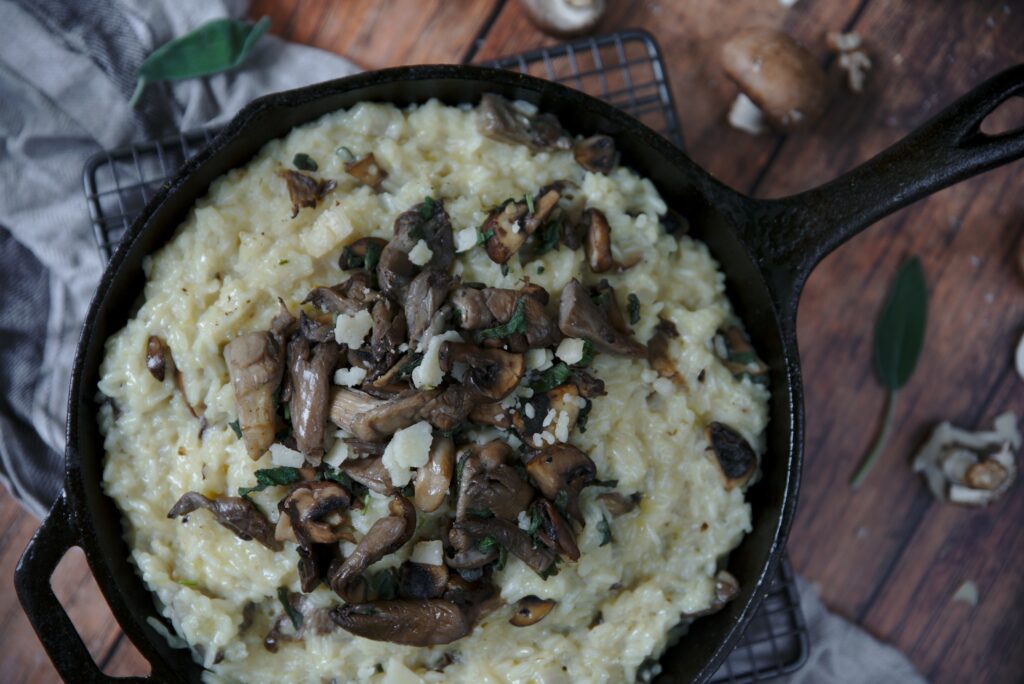 What kind of mushrooms should I use?
The original recipe calls for wild mushrooms such as porcini or chanterelles. I have not been able to find either of those recently, so have found myself using anything from baby portabella, brown button mushrooms, ceps, or oyster mushrooms. What I found works best is using a mix of mushrooms rather than one variety. This also helps keep the cost down because you can mix a cheaper mushroom with something a bit fancier. I doubled the amount of mushrooms in the original recipe as I wanted their presence to be a bit more prominent. Plus, who doesn't like mushrooms?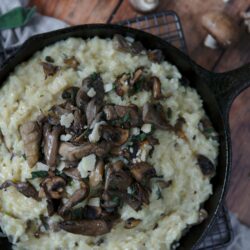 Mushroom & Sage Risotto
Heavy & hearty dish, perfect for a cold winter night.
Print
Pin
Rate
Servings:
8
main dish servings
Equipment
Dutch oven or other heavy bottom pan
Ingredients
1

l

vegetable broth

500

g

arborio rice

60

g

butter

15

ml

olive oil

500

g

mushrooms,

grey oyster, button, chanterelles, cepes

2

tbsp

sage,

chopped

2

large shallots

finely diced

250

g

parmesan,

shredded

120

ml

white wine

salt & pepper, to taste
Instructions
Heat up the vegetable broth in a sauce pan and keep warm on low heat

In a dutch oven, melt 15g ( 1TBSP) of butter with the olive oil. Once the foam from the butter subsides, add the mushrooms and cook until slightly brown and the liquid they released evaporates.

Season with salt and pepper, then add sage, cooking slightly for

2 minutes

. Transfer to a plate and set aside.

Melt 30g (2TBSP) of butter in the pan, then add the shallots, stirring continuously until softened.

Add the rice to the pan with the shallots, stirring until the rice starts to fry and the edges turn opaque.

Add the wine and deglaze the pan. Continue to cook until the liquid is absorbed.

With the heat on medium, add 240ml (1 cup) of broth, stirring continuously. When the broth is completely absorbed, add another 120ml (1/2 cup) of broth and continue stirring constantly.

Continue to add liquid and cook the rice until the rice is cooked. It should be creamy and the rice is plump.

Season with salt and pepper, then take off the heat. Add 15g (1 TBSP) of butter, the parmesan and mushrooms. Serve immediately.
Nutrition
Calories:
456
kcal
|
Carbohydrates:
56
g
|
Protein:
17
g
|
Fat:
17
g
|
Saturated Fat:
9
g
|
Cholesterol:
37
mg
|
Sodium:
1060
mg
|
Potassium:
313
mg
|
Fiber:
3
g
|
Sugar:
3
g
|
Vitamin A:
698
IU
|
Vitamin C:
2
mg
|
Calcium:
389
mg
|
Iron:
3
mg