Steak & Ale Stew, aka a warm hug in a bowl. Every single time that I go to the UK or Ireland, this is my go to order. Yeah, I know that they make pretty good fish & chips, but it's not really my thing. Now, give me a big bowl of steak & ale stew, or a steak & ale pie…oh man. I'll be thanking you until the cows come home. Oops, that's probably not the best saying in this instance.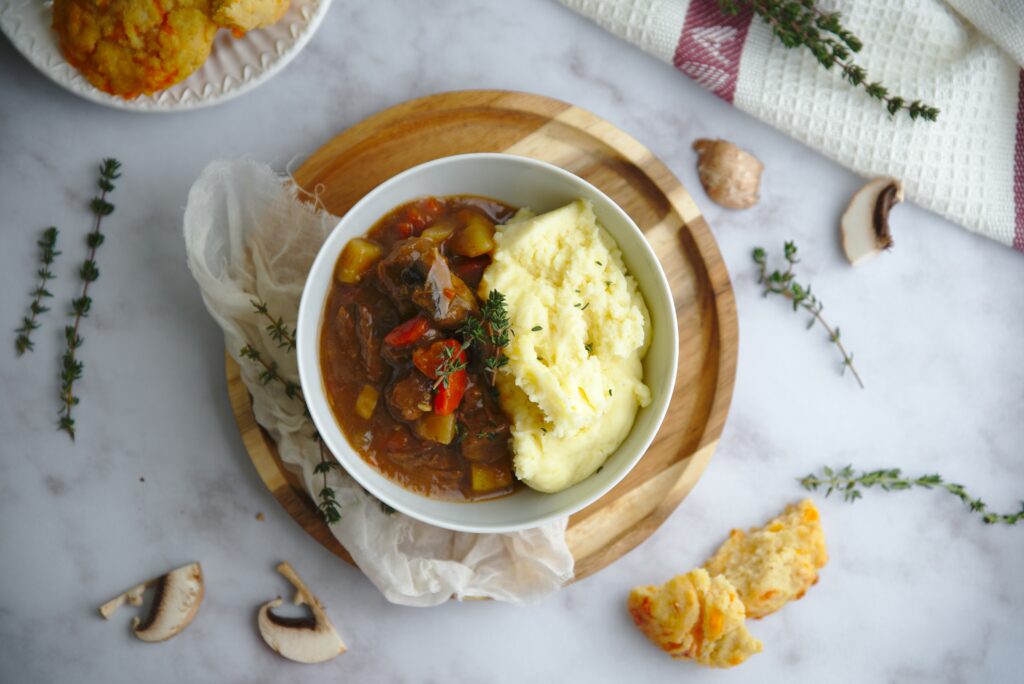 This recipe is my compilation of several different recipes that I've used in the past. There may seem to be quite a few ingredients, but everything has it's place and it all comes together wonderfully!
Do I have to use Guinness?
If you're a big beer drinker and prefer using a different type of ale, go right ahead. I would personally still use a stout, but I do know that there are quite a few types of ales that work just a well. I prefer using Guinness, because 1- I like it, and 2- It's easy to get.
Are all of the vegetables necessary?
Short answer? No. Long answer? When it comes to the vegetables, you can cut some out or beef it up with others. Honestly, with stews like this, anything goes. As you can see, there are potatoes in the stew recipe. However, if I know I am going to serve it with mashed potatoes, I skip it in the stew. Don't care for carrots? Okay, but find another root vegetable to replace it with. I like adding celery to the stew, but as Mr. Hubby isn't a fan, I make it more often without and it's not actually missed.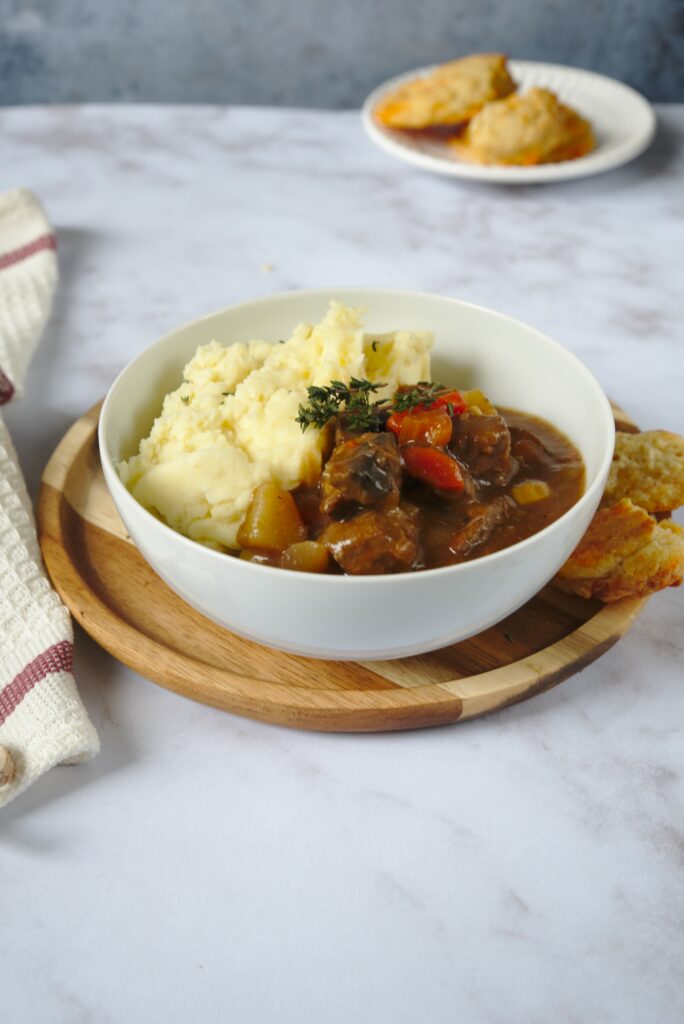 How do I serve Steak & Ale stew?
There are various ways you can serve this stew, it can simply be served up in bowls, as a pie with some quick puff pastry, with a big scoop of mashed potatoes… It really depends on your personally preferences.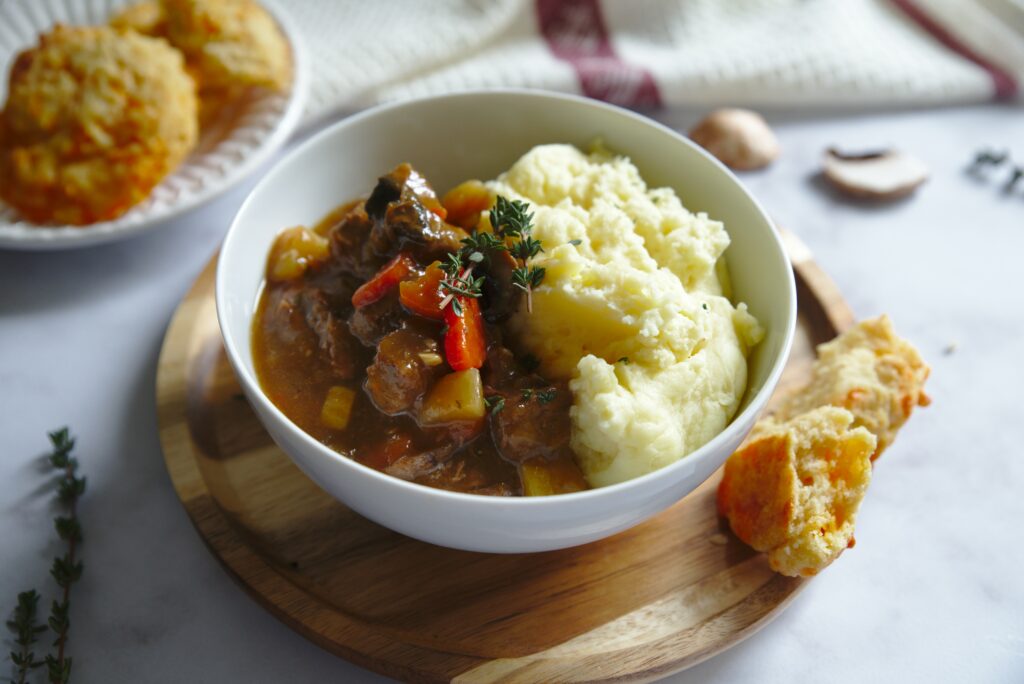 I generally make a big batch of garlic mashed potatoes to pour some stew over. I also like making some cheddar biscuits to serve along side the stew. Why? I love the stew and Mr. Hubby prefers the mashed potatoes and biscuits, so it's the perfect combination. If I had my way, I would almost always serve it in a puff pastry crust, but hey, compromise is the name of the game!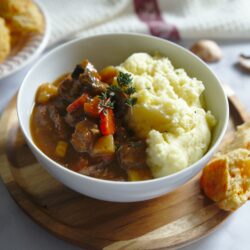 Steak & Ale Stew
Steak & Ale Stew, aka a warm hug in a bowl.
Print
Pin
Rate
Ingredients
1

tbsp

vegetable oil

1

kg

boeuf bourguignon,

or boneless beef chuck

3

large carrots,

chopped

2

onions,

chopped

6

Garlic Cloves,

minced

2

large potatoes,

cubed

1

turnip,

cubed

200

g

mushrooms,

sliced

2

tbsp

tomato paste

350

ml

guinness

1

l

chicken broth

2

tbsp

worcesterchire sauce

2

bay leaves

4

sprigs of thyme

cornstarch,

as needed

parsley for garnish

chopped

salt & pepper,

to taste
Instructions
Add the oil to a heavy bottom pan or dutch oven. Once the oil is warm, add the beef. Season with salt & pepper, then cook on medium high heat, until all sides are browned.

Remove the meat from the pan and set aside. Leave the oil in the pan.

Add the onions and carrots to the dutch oven, stirring constantly. Cook until soft and fragrant.

Add the garlic and cook for about a minute or until fragrant, then add the tomato paste, stirring to coat everything. Allow to cook for a minute longer, to cook off some of the acidity.

Add the Guinness & Worcestershire sauce and de-glaze the pan, scrapping the brown bits off of the bottom of the pan, then bring to a simmer.

Add the beef and chicken broth back to the pan, along with the thyme and bay leaves. Bring to a boil, then reduce to a simmer. Cover and let cook for an

hour and a half

.

Add the potatoes, if using, and turnips. Cover and allow to cook for an additional

30 minutes

or until they're cooked through.

Remove the thyme & bay leaves. At this point, if the stew is still quite runny, mix some cornstarch with a bit of water, then add it to the stew until it thickens and is at the desired consistency.

Add the mushrooms and let stew for an additional

15 minutes.

Garnish with parsley and serve!
Nutrition
Calories:
343
kcal
|
Carbohydrates:
20
g
|
Protein:
28
g
|
Fat:
17
g
|
Saturated Fat:
8
g
|
Cholesterol:
86
mg
|
Sodium:
664
mg
|
Potassium:
1045
mg
|
Fiber:
3
g
|
Sugar:
5
g
|
Vitamin A:
3923
IU
|
Vitamin C:
29
mg
|
Calcium:
66
mg
|
Iron:
4
mg