Praliné, not to be confused with American pralines, first made it's appearance in pastry history in the mid to late 1600's. It has since become a paramount ingredient in French pastry. You can easily buy praliné at any major pastry supply store in France. Most of the major chocolate companies, such as Valrhona & Barry Chocolat, sell pre-made praliné. They're nice to have in the cupboard, however I have found that homemade praliné has a better, stronger flavor and it can be made in about an hour!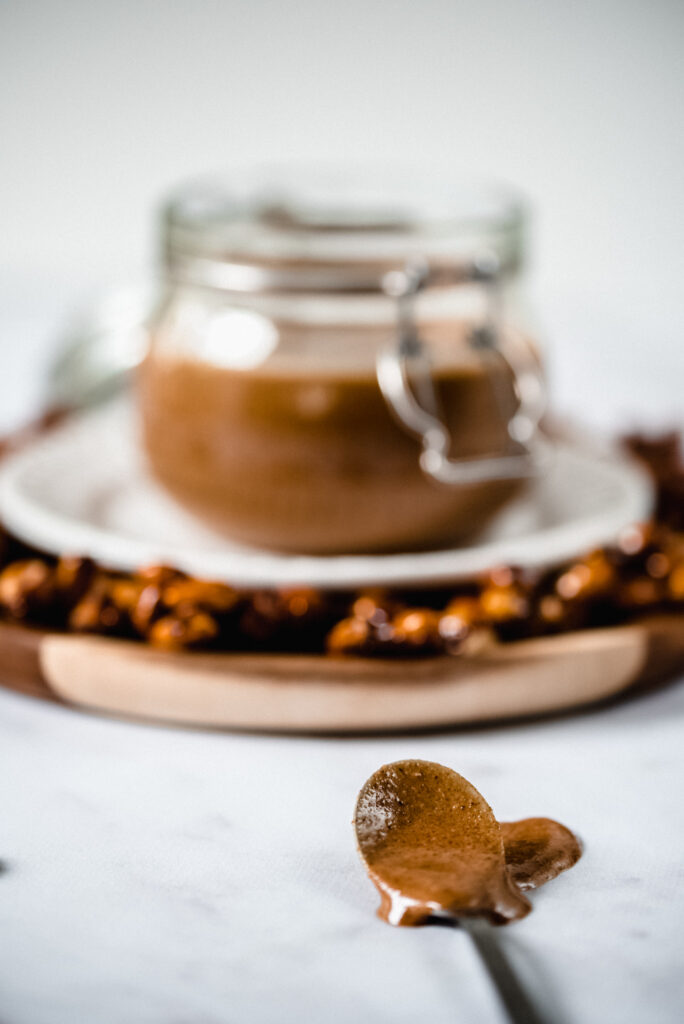 There are a couple variations of praliné, but for the most part it's quite simple. Roasted nuts, most commonly a combination of almonds and hazelnuts, are caramelized which are then pulverized into a liquid paste/sauce. The praliné can then be used in…everything.
How can I use praliné?
Praliné is used in a lot of chocolate based desserts in France. You can also use it to enhance certain creams, such as a mousseline cream in the popular choux-based Paris-Brest. You can also add praliné to cheesecakes, muffins, homemade whipped cream to make a mousse, to brioche or simply to drizzle over homemade crêpes. If you make homemade chocolate bonbons, you can also fill them with praliné and they will sure to be a crowd pleaser! You can also make homemade nutella with it! But that's a recipe for another day… 😉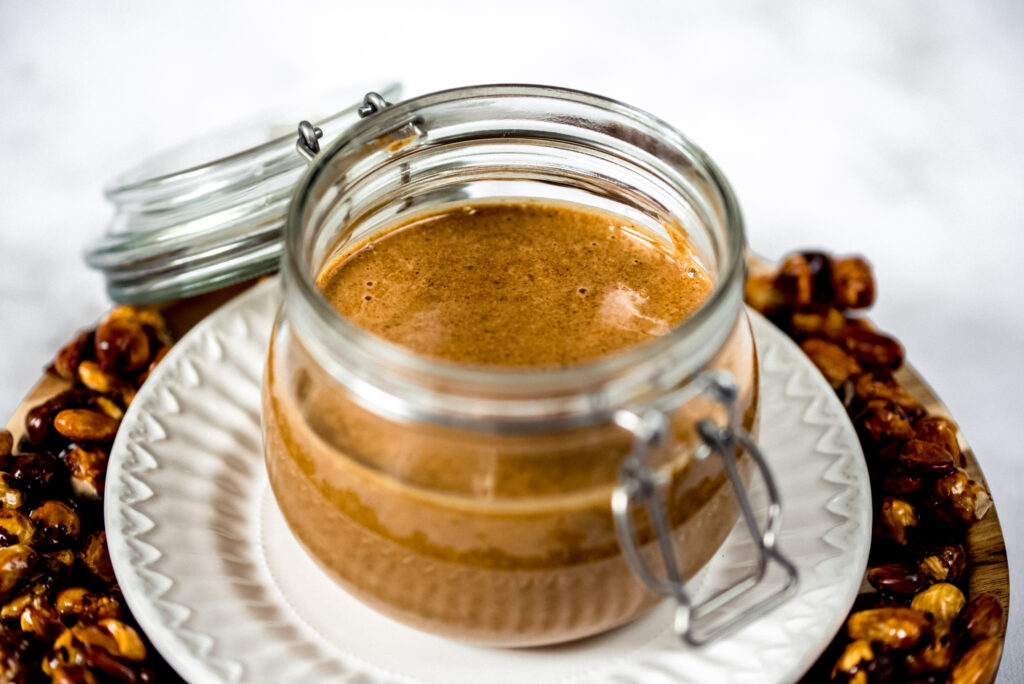 Do I need any special equipment?
You will need a strong food processor to turn the caramelized nuts into a cream. And some patience. To be honest, I break up the caramelized nuts into smaller pieces, toss them in the food processor. I mix them for about two or three minutes, scraping down the sides, then turn it back on and do something else. Don't be surprised if it takes longer than ten minutes until you get a fairly smooth liquid. Do keep in mind, that the praliné you make at home will not be as smooth as an industrial praliné. A food processor that any home cook will have, will never give you the same result as a professional one. However, the flavor of homemade praliné is so much for superior to store bought.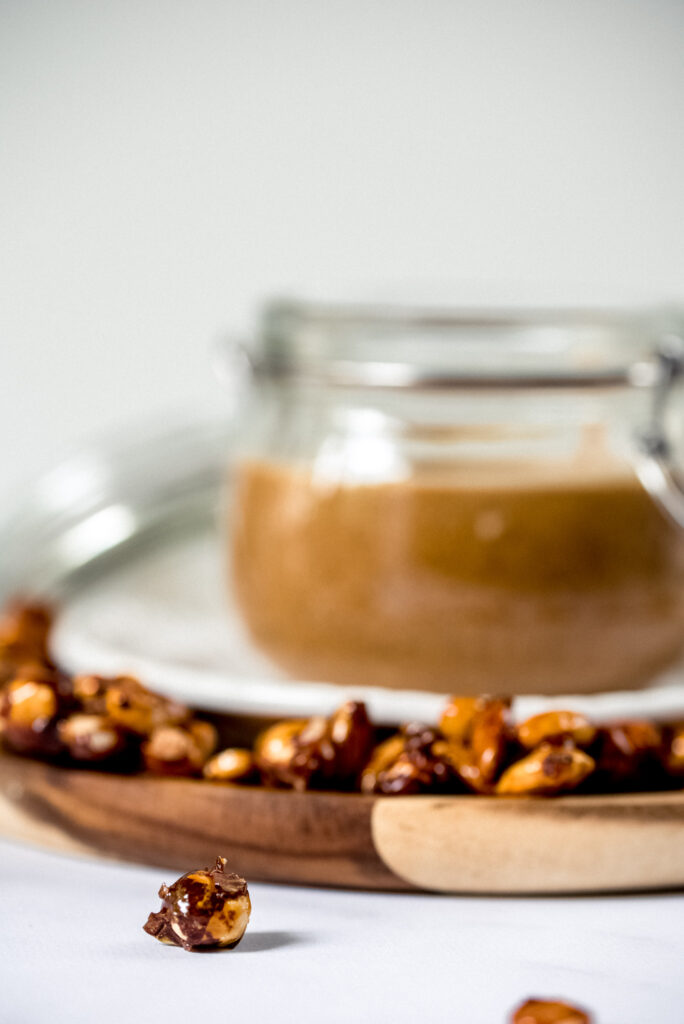 How and how long can I keep it?
Store the finished praliné in a sealed container and out of light. The back of your pantry works perfect. I have made homemade praliné and kept it for a couple months without any issue and I don't use it too often. Mr. Hubby loves to eat it by the spoonful or add it to homemade crêpes with some melted chocolate, so it doesn't last too long.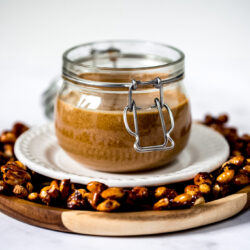 Homemade Praliné
A paramount part of French pastry, praliné can be used in everything from muffins to cheesecakes to making the cream for the choux-based dessert Paris-Brest.
Print
Pin
Rate
Ingredients
250

g

Almonds

250

g

Hazelnuts

250

g

Granulated Sugar
Instructions
Preheat the oven to 170°C (340°F). Spread the hazelnuts and almonds out on a baking sheet. Roast them for 20-30 minutes.

Add the sugar to a saucepan on medium heat to create a caramel. Let the sugar melt until it has a golden caramel color, but not too dark.

Add the, still warm, nuts to the pan with the caramel and mix to evenly coat the nuts.

The sugar will recrystallize. Keep the pan on the heat and let the sugar melt once more, stirring occasionally.

Once the caramel has remelted, dump the entire mixture out onto a sheet of parchment paper and let cool completely.

Once the caramel has cooled, break it up into smaller pieces and transfer to a food processor fitted with the blade.

Turn on the food processor and let it run until it turns into a liquid paste, scrapping down the sides occasionally. This can take anywhere from 5-15 minutes depending on your food processor.

Transfer to a container and store somewhere dark, like the back of your pantry, until needed.
Nutrition
Serving:
10
g
|
Calories:
3975
kcal
|
Carbohydrates:
346
g
|
Protein:
90
g
|
Fat:
275
g
|
Saturated Fat:
20
g
|
Sodium:
5
mg
|
Potassium:
3463
mg
|
Fiber:
55
g
|
Sugar:
270
g
|
Vitamin C:
16
mg
|
Calcium:
945
mg
|
Iron:
21
mg