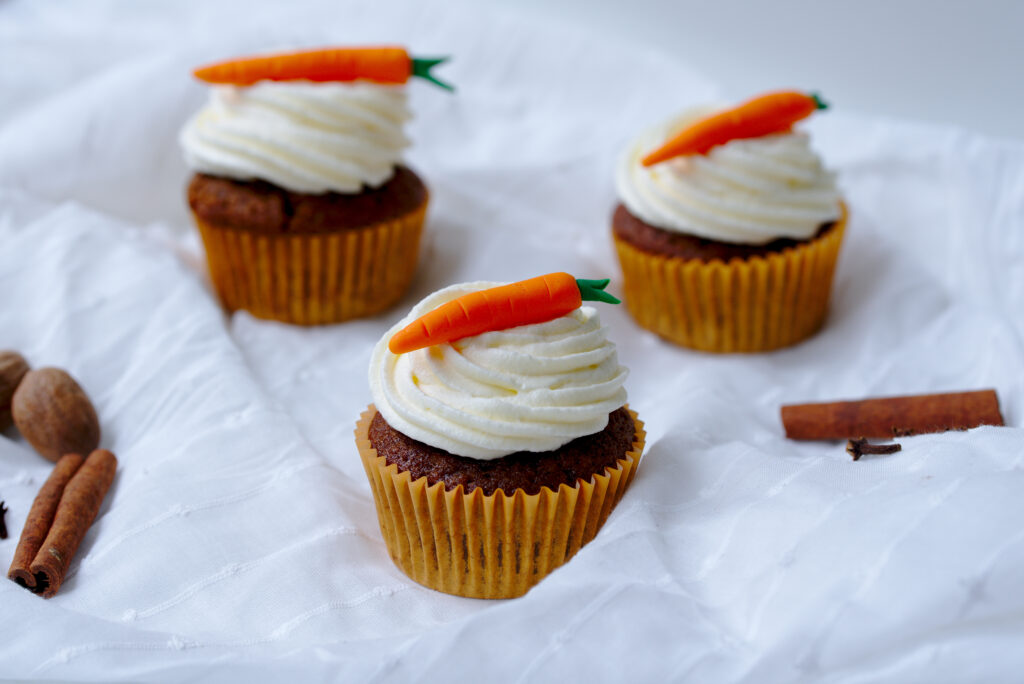 Carrot cake generally makes it's yearly debut in the spring around Easter, but paired with this fabulous Italian meringue cream cheese buttercream, it is guaranteed to be a crowd-pleaser all year long!
As mentioned on my social media, I'm starting to get my ducks in row and nailing down this years Friendsgiving dinner menu. For those of you who know me, Friendsgiving is 'my' holiday and I go all out. But of course that means testing recipes is necessary! Now excuse me, while I go hide the scale in the back of the closet until next spring.
To much of Mr. Hubby's amusement, I decided to mix up the dessert menu as it has been the same for the past 4 years. The reason I say to his amusement, is that every year I say that I want to mix things up, but just end up making exactly the same thing as I did the year before. All just because I am so damn indecisive!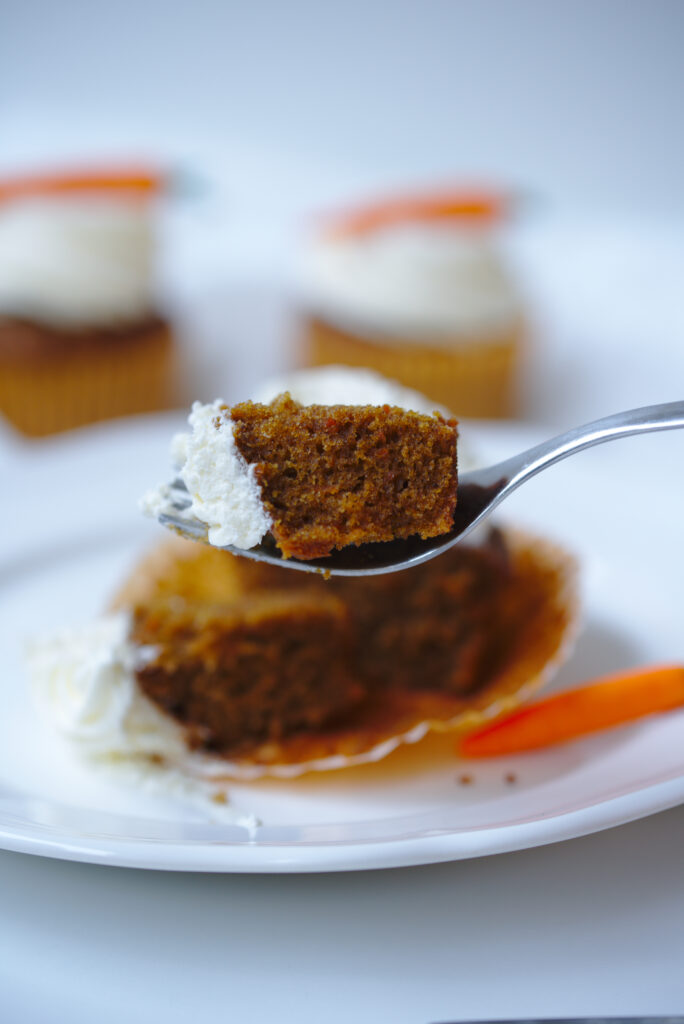 We went to the "you-pick-farm" by Versailles – Ferme de Gally – to get Cinderella pumpkins for pie, as most of the time you can only find sliced pumpkins in the stores and markets & I was in search for a full pumpkin. However, to my disappointment, they were all sold out and to tell you the truth, I died a little bit inside. We were in the Yucatan last Thanksgiving visiting my family, so it's been two years since I've gotten my pumpkin fix. They did however have tons of carrots, so it was a great opportunity to start my mission to find the perfectly moist carrot cake and a tangy yet stable cream cheese frosting.
For whatever reason, I have not been able to make cream cheese frosting since moving to France. All I end up with is a soupy mess that doesn't change, regardless of how long I let it chill or how much powdered sugar I add. I did find out that the Philadelphia cream cheese that is imported actually has a lower fat content than the cream cheese available in the US, which may play it's part. To help with the stability side of things, I found mixing cream cheese with an Italian meringue buttercream keep the frosting at a nice pipe-able consistency. The Italian meringue buttercream also brings the sweetness level down that one would normally find in a traditional cream cheese frosting which is American buttercream based.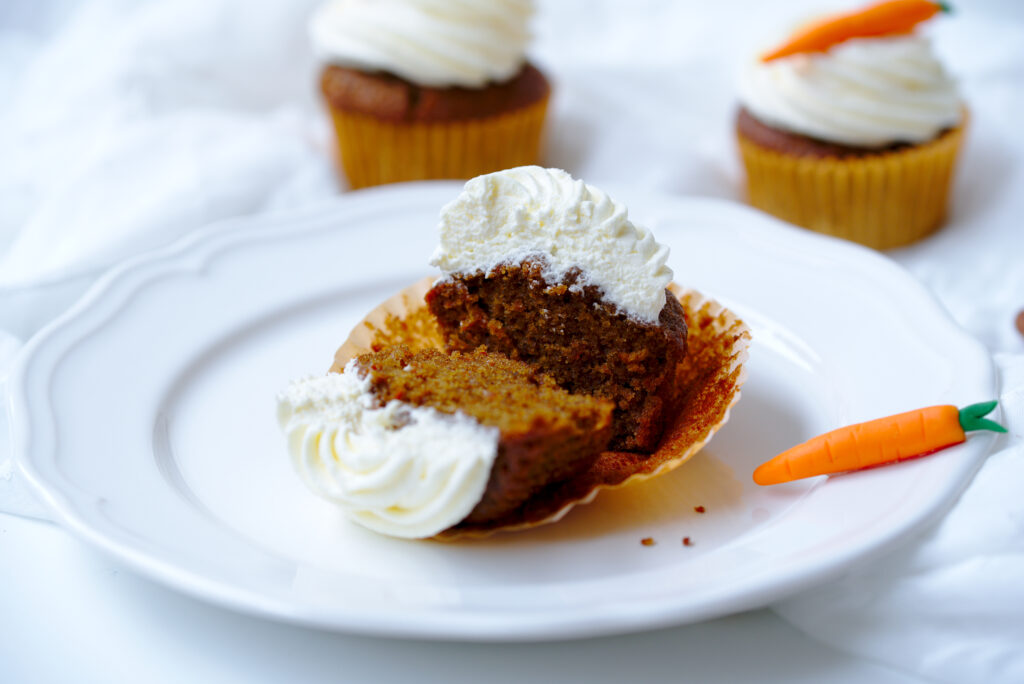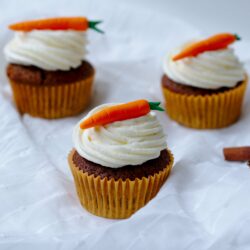 Carrot Cupcakes
Moist, flavorful carrot cupcakes topped with a light & zippy frosting.
Print
Pin
Rate
Equipment
Cupcake Pan

Cupcake Liners

Piping Bag

Piping Nozzle
Ingredients
Cupcakes
156

g

all-purpose flour

1

tsp

baking powder

1/2

tsp

baking soda

1/2

tsp

salt

1

tsp

ground cinnamon

3/4

tsp

ground ginger

1/4

tsp

ground nutmeg

1/4

tsp

ground cloves

120

ml

vegetable oil

200

g

brown sugar

2

large eggs,

room temperature

75

g

Greek yogurt

1

tsp

vanilla extract

130

g

freshly grated carrots
Italian Meringue Cream Cheese Frosting
184

g

granulated sugar

45

ml

water

3

egg whites,

approximately 90 grams

226

g

butter,

room temperature

1 1/2

tsp

vanilla extract

350

g

cream cheese,

room temperature
Instructions
Cupcakes

Preheat the oven to 175°C (350°F). Line a 12-cup muffin pan with cupcake liners.

Whisk the flour, baking powder, baking soda, salt, cinnamon, ginger, nutmeg, and cloves together in a large bowl. Set aside.

In a stand mixer equipped with the paddle, mix together the oil, brown sugar, eggs, yogurt, & vanilla until combined, then add in the carrots, mixing again, until it all comes together.

Add the dry ingredients to the wet in two additions and be careful not to over-mix.

Spoon the batter into the prepared liners, filling only about 2/3rd the way full, to avoid overflow. I like to use an ice cream scoop, to fill each liner with the same amount, ensuring that each cupcakes comes out about the same size.

Bake for about

20 minutes

, or until an inserted toothpick comes out clean. If making 30 mini cupcakes, bake for about 12-13 minutes. Allow to cook completely before frosting.
Italian Meringue Cream Cheese Frosting
Place the sugar and water in a medium-sized saucepan (do not stir). Turn on to medium high heat. I would suggest using a digital or candy thermometer to keep an eye on the temperature.

In a stand mixer equipped with the whisk, start mixing the egg whites on medium speed once the sugar mixture hits 110°C (230°F)

Once the sugar mixture hits 119°C (246°F), turn the mixer speed down to medium-low and very slowly pour the syrup down the side of the bowl into the egg whites. Try to avoid pouring the sugar mixture onto the whisk, it'll create a hot stringy syrup mess and you'll need to start over.

Once the syrup is completely incorporated, turn the speed to high. The meringue will continue to form a stiff peak as it cools down. You can touch the side of your mixture bowl to test the temperature. If it is still too hot to touch, keep mixing the meringue.

Once at room temperature, slowly begin incorporating the soft butter on medium speed. Once all of the butter has been added, add the cream cheese and vanilla. Let the frosting mix at medium-high speed (#6 or 7 on a Kitchen-Aid) for about

5 minutes

until it is light and fluffy. Transfer to a piping bag with tip and decorate your cupcakes as desired.

If not using immediately, you can store the buttercream in an airtight container in the refrigerator, then bring to room temperature before using. Briefly whisk or place back in the stand mixer with the whisk attachment to make sure it's nice and fluffy before frosting. You can also freeze it for up to 3 months (I like using gallon sized freezer bags).