Hello my lovelies! It's been a moment since I've posted and not because I didn't want to. This last month has been quite hectic! Mr. Hubby's birthday was at the beginning of the month, so I was studying-up on how to make his birthday cake (Royal au chocolat), which you may have seen pass by on my Instagram. Mr. Hubby is a big fan of mousse cakes, much to my disappointment.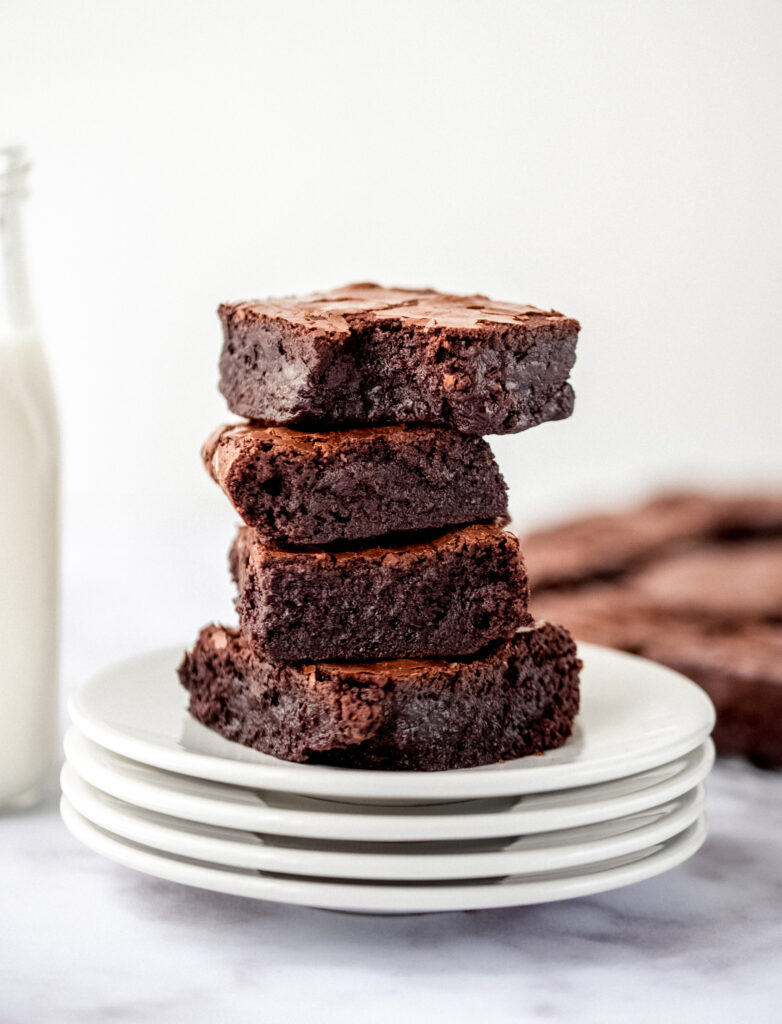 They're so stressful to me and shy away every time one is requested. Yet, it is one of the subjects I will be tested on for my CAP. I mustered up as much courage as possible and took a stab at it. I can assure you, I did drag my feet quite a bit.
Of course we then both got the flu, which lasted forever. Before we knew it, Thanksgiving craziness was upon us. Is it just me, or did November fly by super fast???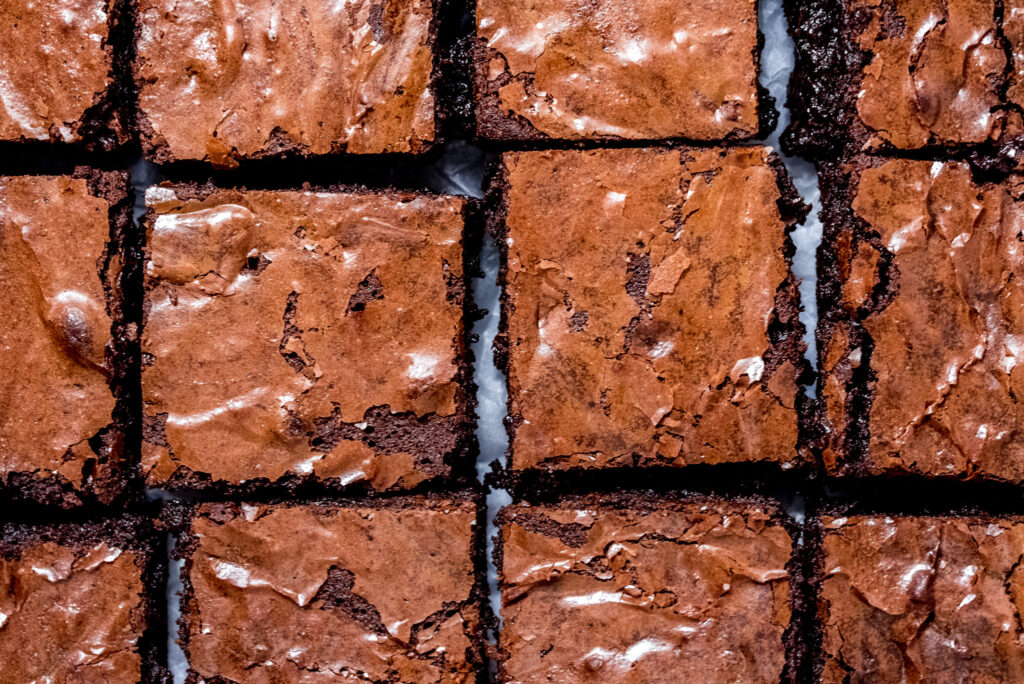 Now that our 'big' fall events are behind us, I have a bit more time on my hands again, so back to studying and of course sharing my adventure with my pastry stalkers! (Hi everyone!!)
In my opinion, there are two types of brownie lovers out there- team cake & team fudge. When I say fudge, I'm not talking about the candy fudge which is made by mixing sugar, butter and milk. The fudge that makes a big re-appearance every winter. The one that is forever stuck in your teeth?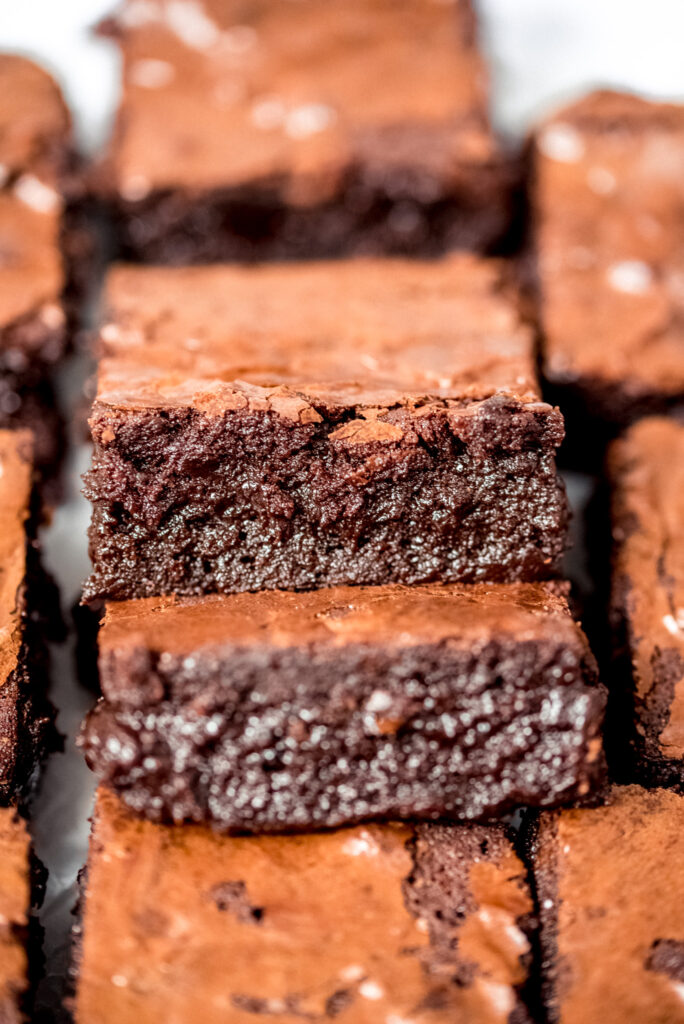 Ugh, I hate that kind of fudge. No, I'm talking about the gooey, chocolatey squares topped with that iconic crackly crust; the ones that plague the pages of baking magazines and have you drooling all over their photos. To be honest, I have trove of other brownie variations I have been wanting to try, but always fall back on this one because it's just THAT good.
Don't get me wrong, there is nothing wrong with team cakey brownies, but I figure if you go down that path, you might as well just get it over with and make chocolate cake.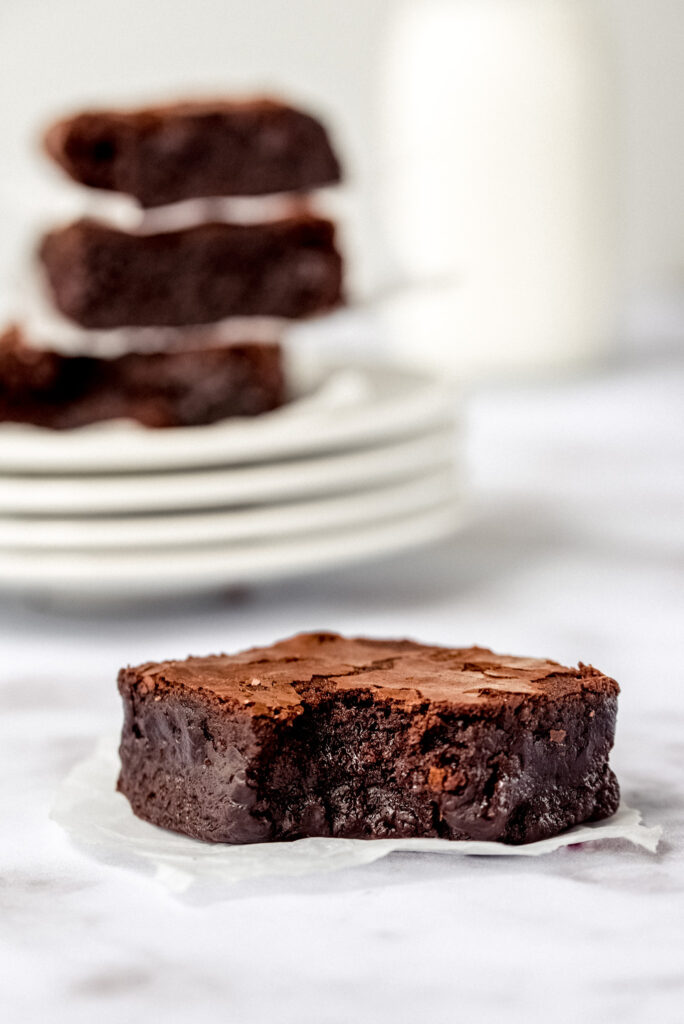 Now, on to these soft squares of love. These are super simple. In all honesty I don't even bother with my mixer. Two bowls, a whisk and a pan. You just need to try and resist eating all of the chocolate before it makes it into the mix!
Once they're out of the oven, be patient and let them cool completely before cutting them. You want the gooeyness to set a bit. If not, you'll just end up with a chocolate covered knife and a big mess. A tasty mess but still a mess. Patience is a virtue, trust me! It will be well worth the wait.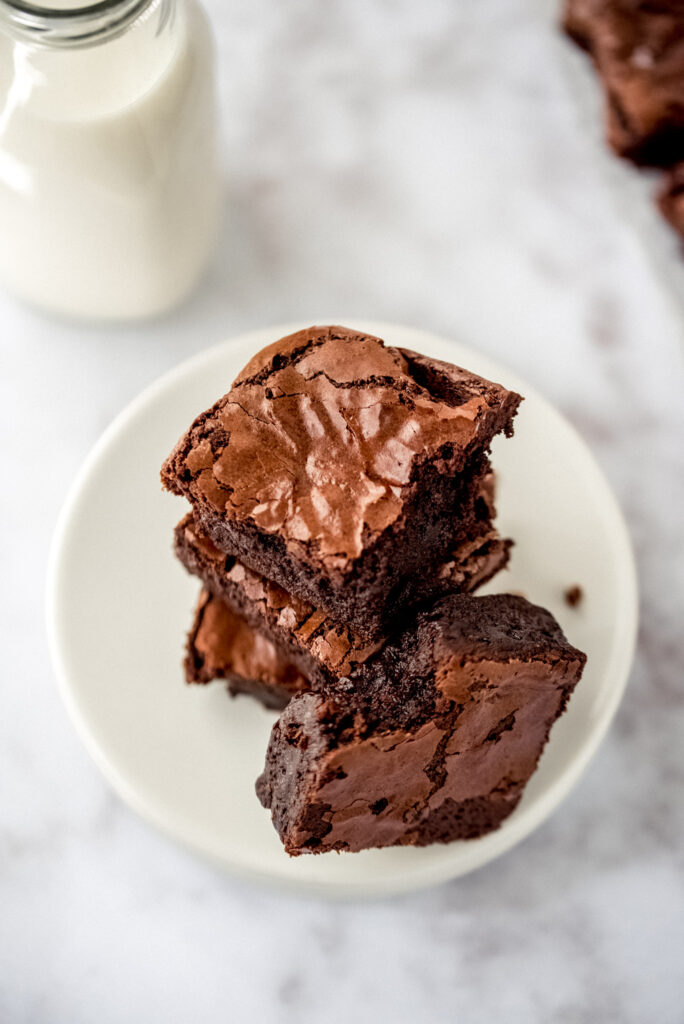 Want to switch it up? Swirl some caramel into the brownies before you bake them or add some nuts! What are your favorite kind of brownies? Let me know in the comments below!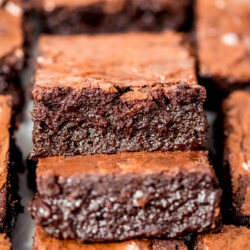 Bakery Style Brownies
Dedicant chocolate brownies, with a crispy crust and gooey chocolatey center.
Print
Pin
Rate
Equipment
23cm × 33cm baking pan

sauce pan

whisk
Ingredients
156

g

all-purpose flour

1

tsp

salt

2

tbsp

dutch processed cocoa powder

312

g

dark chocolate,

corsely chopped

226

g

unsalted butter,

cut into 1 inch pieces

1

tsp

instant espresso powder

300

g

granulated sugar

100

g

packed light brown sugar

5

eggs,

at room temperature

2

tsp

vanilla extract
Instructions
Preheat the oven to 175°c (350°f).

Butter the sides and bottom of a 23cm × 33cm baking pan. Line the pan with parchment paper.

In a medium bowl, whisk the flour, salt, and cocoa powder together.

Put the chocolate, butter and instant espresso powder in a large bowl and set it over a saucepan of simmering water, stirring occasionally, until the chocolate and butter are completely melted and smooth.

Turn off the heat, keeping the bowl over the water and add the sugars. Whisk until completely combined, then remove the bowl from the pan. The mixture should be room temperature.

Add 3 of the eggs to the chocolate mixture and whisk until combined. Add the remaining eggs and whisk until combined. Add the vanilla and stir until combined. Do not overbeat the batter at this stage or your brownies will be cakey.

Sprinkle the flour mixture over the chocolate mixture. Using a rubber spatula, fold the flour mixture into the chocolate until just a bit of the flour mixture is visible.

Pour the batter into the prepared pan and smooth the top. Bake in the center of the oven for

30 minutes

, rotating the pan halfway through the baking time, until a toothpick inserted into the center of the brownies comes out with a few moist crumbs sticking to it.

Let the brownies cool completely, then lift them out of the pan using the parchment paper. Cut into squares and serve.