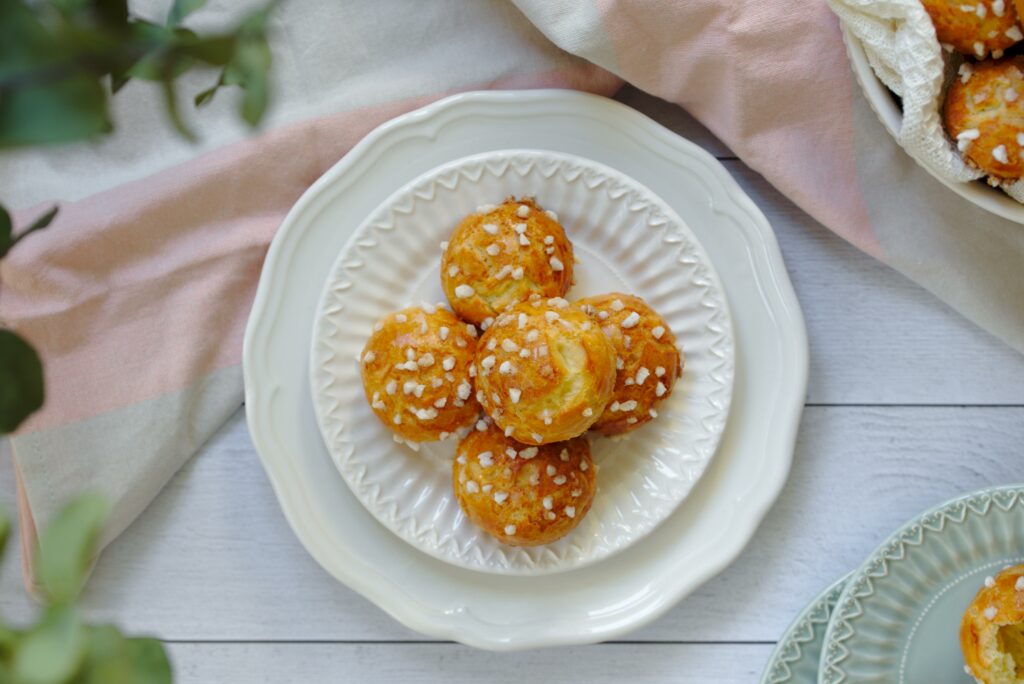 Welcome to my very first choux pastry post! I don't know why I haven't gotten around to writing one before. It is one of the most versatile dough in French pastry. Someone somewhere, I can't remember where, called it the Madonna of dough and it stuck with me because it's SO true! You can use it to make savory gougeres, (cheese puffs) which make a great appetizer by the way!). On the sweet side, they can make chouquettes, éclairs, cream puffs, fried into french crullers, you name it!
When you walk into a bakery in France, there is almost always a basket in the display case full of chouquettes, covered in pearl sugar and they make a delightful afternoon snack. They are also a great "gateway" to pâte à choux as you don't need to worry about making a cream to fill them.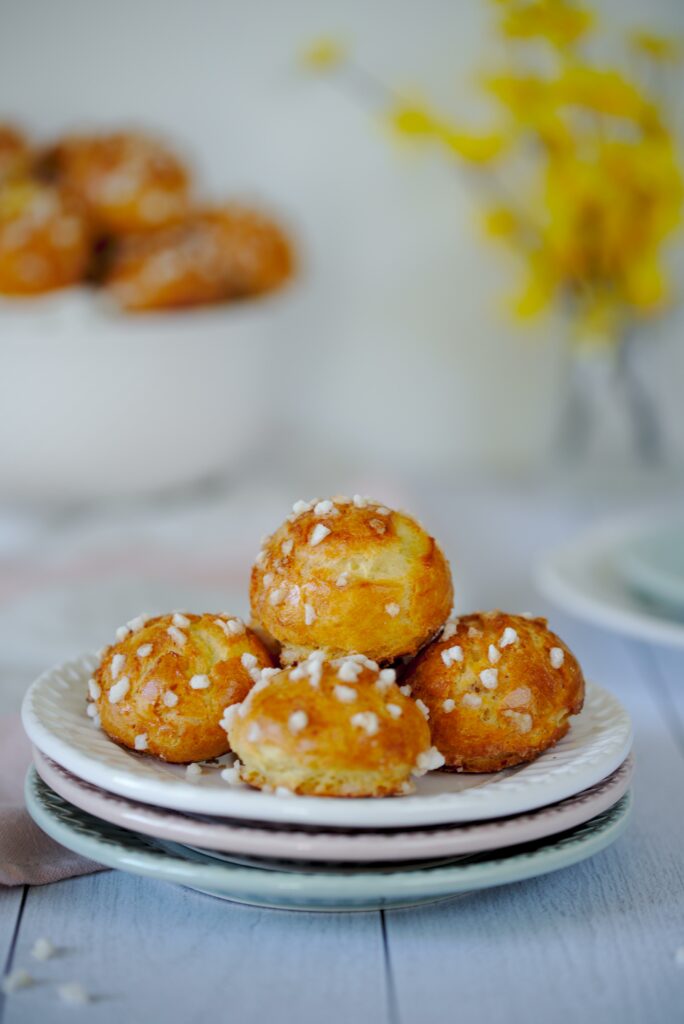 Choux Pastry
The dough itself is quite easy to throw together. The tricky part is getting drying out the panade (milk, water, flour butter mixture) enough, then re-hydrating it with eggs juuuussst enough, but not too much. Like most french pastry, the amounts are never exact. Depending on the weather, humidity, even down to the ingredients themselves, you may find yourself using more eggs than other times to re-hydrate the dough. However, once you know the texture and consistency you're looking for, it's so easy to through together!
Depending on the recipe, you'll use milk, water or half half. I always get the best results with half half, however keep this in mind when making the dough. Try each way and see what gets you the best results. The products that I have here in France will yield different results than it will for you depending on where you are. French butter is not the same as American, milk is different as well. But don't let that put you off!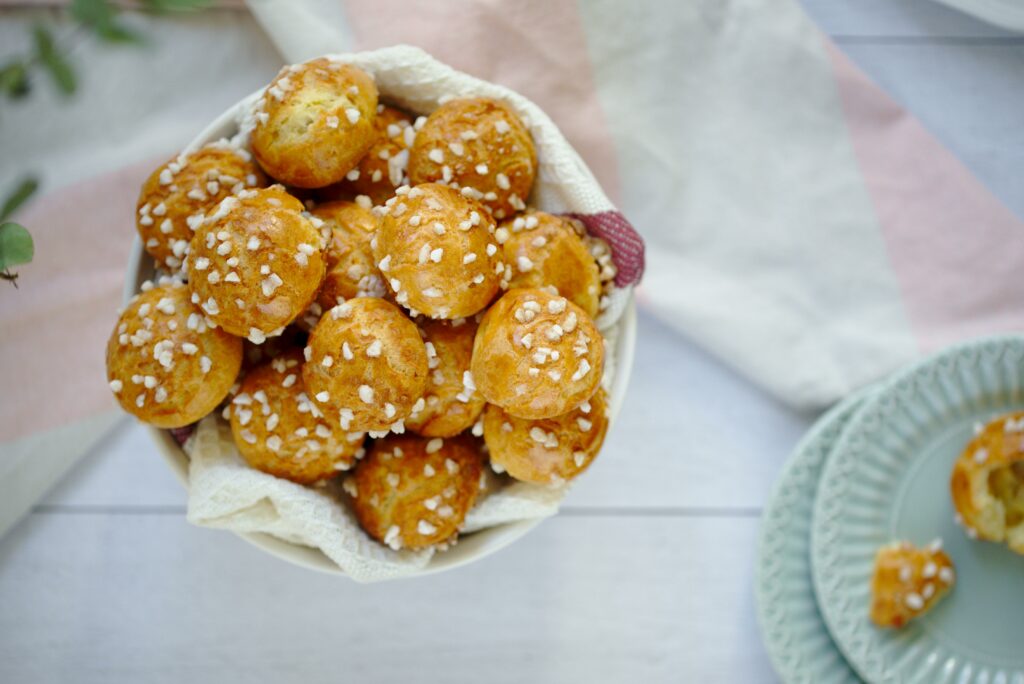 So what do you say? What to give them a try? Stay tuned for more choux pastry based desserts! This is just the beginning, I have so much more in store for you guys!
Chouquettes (Sugar Puffs)
Perfect for an afternoon snack, chouquettes are little drops of choux pastry, sprinkled with pearl sugar and baked until puffed and crispy!
Print
Pin
Rate
Equipment
Piping Bag

round piping tip
Ingredients
125

g

water

125

g

milk

100

g

butter,

unsalted

3

g

salt

150

g

flour,

all-purpose (T45)

250

g

eggs,

about 5 eggs

200

g

pearl sugar
Egg Wash
1

egg yolk

small pinch salt

big pinch sugar

splash of milk
Instructions
Prepare two baking sheets with sheets of parchment paper. Set aside.

In a sauce pan over medium heat, add the water, milk, salt and butter.

Whisk the eggs together in a small bowl and set aside.

Sift the flour into a separate bowl and discard any chunks. Set set aside.

Once the butter is melted, bring the mixture to a boil then take off the heat.

Add the flour and mix until a thick dough forms and the flour is completely mixed in.

Put the pan back on medium heat and continue to stir the mixture to dry it out. You should be looking for film to form on the bottom of the pan and for the panade to form one ball.

Transfer the panade to a standmixer with the paddle attachment and mix on medium low for 3 minutes, until it cools.

Slowly add the eggs to the mixture to the panade. You may not need all of the eggs. The dough should be shiny and if you tap the back of a spoon on the dough and flip it over, it should form a bird beak that doesn't fold over on itself.

Transfer to a piping bag with a round piping tip. Use a bit of choux dough to stick down the corners of the parchment paper, so they don't move around when you pipe.

Holding the piping bag at a 90 degree angle with the baking sheet. The piping tip should be slightly above the baking sheet. Pipe small choux of about 3-4cm (1-1.5 inch) in diameter.

Brush with egg wash and the sprinkle with pearl sugar.

Bake at 170°C (340°F) for about

45 minutes

or until puffed up and golden brown.
Nutrition
Calories:
63
kcal
|
Carbohydrates:
8
g
|
Protein:
1
g
|
Fat:
3
g
|
Saturated Fat:
2
g
|
Cholesterol:
34
mg
|
Sodium:
58
mg
|
Potassium:
17
mg
|
Sugar:
5
g
|
Vitamin A:
108
IU
|
Calcium:
9
mg